Slash Is Happy Axl Rose Didn't Replace Entire Band When He Rejoined GNR
By Andrew Magnotta
October 17, 2018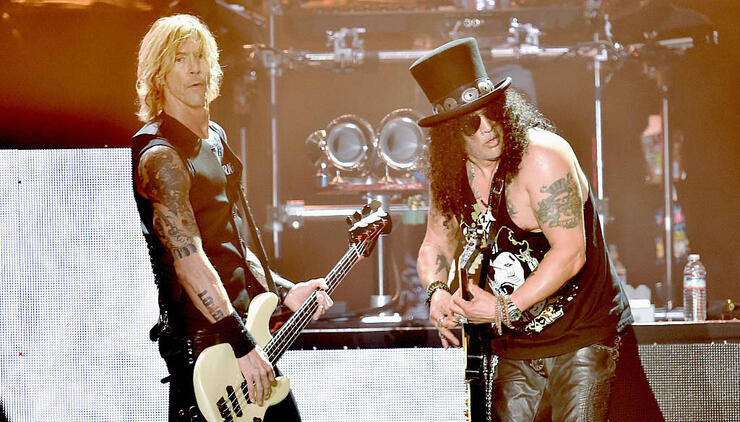 It's hard to in good conscience call Guns N' Roses Not in This Lifetime Tour a "GNR reunion" because of who's not involved.
What would a true GNR reunion be? The band's Appetite for Destruction and Use Your Illusion lineups were only around for about five years each. In fact, that band's longest-serving lineup was the Chinese Democracy lineup that Axl Rose had in place before Slash and Duff McKagan returned in 2016.
Sure, fans all have takes about what the real Guns N' Roses is, but Slash recently addressed some of the questions around the band's current iteration. He tells Chris Jericho's Talk Is Jericho podcast that it's better to keep a good thing going.
"... Axl's band, that he had been working with for 15 years ... I felt really comfortable with Richard [Fortus, guitar], Frank [Ferrer, drummer] was great..."
Additionally, Slash suggests he and McKagan wouldn't endorse firing an entire band because they wanted relive the old days playing with Izzy Stradlin and Steven Adler again.
"It wasn't rocket science to keep all that together when other stuff we were trying to do didn't work out," Slash said. "I'm not going to get into all of that, though. Even in then '90s, we didn't have the original lineup, so it wasn't something we were going, 'Oh my god' about."
Earlier this year, Slash talked about how strangely seamless his and McKagan's first rehearsal back in GNR was.
In any case, Rose, McKagan and Slash have all stated their desire to move forward as Guns N' Roses with the current group, record new music and write a new chapter in the band's story.
Photo: Getty Images
Chat About Slash Is Happy Axl Rose Didn't Replace Entire Band When He Rejoined GNR