The Killers Release 'Celestial' New Album 'Imploding The Mirage'
By Katrina Nattress
August 21, 2020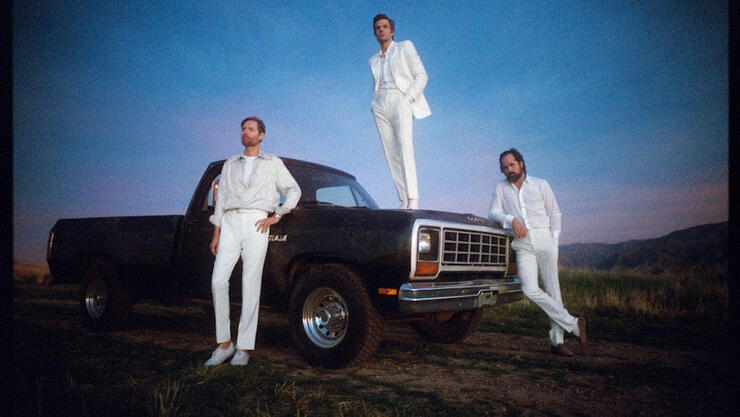 We were supposed to get The Killers' sixth studio album on May 29, but like so many other artists the alt-rockers were forced to delay their release in the wake of the coronavirus pandemic. Now, the wait is finally over — Imploding The Mirage is out!
In the months leading up to its release, Brandon Flowers and company gave fans a taste of the "celestial rock & roll" album with "Dying Breed," "My Own Soul's Warning," "Fire In Bone," and lead single "Caution."
Imploding The Mirage sees a lot of firsts for the band. It's the first album Flowers wrote after moving from his hometown of Las Vegas to Park City, Utah. It's the first album the band created after founding guitarist Dave Kuening's hiatus in 2017. And it's the first album to include featured artists (Lindsey Buckingham, kd lang, Weyes Blood, Adam Granduciel (War On Drugs), Blake Mills and Lucius). With so many firsts, there were admittedly growing pains — in a recent interview Flowers divulged that they scrapped a whole album's worth of work after listening to Vampire Weekend's Father of the Bride — but the result is a collection of songs that fits snuggly with the rest of The Killers' discography.
Of course, The Killers were planning to take the new songs on the road this summer but the pandemic squashed those plans, too. "The only thing that comes close to beating those moments of inspiration that you get when you're writing songs is when those moments are celebrated with other people," Flowers said in an interview with Entertainment Weekly. "I don't know which one's better. I love them both, and I feel like there's two sides to me. Some people just think of making a record as making this artistic expression and then singing it to people is a side thought, but I see it as two separate things and I want to grow at doing both of them."
Listen to Imploding The Mirage below and look out for The Killers on tour next summer.