Wolfgang Dunks On Fans Questioning Validity Of Sammy Hagar's Van Halen Era
By Andrew Magnotta @AndrewMagnotta
August 24, 2020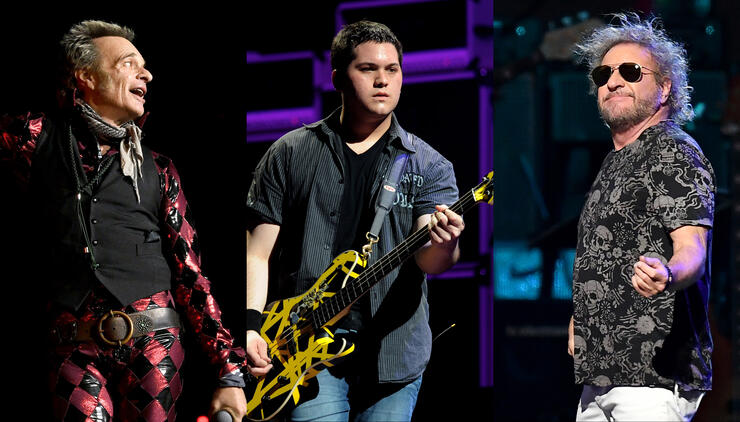 More than 35 years later, Van Halen fans are still arguing over whether the version of the band featuring Sammy Hagar on lead vocals is truly Van Halen.
Hagar recorded four albums with Van Halen over his first 11-year stint in the band, yet that period is still a source of controversy for people who think there is a choice to be made between Hagar and co-founding VH singer David Lee Roth.
It's a false-equivalency that is endlessly bewildering to longtime Van Halen bassist Wolfgang Van Halen, who fired back at Van Hagar truthers once again over the weekend.
The latest round of debate was seemingly kicked off when Wolfgang shared a clip of himself performing the piano section of Van Halen's 1991 hit "Right Now."
Predictably, the comments section was soon dotted with people asserting that the For Unlawful Carnal Knowledge version of the band featuring Hagar was not "true" Van Halen.
"That's funny because when Sammy Hagar was in Van Halen, it was called Van Halen, so I'd argue that Sammy in Van Halen literally is Van Halen because it was," Wolfie laid out to one disillusioned commenter. "These elitist arguments are dumb. Just because you don't like it doesn't mean it's not true."
A Twitter user then offered a perplexing non sequitur for Wolfie's information: "...Dave named Van Halen by the way."
Wolfgang then asked if the user was trying to "teach" him about his own band. In a screenshot of the interaction later posted to Instagram Story, the bassist labeled the comment 'Van-splaining.'
While Wolfie has only performed as a member of Van Halen with Roth in the band, he has repeatedly defended Hagar from critics.
Earlier this summer, Wolfgang was asked to weigh in on the Hagar/Roth debate. He replied that his four favorite Van Halen albums include two from Roth's era and two from Hagar's era, Fair Warning and 1984 and Balance and For Unlawful Carnal Knowledge, respectively.
He noted that both eras are "great" and that "The same guy wrote all the music. Kinda dumb to not give it a chance if you like one or the other so much."
In July, Hagar praised Wolfgang for the way he's handled pressure surrounding the release of his upcoming debut solo album.
Photo: Getty Images
Chat About Wolfgang Dunks On Fans Questioning Validity Of Sammy Hagar's Van Halen Era