Ace Frehley Pays Tribute To The Beatles With 'I'm Down' Cover
By Andrew Magnotta @AndrewMagnotta
September 3, 2020
Ace Frehley is teasing his second covers album with a rollicking cover of The Beatles' "I'm Down."
Frehley's Origins, Vol. 2 arrives September 18.
With the help of John 5, the KISS co-founder's version of "I'm Down" stays true to the Paul McCartney-penned original. Frehley plays up the Chuck Berry and Little Richard influences present in The Beatles' B-side, and colors the end with a signature guitar solo and some profane ad-libs.
Listen to it via the player above!
Frehley has included at least one cover on each of his solo albums since 1978, the most famous being his biggest solo hit, "New York Groove."
In 2016, Frehley dedicated a full album, Origins, Vol. 1, to paying tribute to his musical heroes, alongside many of his musical contemporaries, including, Paul Stanley, Slash, Lita Ford and Mike McCready.
After touring on his Spaceman album of original songs in 2018 - 19, Frehley got back to doing the covers routine.
He explained to Eddie Trunk in one interview that he sees covers albums as low-pressure opportunities to work with his friends.
"The great thing about doing a covers record is I don't have to write the songs," Frehley said. "So, all I have to do is kind of make it my own, maybe change the solo a little, maybe change the arrangement a little and then get some guest stars."
Origins, Vol. 2 features guest spots by Ford, Robin Zander and Bruce Kulick, among others.
Photo: Getty Images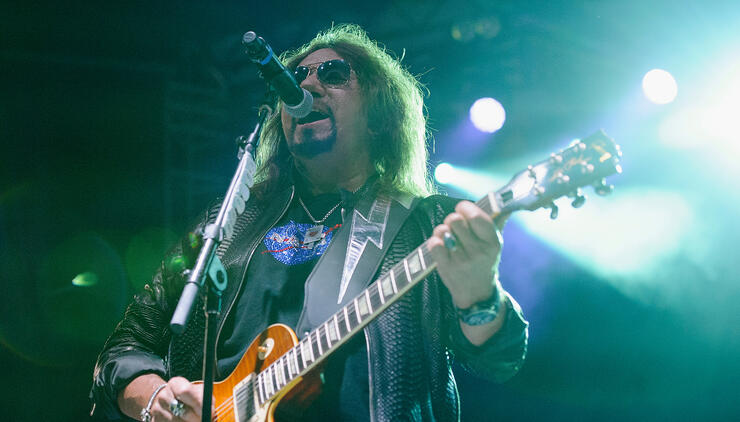 Chat About Ace Frehley Pays Tribute To The Beatles With 'I'm Down' Cover