Lauren Alaina Gives Fans A Glimpse Inside Her New Nashville Home
By Blake Taylor
September 23, 2020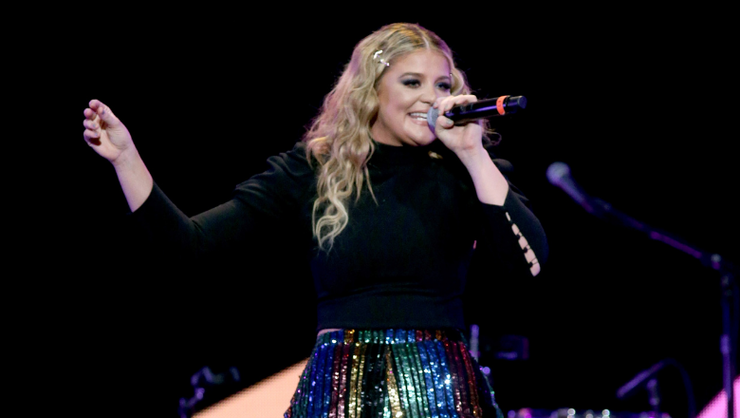 Lauren Alaina is one proud Nashville homeowner!
The country star, who moved into her new home in February, recently gave People a video tour of the place. "I'm very proud of it," Alaina says in the clip, which can be seen here. "I got it in February, and I've spent all of the quarantine getting it ready."
She adds, "That's the only blessing I've had -- that I've been able to be home and get my house together, and I'm really really proud of it."
Alaina starts the tour of her 2,200-square-foot property off in the living room, which features a rug made from her family's late cow. Her stepfather, Sam Ramker, who died of cancer in 2018, left the piece to her.
"My stepdad loved her, and when she passed away, he made a rug out of her, and then when he passed away, I inherited her, because I loved this rug. I was always obsessed with it, and he told my mom he wanted me to have it," she explains. "It's one of my favorite things in the whole house."
Alaina continues on to show fans another "big favorite" of the home- her grandmother's record player. "It's been in the family for a long time," Alaina says, adding that she sanded it down and re-painted it during quarantine.
Hanging above the record player are several Elvis Presley records surrounding a large, colorful painting of Dolly Parton made by local Nashville artist, Mark Sandoval.
Alaina then gives fans a look at her home music studio. "This is where I make my music, welcome to the studio," she says as she enters the room. The "Road Less Traveled" singer then explains the acoustic sound panels wrapped in fabric on the walls allow her to record in the room with high quality sound.
The studio also features plaques for her No. 1 hits, including "Road Less Traveled" and "What Ifs," her duet with Kane Brown. Alaina's awards are also set up in her studio including her 2018 ACM Award for New Female Artist of the Year. To see Alaina's full house tour yourself, click here.
Alaina recently released her brand new EP, Getting Over Him, on September 4. The project features six new songs, including two duets with Jon Pardi and Lukas Graham. A full track list and further details on the EP can be seen here.
Photo: Getty Images