Megan Thee Stallion Urges 'Protect Black Women' In Powerful 'SNL' Debut
By Paris Close
October 4, 2020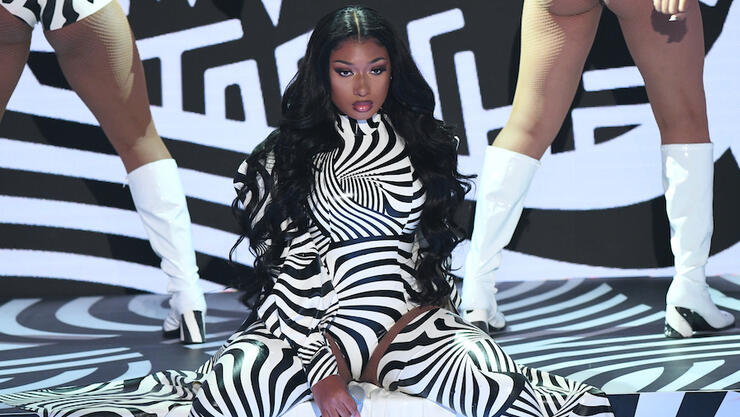 Megan Thee Stallion delivered a powerful message in her Saturday Night Live debut.
Saturday night (October 3) saw Megan make her long-awaited premiere on the late-night sketch comedy show, and the rapper made the most of her big moment by urging for the protection of Black women and calling out the injustices against Black men.
Kicking off the show with a politically-charged presentation of "Savage (Remix)," Megan performed in front of a hypnotizing, patterned stage design that featured the phrase "Protect Black Women" written into the backdrop.
After minutes of dancing and rapper, the five-minute presentation reached a new level of intensity when the lights cut out to an interval of gunshot sounds and an excerpt from Malcolm X's 1962 speech about Black women being the most disrespected, unprotected, and neglected person in America—an obvious dig at Tory Lanez, whom Megan previously accused of shooting her back in July. Kentucky Attorney General Daniel Cameron also receives a jab during the moment for how he managed the case of Breonna Taylor, the 26-year-old Black woman who police shot and killed in her home while serving a no-knock warrant.
"We need to protect our Black women and love our Black women, 'cause at the end of the day, we need our Black women," said Megan. "We need to protect our Black men and stand up for our Black men, 'cause at the end of the day, we're tired of seeing hashtags about Black men."
Following the unforgettable display, the 25-year-old took to the SNL stage one last time for the evening with the live-debut performance of her new single, "Don't Stop," alongside Young Thug.
Chat About Megan Thee Stallion Urges 'Protect Black Women' In Powerful 'SNL' Debut