Trey Songz Opens Up More Than Ever Before On New Album 'Back Home'
By Lauren Crawford
October 9, 2020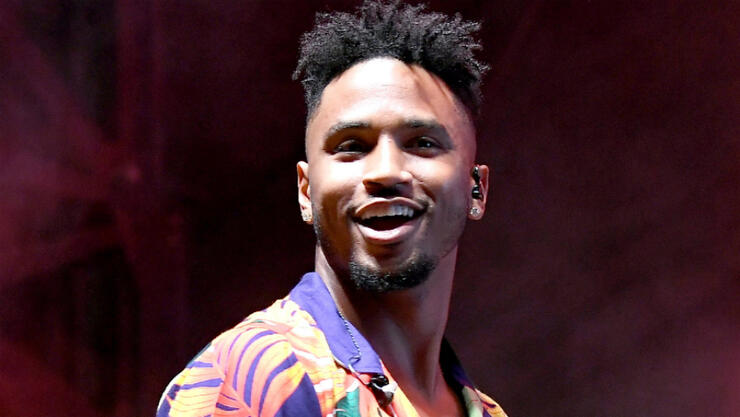 Trey Songz isn't holding anything back on his new album Back Home.
The LP, which dropped today (October 9), marks his eighth studio album and his first full-length project since 2017's Tremaine the Album. In an interview with iHeartRadio, Trey opened up about Back Home, discussing what inspired the project, his favorite tracks on the album, and how these last six months in quarantine allowed him to "hone in" and make it exactly what he wanted it to be. The R&B singer also discussed how he's learned "the worth" of his voice outside of music, and what he'd like his legacy to be.
Back Home, executive produced by Grammy award winner Troy Taylor, is more than a journey back to Trey's roots, it's the most vulnerable he's ever been on a project. As noted by Trey, when you think of Trey Songz music, you think of "lovemaking, sensuality, sexuality," and while the effort brings his usual sexiness and passion, it also uncovers a new layer of Trey by "letting you in" on things he's never shared before.
Like many of us, these last six months of adjusting to a "new normal" have been filled with ups and downs for the Virginia native and the project is a reflection of that — taking fans on "that emotional rollercoaster that R&B music has always done."
While Back Home — which features appearances by Swae Lee ("Rain"), Ty Dolla $ign ("On Call"), Davido ("Sleepless Nights"), and Summer Walker on the title track — is in many ways an auditory open letter of Trey's personal experiences, he doesn't steer away from the current events of today as it additionally features the previously released protest anthem "2020 Riots: How Many Times."
Keep scrolling to read our full interview with Trey.
How has quarantine and adjusting to this "new normal," courtesy of the global pandemic, been for you in the last six months?
Readjusting to life in quarantine has been a unique experience. 2020 within itself has been a crazy year. But it has given me and a lot of people I've spoken to insight as to what's important in life. I think when we were forced to shut down, the value of what's important outside of materialistic things and love and family and time spent with people that actually appreciate you, people that actually care about you, versus seeking out the attention of those that may be fair-weather.
I spend a lot of time with my family, my son and it's been the most refreshing experience, especially being an entertainer being used to your life moving fast-paced. I haven't sat still this long in a very long time, so it was very refreshing... still is actually. Just to have a sense of normalcy that I probably didn't have before.
The last six months for me have been very interesting. More different than any other time in my life. Outside of finishing this album, which I don't think would've become what it is right now had it not been for the pandemic — the pandemic kind of gave me time to hone in, and make it exactly what I wanted it to be — I've been able to spend a lot of time with my family. A lot of time with my son. It gave me time to actually realize what my voice meant to my people outside of my singing voice, outside of me as an R&B singer, my speaking voice. Me being informed about what my people go through. Explaining and informing people that don't know what my people go through, and just using my voice for more than singing songs has been very important to me over this time.
But overall, the last six months have been up and down emotionally, physically, mentally. It ain't been an easy ride. I don't think nobody had an easy ride, no matter what they are selling you. It's been a hard year for everybody.
Tell me about Back Home. What does this project mean to you?
The album means a great deal to me. Within the last year and some change, I feel like I've been giving more of myself than I usually have. I've been famous since I was 19, 20 years old, so I have been giving myself since then and it's kind of hard to do when you have to give up yourself while guarding parts of yourself as well. But, because my music is often more times than not, relationship-based, love-based, lovemaking-based, sensuality, sexuality, in the deliverance of this album, through things I'm talking about, it's letting you in on things I probably wouldn't [have shared] before. It's a different level of vulnerability. And don't get me wrong, it's still passion-driven. It's still lovemaking. It's still everything that R&B. It's still going to make you want to dance. It's still going to make you want to shed a tear if you felt that emotion before. It's still going to make you want to look your love in the eye and grab them up and do everything that they want you to do them. It's going to take you on that emotional rollercoaster that R&B music has always done.
With an album titled Back Home, would you say you returned to a particular sound or time in your career/life with this project? 
When I say Back Home, musically speaking, I've done many things whether it be up-tempo, whatever the feeling of it is. But, the sound of Trey Songz is undeniable throughout my career when I'm in that zone. And this record is very much living in that space. Shout out to Troy Taylor, who's been working with me since the beginning of my career. I slept on his couch, everybody knows that. We did the bulk of this album together. And that definitely makes it feel like I'm back home. And furthermore, with quarantine and my grandfather having passed, my grandmother being sick, me having my son, I spend a lot of time back home.
The LP spans 22 tracks — can you name your favorite song (or songs) on the album?
There are 22 songs on the album and I definitely have my favorites. One being, "I Know A Love," a song about my son just telling the raw emotion that you feel when you, you never felt love like that. And I look at my son, I see the world in his eyes. I see I got to protect him. I see that I got to give him the love back he gives me, cause I can't have him go in the world looking for that love. He's got to get that at home. So that song is very, very, very, very special. It's very special to me.
"All This Love" is a love song for generations. I always wanted a "here and now," Brian McKnight wedding song. I remember I was at Kevin Liles, my manager's wedding and Brian McKnight was singing and I was like, man I need me some wedding songs. Songs that people can walk down the aisle to. And I feel like this is my first real song that reflects that moment and foreverness of love.
"Be My Guest" opens up the album. It's just very "Love Faces," "Neighbors Know My Name." it's all the things that my music has been — the new version of that, the evolution of that. "Hit Different," "Cat Got My Tongue," "Back Home," [are also my favorites. I can go forever. I love the whole album!
Your latest single, "Circles," was released last month. In the music video, you put a spotlight on Black love. What made you go that route for the visual and what does Black love mean to you?
I chose to center the "Circles" video around black love because at this time I feel like we need to show that more so than ever. I feel like the impression of us is highlighted. The hate of us is highlighted. Anytime we do anything bad is highlighted. So, when mainstream America wants to show us one way, it's up to us to show us the way we want to be seen. I want my young black queens to know that they can be loved. I want my black kings to know that they can be loved. I want us all to know that we need love. That we need to work through all the trauma that we have, cause we all as black people, we have trauma. But that's not all that we are.
The video also features a Black couple being pulled over by the police — a timely addition to the video. What has this time in history, in regard to the Black Lives Matter movement, meant to you? Why is it important for you to use your art to highlight social injustice? 
I chose to show the young couple getting pulled over in the video because if you're not a Black person you don't realize that racial injustice is a part of our life. It's a part of our everyday. Whether it be subliminal, whether it be blatant, whether it be right in your face, or whether it be an undertone. And what I realize as an entertainer, I'm now realizing the worth in my voice, in my words outside of just being a singer. Bringing attention to these things. Highlighting them, letting them know that my people are important to me. Letting my fans, who have been listening to me for years or you just started yesterday, know that as much as I love this music, I love my people more. So, I'm going to showcase what it is we go through. Imma showcase what it is we glow through. And I'm going to showcase the beauty that is us.
Switching gears a bit. How has fatherhood influenced your artistry? And when you look back at your legacy, what do you want to be remembered for?
Fatherhood's influenced me in many ways. The question was how it has influenced my artistry, but I'd much rather speak about how it's influenced me as a man. The question was also how I want to be remembered as an artist which is something that I care about, but not as much as who I am as a man. I don't really care what a stranger thinks about me in comparison to what someone who loves me thinks about me. Someone who knows me. Someone who knows my character. I want to leave an impression on them that I was solid as I said I was.
Me as an artist I just want to come solid every time. I want to make the best music I can every time and you can say that from the time I stepped into the time I left out that I gave you everything that I had.
As a country, 2020 has been a year of surprises and change. What are your biggest takeaways from this year thus far? And what will you remember most about 2020? 
The biggest takeaway from 2020 for me is to be true to yourself because you don't know what's next. You don't know what's going to happen. You don't know if you're going to live to see tomorrow. You don't know if your loved ones will. Let your people know around you that you love them. Let the people that you know, and you care about, know that you care. Show them, tell them, because life is short. Nothing's promised, man. And you got to live your life for yourself. Of course, people are depending on you. Of course, people have opinions about what it is that you are doing with your life. But overall, you're the one living it, walking through it every day. So, you got to make what you need to make happen for you. Don't let the voices and opinions of others drown out your inside voice, ever.
This interview was edited for length and clarity.
Photo: Getty Images