Cardi B Addresses Accidentally Sharing Nude Photo On IG Stories
By Regina Star
October 14, 2020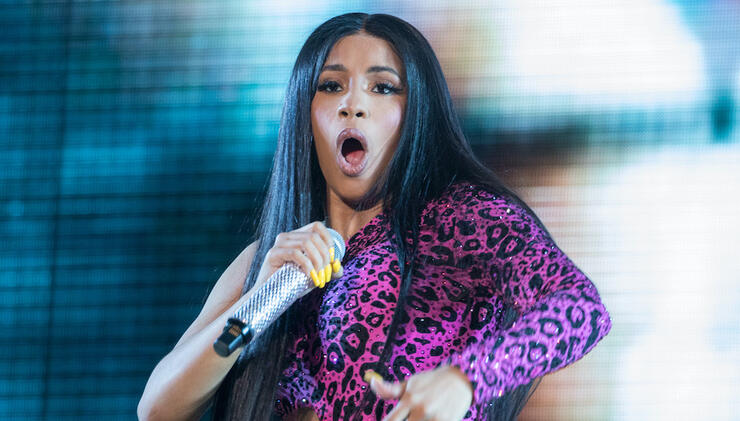 Cardi B suffered quite the nip slip on social media this week.
The "Press" rapper apparently got a little too excited after a weekend filled with birthday festivities, so much so that she accidentally shared a topless image of herself on social media, exposing her bare chest to over 76 million Instagram followers.
We won't share the image — for obvious reasons — but fans with quicker fingers than Cardi were able to save the explicit, since-deleted photo before the 28-year-old erased the post from her Instagram Stories. Hours after her faux pas, the "Bodak Yellow" star returned to IG to clear up any legal rumors involving the slip, taking full responsibility for it.
"I did not posted no story about me suing nobody…nobody to be sued for," she wrote. "It was my f—k up...s—t happens."
She later took to Twitter with a 45-second voice memo about the incident.
"Lord, why the f—k you have to make me so f—kin' stupid … Why? … You know what? I'm not even gonna beat myself up about it," she says in the clip. "I'm gonna eat my breakfast and then I'm gonna go to a party because I'm not even gonna think about it. I am not going to think about it, OK? No, I'm not. I won't. It is what it is. S—t happened. Um, f—k it. It's not even the first time. I mean, I used to f—kin' be a stripper, so whatever. Ay dios mio."
Cardi's accidental nude pic gaffe comes days after the superstar reunited with her estranged husband Offset, from whom she filed for divorce last month. While it is unclear whether the two will reconcile (considering she cited "irreconcilable differences" on the divorce docs), the pair seemed to kiss and makeup after enduring so much gossip about their marriage.
Photo: Getty Images
Chat About Cardi B Addresses Accidentally Sharing Nude Photo On IG Stories