Megan Thee Stallion Says Tory Lanez Tried To Buy Her Silence After Shooting
By Peyton Blakemore
November 16, 2020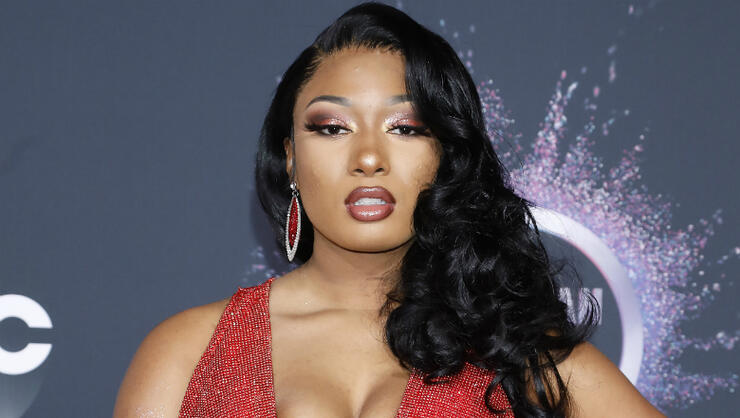 2020 has been quite the year for Megan Thee Stallion.
While the last 11 months have been life-changing for the "WAP" rapper's career — she was on the cover of Time, picked as one of the world's 100 Most Influential People, she performed on Saturday Night Live, she had multiple singles go #1 on the Billboard 100 chart, and she finished recording her upcoming debut album, Good News — Megan has also faced what she described as "the worst experience of [her] life."
In the cover story for GQ's "Men of the Year" issue, in which Meg is named Rapper of the Year, the Houston native opened up about her painful experience this summer, when she was shot, allegedly by Tory Lanez.
As has been reported, Megan said a verbal argument erupted in the car she was driving in with Tory and two other people after attending a pool party back in July, and when she tried to get out of the car, Tory started shooting at her feet, injuring her. She told GQ, "Like, I never put my hands on nobody. I barely even said anything to the man who shot me when I was walking away. We were literally like five minutes away from the house."
After he allegedly shot her, Meg said, Tory begged her not to say anything. She told the outlet he offered her and her friend money to stay quiet. "[At this point] I'm really scared," Megan explained, "because this is like right in the middle of all the protesting. Police are just killing everybody for no reason, and I'm thinking, 'I can't believe you even think I want to take some money. Like, you just shot me.'"
A lawyer for Tory denied to the magazine that he offered Meg and her friend money.
Back in October, Megan penned a powerful op-ed for the New York Times, in which she discussed the July shooting, omitting the name of Tory, who had been recently charged in the incident at the time. "I was recently the victim of an act of violence by a man," she wrote. "After a party, I was shot twice as I walked away from him. We were not in a relationship. Truthfully, I was shocked that I ended up in that place. My initial silence about what happened was out of fear for myself and my friends. Even as a victim, I have been met with skepticism and judgment."
"The way people have publicly questioned and debated whether I played a role in my own violent assault proves that my fears about discussing what happened were, unfortunately, warranted," Megan continued.
The "WAP" rapper then broadened the conversation, writing, "After a lot of self-reflection on that incident, I've realized that violence against women is not always connected to being in a relationship. Instead, it happens because too many men treat all women as objects, which helps them to justify inflicting abuse against us when we choose to exercise our own free will. From the moment we begin to navigate the intricacies of adolescence, we feel the weight of this threat, and the weight of contradictory expectations and misguided preconceptions. Many of us begin to put too much value to how we are seen by others. That's if we are seen at all."
Photo: Getty Images