Miley Cyrus Dances To Britney Spears' 'Slave 4 U' In Throwback Home Video
By Hayden Brooks
November 24, 2020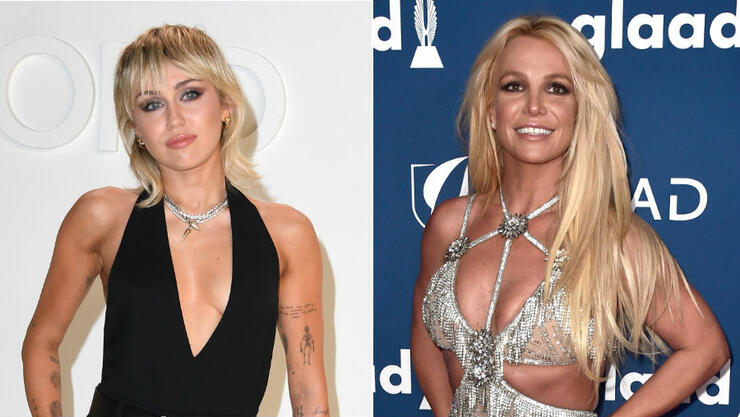 Miley Cyrus will forever be a Britney Spears stan and the chart-topper has never been afraid to admit it.
From advocating for the #FreeBritney movement to recently covering "Gimme More," Cyrus' devotion to the pop titan has always been on full display and the Disney alum recently shared another piece of evidence to her fandom. On Monday (November 23), Cyrus celebrated her 28th birthday by sharing a montage of clips of her younger years and one of the scenes sees her dance to Spears' 2001 sultry hit "I'm a Slave 4 U."
"Cheers to another year of Britney Spears and facing fears! YASSSSS! Thank you for makin my life so unbelievably rad! Appreciate you!" she captioned the video montage. "Yes I deleted and uploaded in color cuz it's my birthday and I can do whatever the f*ck I want .... just like I do every other day of the year."
Cyrus previously recalled the moment that her father, Billy Ray Cyrus, started to notice his daughter's interest in the pop icon. "My dad [Billy Ray Cyrus], I remember when the '[I'm] Slave 4 U' video came out he shook his head and was like, 'My girl's going to turn into a stripper, I'm scared' because I wanted to be hot like Britney," she explained.
She further explained her devotion for Spears in an episode of Alan Carr: Chatty Man. "I was obsessed with her ['I'm a Slave 4 U'] video," she said. "That was the first head shake I got from my dad when the video came out, as I tried to re-enact the whole film. Britney once performed across the street from my dad's apartment in Canada – but there was no way I was going at that point as I was always trying to re-enact everything she did."