Sammy Hagar Reveals The One Thing In Van Halen's Vault He's Dying To Hear
By Andrew Magnotta @AndrewMagnotta
November 25, 2020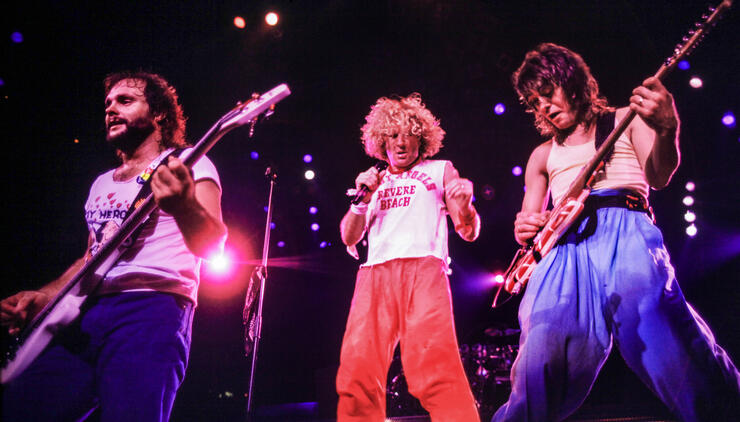 Sammy Hagar says there's probably isn't a great deal of material from his Van Halen era left behind in Eddie Van Halen's vault, but there is one recording he'd love to hear.
Eddie once claimed to have "millions" of recordings stashed away in his 5150 home studio, exploring all kinds of musical genres, including some early versions of Van Halen songs. His son Wolfgang recently confirmed there was indeed a "s--t ton of tapes" waiting to be archived or eventually shared with the public.
From what Hagar can recall, there are at least four completed Van Halen songs from his era that ought to be among the vault material. He tells Eddie Trunk that the material is from the For Unlawful Carnal Knowledge sessions and from just before the 2004 reunion tour. But those songs didn't make albums for a reason, he says, and that's not what he's interested in revisiting.
The true gem in the vault for Hagar is a recording that was never meant for release: his Van Halen audition.
"You know what the coolest thing that's in that vault from my era would be? The day that I walked in that studio to jam with Van Halen — 1985 — to see if I was going to join the band," Hagar mused. "We recorded all that stuff. We recorded a rough version of 'Good Enough,' a rough version of 'Summer Nights' and a blues jam. We played this slow blues, a 12-bar blues. I was just scatting and making up words and just jamming, the four of us. And there's probably hours of that. I would love to hear that ... that's just so raw that it's not something you would compare to a finished product."
The recording alone might inspire Hagar to write another book, he said.
Of the vault in general, Hagar noted that whoever goes through it wouldn't just find music by Eddie Van Halen. The Red Rocker recalls Eddie and Alex Van Halen spending hours recording at 5150 in their free time.
"I'm sure there's some very interesting stuff in that vault," Hagar added. "Wolfie's definitely got a little gold mine on his hands there."
Wolfgang has no plans yet to go through Eddie's old recordings yet. He told Howard Stern earlier this month that his father was eagerly awaiting his solo debut and would be upset if he were to delay it any longer.
Photo: Getty Images