Mike Tyson: Daughter Tried To Fight Boosie Badazz Over Transphobic Comments
By Jason Hall
December 21, 2020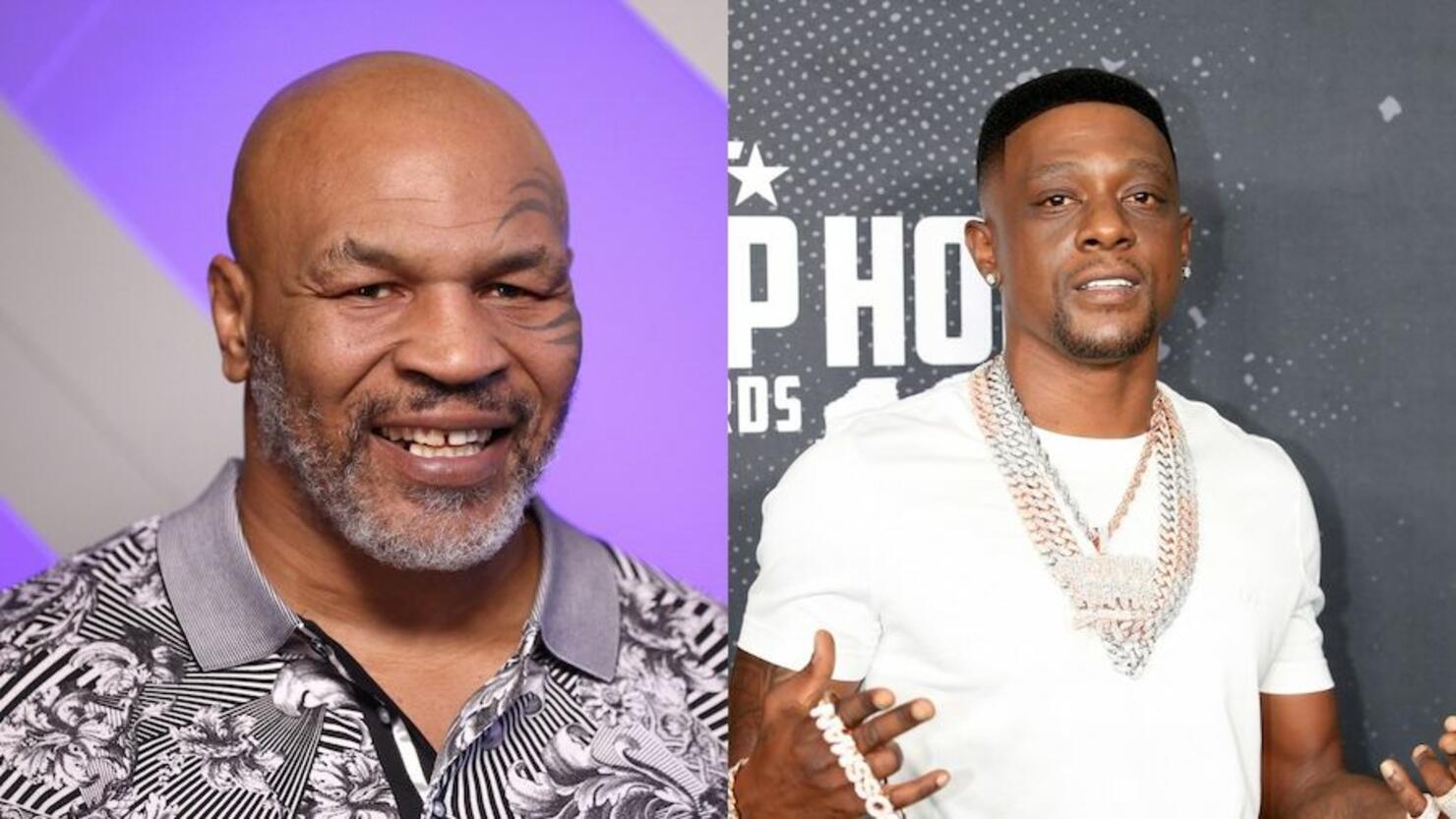 Mike Tyson wasn't the only member of his family to confront rapper Boosie Badazz over transphobic comments made regarding Dwayne Wade's daughter, Zaya, earlier this eyar.
During an interview shared by VladTV on Saturday (December 20,) the legendary boxer said his daughter, who he described as "violent," flew across the country and attempted to fight the Baton Rouge rapper when Boosie appeared on her father's podcast, 'Hotboxin' with Mike Tyson,' last earlier this year.
"My daughter lives that life. She came from New York to this office right here to confront this guy, and she's violent. I thought she came to see me. I thought she came to see her father and stepmother. She came to confront him physically," Tyson said via VladTV. "I had to take care of that. I was watching her, she wanted to physically grab this guy, and started attacking this guy. I had to come in, I was watching her. She explained herself, then he explained himself and it didn't go as bad as I thought it was going to go."
Tyson said the incident changed his perception of his daughter and her life as part of the LGBTQ community.
"I learned that day that there's a set of people, and they're very serious about stuff like that," Tyson said, comparing homophobic and transphobic slurs to racial slurs used against Black people, via VladTV. "Those words are very offensive. It's very offensive to them."
"I didn't know. I took it for granted," Tyson added. "I was a guy and I was a sexist and I didn't understand other people's feelings. From that experience, to come from New York to here, to represent who she was, and to get physical, I have nothing but respect for that. I talk totally different to her. She's serious like that."
Boosie also referenced the Tyson interview during his recent interview with VladTV, although didn't mention a physical altercation.
"She was like, 'Dad, I want to interview him. I want to ask him some questions right now.' I said, 'Come on.' She was on some, 'Do you know what's going on in the transgender world right now? Do you know how many people are committing suicide and dying?'" Boosie said via VladTV. "So I would tell her, do you know what's going on with Black people right now? We're getting shot down, they got so many single mothers out there, and when she would shoot that at me, I would shoot that at her. She was saying the things she was passionate about and I was saying the things I was passionate about."
The Baton Rouge rapper said he didn't have any negative feelings toward the LGBTQ community, but didn't understand Tyson's daughter's point of view, noting, "We didn't see eye to eye so she walked out."
Earlier this year, Boosie criticized Zaya Wade's transition because of her age, but later told Tyson he shouldn't have shared his opinion.
"I really commented on the Dwyane Wade situation because I got offended because it's a child. That's really why I got offended," Boosie said during his 'Hotboxin'' appearance, adding that he should just "shut the f*** up" sometimes. "Who the fuck am I to say anything?"
Dwyane Wade publicly thanked Tyson for intervening in the situation involving his daughter and Boosie.
"We had a conversation. I appreciated it from a standpoint of, you know, Mike is someone who has never tried to be perfect. He is someone who has learned from this journey of life," Wade said via VladTV. "He's one of those people…he's so smart, he's so educated and knowledgeable about life and for him to drop that nugget on the world…to me, it was great to hear him say that."
Photo: Getty Images