PHOTO: Adrian Peterson Welcomes Derrick Henry To 2,000-Yard Club
By Jason Hall
January 4, 2021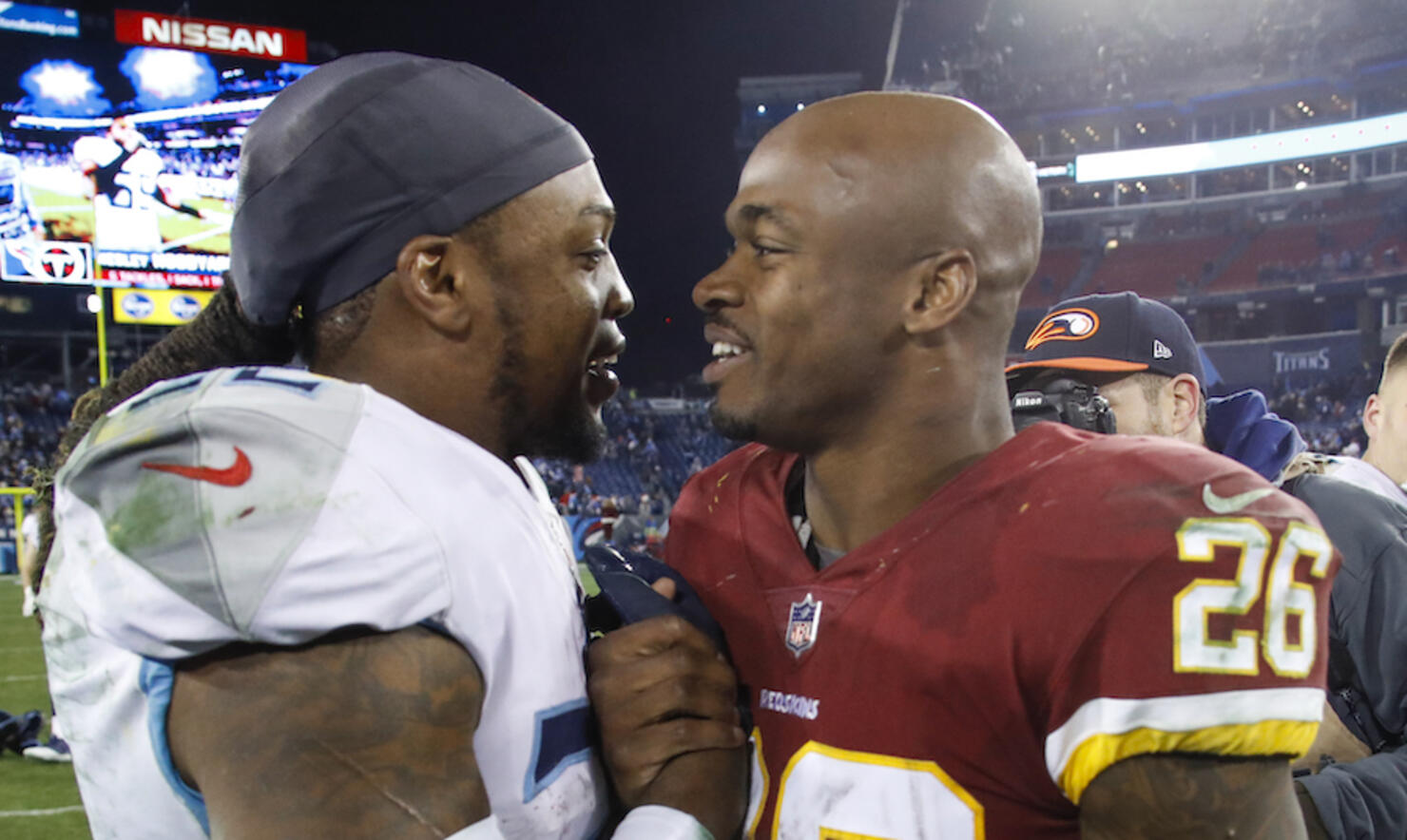 NFL legend Adrian Peterson congratulated Tennessee Titans star Derrick Henry on joining the 2,000-yard rushing club Sunday (January 3) with some friendly advice: "Just. Keep. Running."
Peterson, the last back to accomplish the feat, shared a photo of himself arm-in-arm with Henry after a game in December via Twitter, which included the caption: "Just. Keep Running. Welcome to the club 👑 @KingHenry_2 #AllDay."
Henry recorded 250 yards and two touchdowns on 34 rushing attempts during Sunday's 41-38 road victory against the Houston Texans. The former Heisman Trophy winner finished the 2020 regular season with 2,027 rushing yards, leading all NFL players for the second consecutive season.
Henry recorded 1,540 yards during the 2019 regular season and also led all players with 446 rushing yards during the 2019 postseason.
Peterson, now a member of the Detroit Lions, recorded 2,097 rushing yards as a member of the Minnesota Vikings in 2012, which earned him earn NFL MVP and Offensive Player of the Year awards. The veteran running back also led the NFL in rushing two other times during his career (2008, 2015.)
Henry and Peterson are among eight players who have recorded more than 2,000 rushing yards during a single season including O.J. Simpson (2,003, 1973), Eric Dickerson (2,105, 1984), Barry Sanders (2,053, 1997), Terrell Davis (2,008, 1998), Jamal Lewis (2,006, 2003) and Chris Johnson (2,006, 2009), who also accomplished the feat as a member of the Titans.
Tennessee is the only NFL franchise to have two players record more than 2,000 rushing yards in a single season.
Photo: Getty Images