Paul Stanley Says All Concerts Everywhere Are Result Of 'KISS DNA'
By Andrew Magnotta @AndrewMagnotta
January 7, 2021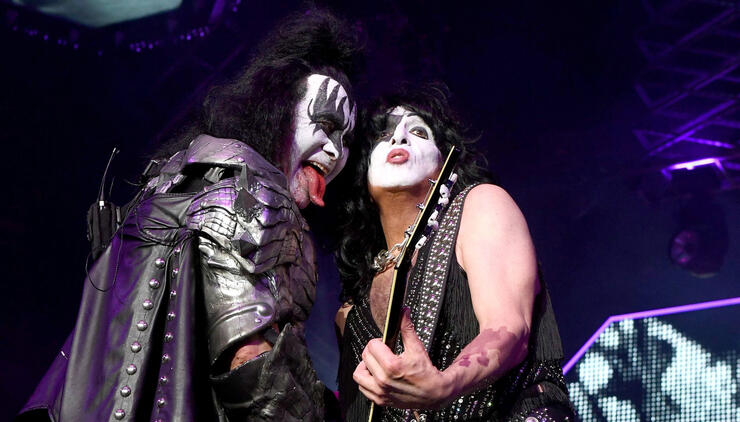 As KISS prepares to (hopefully) re-embark on its farewell tour later this year, frontman Paul Stanley is celebrating how the band changed the world of live concert production with its fiery and ambitious live shows.
With time winding down on Kiss's touring career, Stanley gave Volume a pair of reasons why Kiss fans shouldn't lament the 'End of the Road': 1) Kiss fans still have many chances to catch the band in concert before it takes its final bows; 2) Just about any artist you see nowadays has a little bit of Kiss going on.
"Look, no matter who you see on tour, bands or entertainers — whoever you go to see — you're seeing a KISS show," he asserted. "Because Kiss DNA is in everything that's done nowadays. So, for us, it's really a matter of always putting our stamp on it. You can always have a Kiss show, but you don't get Kiss. I think there's a big difference."
Regarding the band's last ride, Stanley added, "We're really at the top of our game right now, and it really seemed the right time to — I don't know — maybe take a victory lap and enjoy seeing the world with all the people who've made this possible. Kind of celebrating what this band has been and what the fans have been to us and vice versa."
He concluded that Kiss's farewell has gone on so long, there's no excuse to miss it by being unaware.
Kiss announced its 'End of the Road' farewell tour in the fall of 2018, promising to again wow fans at each and every stop. At the time, Gene Simmons told Q104.3 New York's Jim Kerr that Kiss's "legacy is that we've raised your expectations."
"You realize that whenever you see any rap star, rock star, country star — when you see their show, you're seeing Kiss DNA in their show," Simmons said of the band's impact.
While the Kiss co-founders' claims to have solely pioneered a fusion of stage theatrics with live rock music might be inflated (see: The Who, Pink Floyd and Jimi Hendrix), Kiss has taken pains to remain the 'Hottest Band in the World' with a continuing emphasis on staging spectacular live events, like its world record-breaking live concert and pyrotechnic display this past New Year's Eve and promising many more surprises when it gets back on the road.
Photo: Getty Images