Tom Brady Shares Touching Moment With Drew Brees' Family After Playoff Game
By Jason Hall
January 19, 2021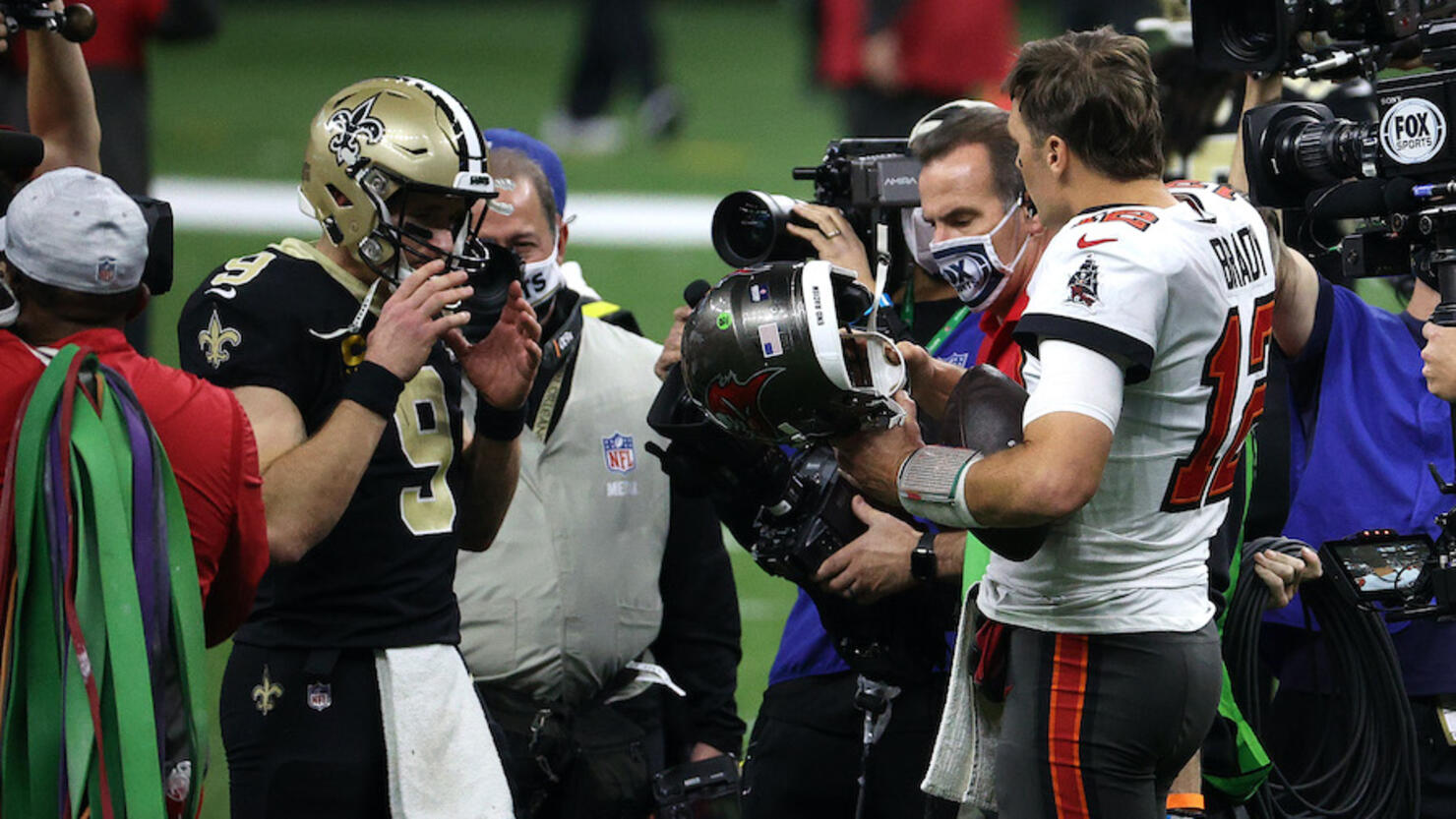 Tom Brady and Drew Brees shared a touching moment after their playoff matchup on Sunday (January 17.)
Several reporters captured a meeting between the two legendary quarterbacks following Brady's Tampa Bay Buccaneers' 30-20 victory over Brees' New Orleans Saints in the NFC Divisional Round playoff game at the Mercedes-Benz Superdome in New Orleans.
After the two quarterbacks shook hands, Brady threw a pass to Brees' son in the back corner of the Saints' end zone before walking off the field.
Prior to Sunday's game, FOX Sports' Jay Glazer reported Brees, 42, was expected to announce his retirement during the upcoming offseason.
"Drew Brees, tonight will be the last game he plays at the Superdome, and whatever his last game is, if they lose tonight, if they lose next week, that'll be the last game he plays in the NFL. I really believe that," Glazer said during the 'FOX NFL SUNDAY' pregame show.
The Saints had home field advantage during Sunday's game, but would have traveled to Green Bay for the NFC Championship had they defeated the Buccaneers.
As Tom Brady and Drew Brees hug and say goodbye after a long talk on the field, Brady throws a touchdown pass to Brees' son. One walks off to play in the NFC championship, the other stays to play with his kids. pic.twitter.com/wdWDro9YD4

— James Palmer (@JamesPalmerTV) January 18, 2021
Brees currently holds the NFL record for career passing yards (80,358) and completions (7,142), with Brady, 43, ranking second all-time in both categories.
Brady will appear in his first NFC Championship Game on Sunday (January 24) after signing with the Tampa Bay Buccaneers in March, following 20 seasons with the New England Patriots. The six-time Super Bowl champion is first among NFL quarterbacks with a 32-11 career postseason record, which includes a record eight consecutive AFC Championship Game appearances.
Brady finished Sunday's game with 199 yards and two touchdowns on 18 of 33 passing, while also scoring the Bucs' game-winning touchdown on a 1-yard run with 2:11 remaining.
Brees, who has dealt with numerous injuries throughout his 20th career season, finished Sunday's game with 134 yards, one touchdown and three interceptions on 19 of 34 passing.
Photo: Getty Images