Could The Bucs Be Keeping The Lombardi Trophy Away From Gronk?
By Jason Hall
February 9, 2021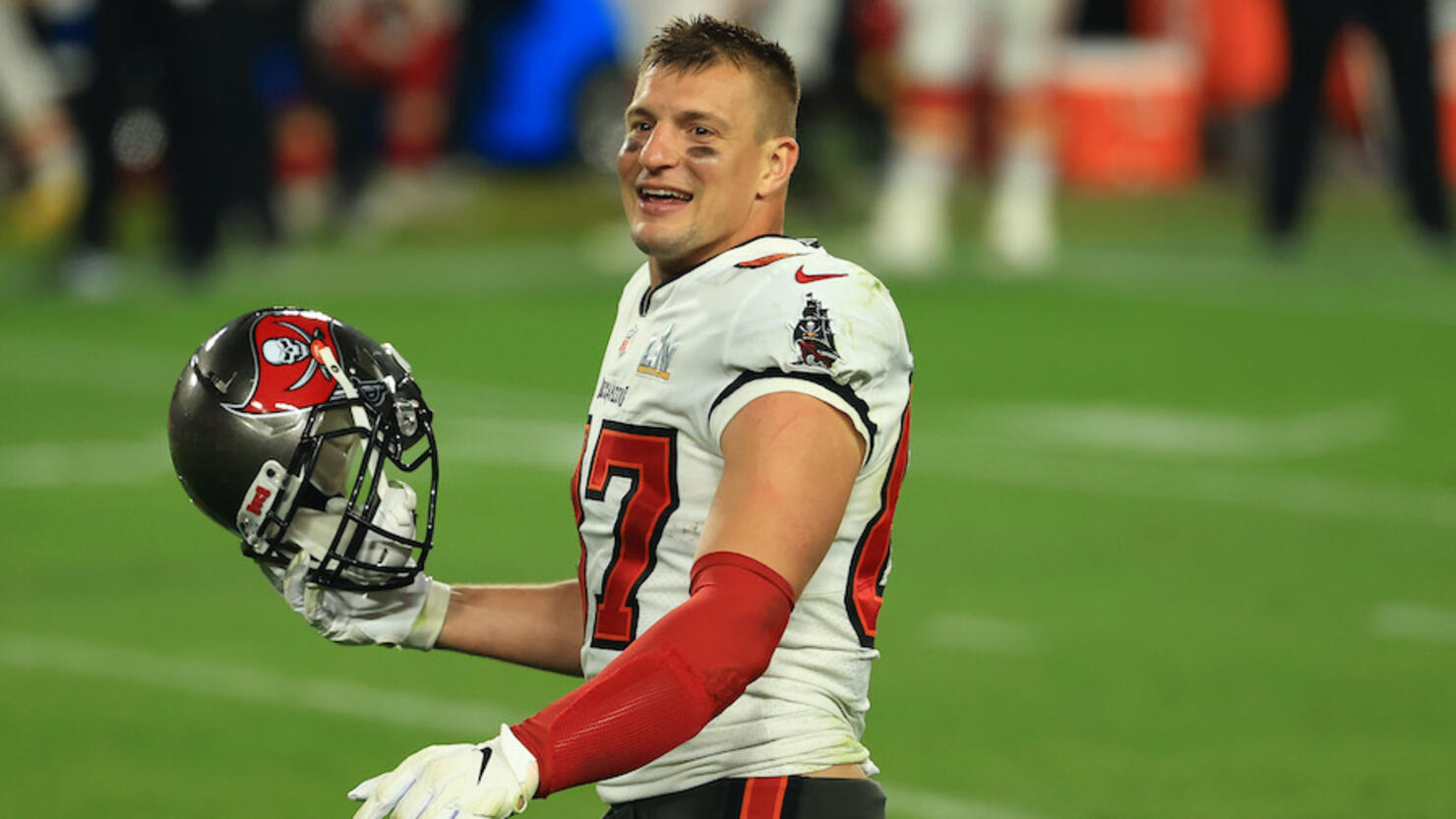 Rob Gronkowski has not touched the Lombardi Trophy he helped the Tampa Bay Buccaneers win as of Tuesday (February 9) afternoon and he's unsure whether the team is keeping it from him.
"I'm not sure if it's for a reason, if the Buccaneers organization is trying to keep it away from me, but it would be pretty cool just to even see it," Gronkowski told ESPN on Monday (February 8.) "I just saw it from about 30 yards away yesterday, but I have not touched it yet. Hopefully, I get to soon."
It's not like hasn't held it before. Gronkowski played on three Super Bowl winning teams as a member of the New England Patriots before winning his fourth championship on Sunday (February 7.)
In fact, that may actually be the reason why the Bucs would be keeping the Lombardi Trophy from the legendary tight end.
After the Patriots' victory in Super Bowl LIII, Gronkowski dented the Lombardi Trophy by using it to bunt a baseball thrown by wide receiver Julian Edelman, who he argued deserved blame for the incident.
"That was not my fault," Gronkowski said via Yahoo Sports. "That was Julian Edelman's fault. He threw me the pitch. Like Julian, I'm in the batter's box. I have the trophy as my bat and he's silly enough to throw me the pitch. Like what were you thinking Julian? Like, why would you throw me the pitch? You know I'm swinging. I'm Gronk. You think I'm gonna step in the batter's box and not take a swing?
"I just bunted it. Imagine if I took a full swing. I think the whole football on the Lombardi Trophy would be off."
The Patriots' official Twitter account acknowledged the incident while congratulating Gronkowski and longtime teammate Tom Brady on their most recent Super Bowl.
And Gronk, be careful with that trophy...

— New England Patriots (@Patriots) February 8, 2021
Gronkowski said he does have plans for the trophy once he gets it in his grasp.
"I'm going to give it a big kiss," Gronkowski told ESPN. "I've got to pay my respects to it. Give it a big hug. Give it a kiss. Hold it up in the air. Then, I just go with the flow. I just never know what's going to happen. I really don't try to plan anything. I just go with the flow and whatever happens happens. I just like being in that moment and thinking of things on the spot."
True to form, Brady and Gronkowski enjoyed record-setting performances during Super Bowl LV.
Brady finished Sunday's game with 201 yards and three touchdowns on 21 of 29 passing, winning a record fifth Super Bowl MVP Award, which surpassed his own previous record set in Super Bowl LI (2017.)
Gronkowski led the Buccaneers with six receptions for 67 yards and two touchdowns, the first of which set a new NFL record for most postseason touchdowns by a duo, as the 13th between himself and Brady during their lengthy run as teammates.
Brady and Gronkowski, who had previously appeared in five Super Bowls together prior to Sunday's game, connected on an 8-yard touchdown pass in the first quarter, which surpassed former San Francisco 49ers Joe Montana and Jerry Rice's previous record of 12.
Brady later connected with Gronkowski on a 17-yard touchdown with 6:05 remaining in the second quarter to extend the Bucs' lead to 14-3 and set the new record at 14 touchdowns.
The duo has now won four Super Bowls together, while Brady -- who won his record-setting fifth Super Bowl MVP on Sunday -- has won seven all-time, the most by an NFL quarterback.
Brady and Gronkowski had previously spent their entire careers on the Patriots prior to reuniting with the Bucs this past offseason.
Both Brady and Gronkowski -- who came out of retirement this past offseason -- both expressed their intention to continue playing next season after the Bucs' win on Sunday night.
Photo: Getty Images