Tom Brady Had Brilliant Plan To Win Nearly $2 Million On Super Bowl Bet
By Jason Hall
February 10, 2021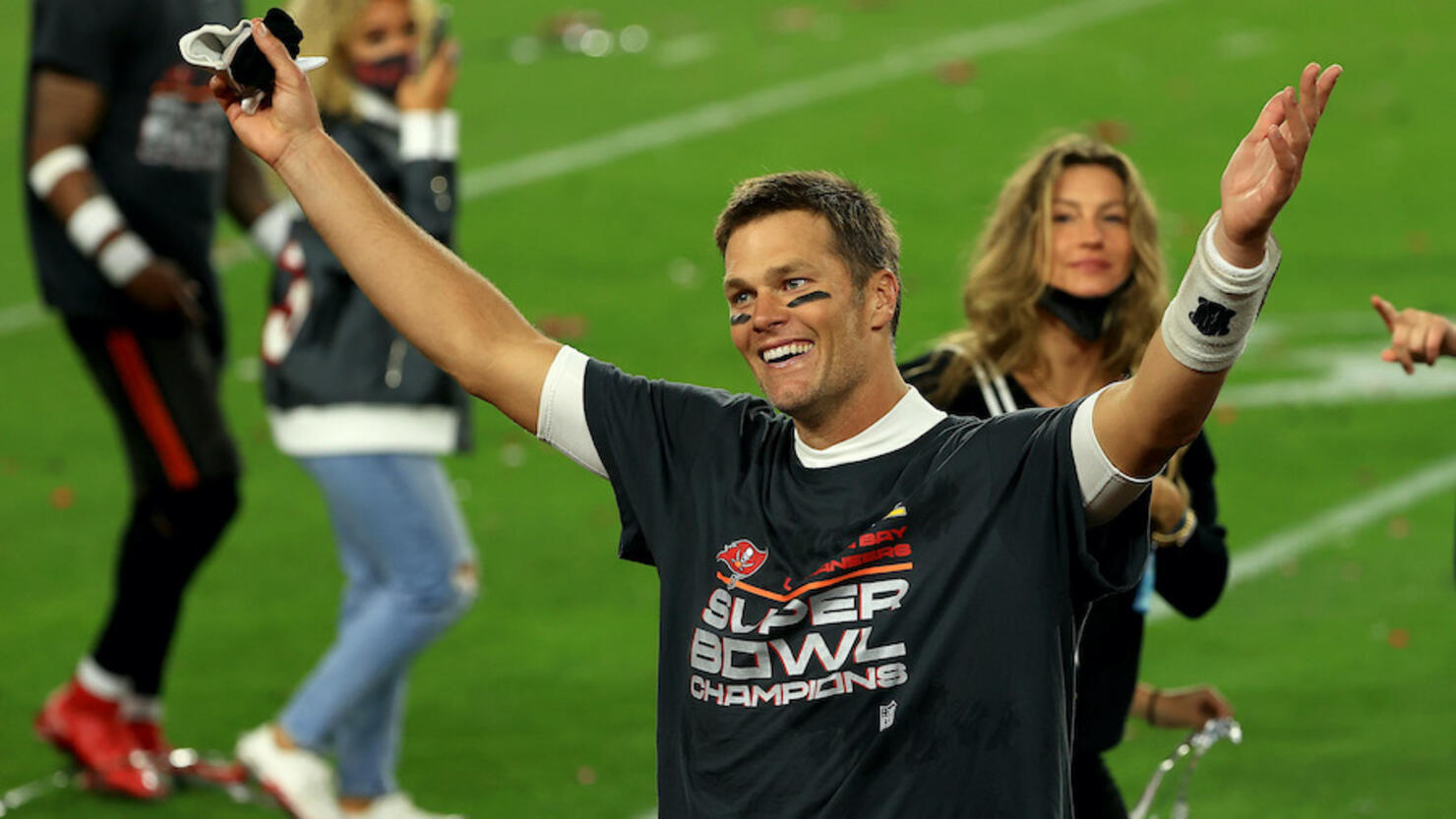 As if Tom Brady wasn't already winning enough, the legendary quarterback also apparently had a brilliant move to secure a prop bet during Super Bowl LV.
Brady, who won his seventh Super Bowl on Sunday, the most by an NFL player in history, was apparently aware that the Over/Under for his rushing yards in Super Bowl LV was set at an extremely feasible half-yard. That meant anyone betting on the over would win if Brady finished the game with at least one rushing yard.
Tampa Bay Buccaneers quarterbacks coach Clyde Christensen revealed Brady was not only aware of this, but jokingly came up with a strategy to win nearly $2 million by betting on the prop bet during an appearance on 'The Pat McAfee Show' Monday (February 8.)
"I'll give you one funny story from our last quarterback meeting [before the Super Bowl]," Christensen said. "We walk in and Brady goes, 'Hey, I got an idea. There's a half-yard Over/Under for me rushing for half a yard in the Super Bowl. Here's what I'm saying: We all put in $1 million and the first time they're in two three-techniques, I'm going to gain six and we're going to sit on that thing and protect it the rest of the way and we're going to fund our offseason.'" 
A three-technique is when the defensive linemen line up on the outside shoulder of the opposing offensive linemen, which would allow Brady to sneak up the middle to a wide open field.
Christensen said Brady planned to rush for six yards in order to make sure he'd have enough total yards to eventually finish the game with at least one yard if he had to kneel the ball.
Most sportsbooks listed the Over on the Brady rushing prop at +180, which means if the quarterback had taken the bet, he could have won $1.8 million on a $1 million bet. However, Christensen confirmed Brady didn't make the bet as players are prohibited from gambling on the NFL.
"I go, 'You can't.' He goes, 'I promise you if we have a million on it, I will not get sacked. We will not lose the money,'" Christensen said. "We didn't do it, FYI, for the record for the IRS and NFL. It was just a joke. He was funny because he knew someone had told him, 'Hey, there's an Over/Under for you rushing for a half-yard in the Super Bowl.' The quarterbacks all talked about it, 'Hey, we may all throw some money in there and see if we can pay for a nice vacation or something.'"
Brady finished Sunday's game with 201 yards and three touchdowns on 21 of 29 passing, winning a record fifth Super Bowl MVP Award, which surpassed his own previous record set in Super Bowl LI (2017.)
The victory was Brady's first as a member of the Buccaneers after joining the franchise in March following 20 seasons with the New England Patriots.
Brady now owns a 7-3 record all-time in the NFL's biggest game and surpassed his own previous record for most Super Bowl wins by a quarterback (6) set in February 2019. The 43-year-old also broke his own record as the oldest quarterback to both start and win a Super Bowl also set in 2019.
Sunday's win was Tampa Bay's second Super Bowl victory in franchise history. The Buccaneers are also the only team in NFL history to both host and win a Super Bowl in their home stadium.
Photo: Getty Images