Twitter Can't Get Enough Of Tom Brady Stumbling Out Of Bucs' Boat Parade
By Jason Hall
February 10, 2021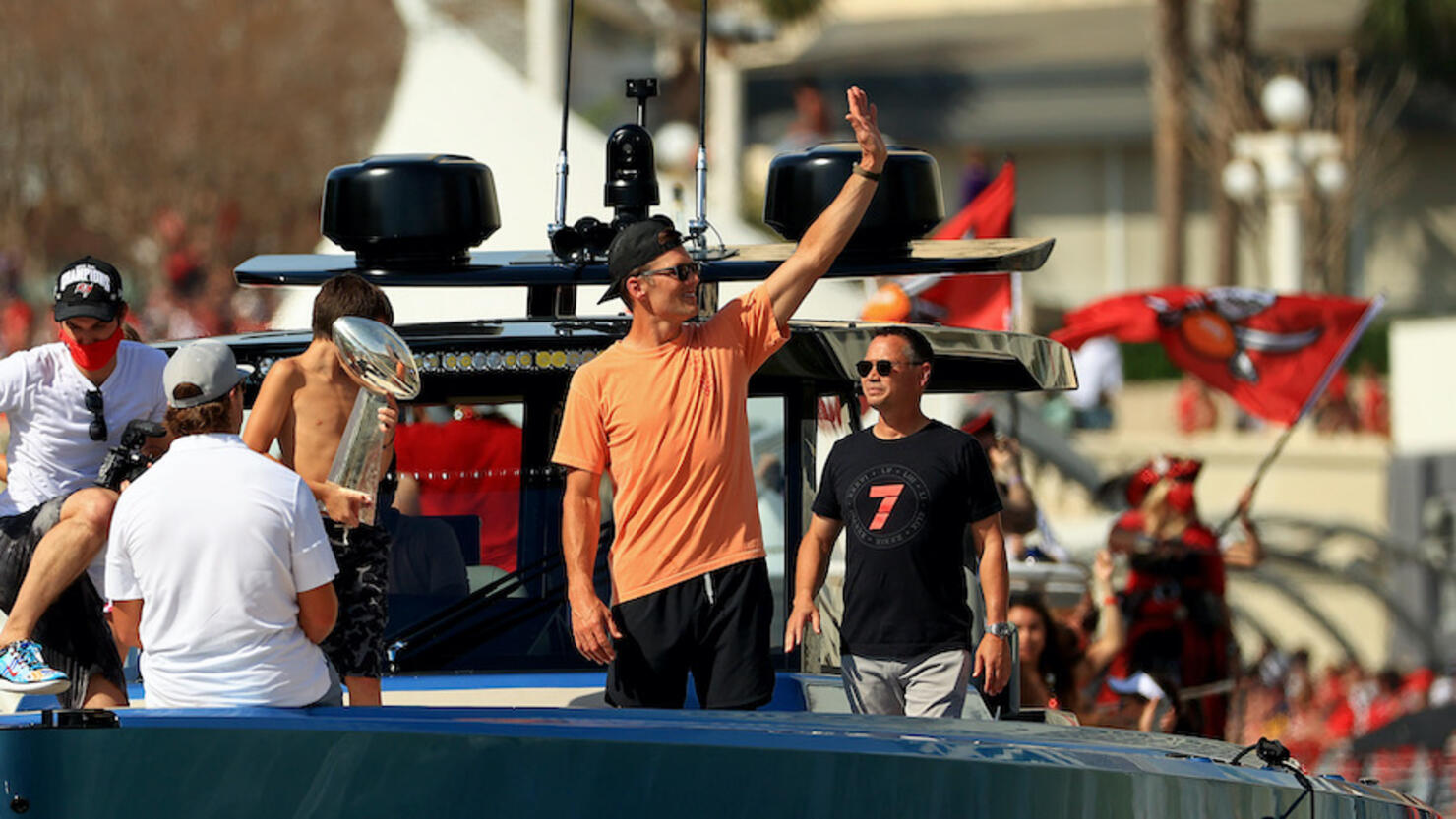 Tom Brady stole the show at the Tampa Bay Buccaneers' Super Bowl boat parade on Wednesday (February 10), and Twitter couldn't help but notice how much fun the legendary quarterback was having.
Numerous videos were shared of the Bucs' parade, which included Brady arriving on a $2 million boat and throwing the Lombardi Trophy to teammates on another boat. But it was a video of Brady staggering out of the party that also took social media by storm.
The clip, initially shared by Joey Knight of the Tampa Bay Times and re-shared by ESPN, shows Brady, wearing sunglasses and laughing, being walked out by another person.
Knight joked that Brady's "sea legs aren't what they used to be," but others were much more direct, claiming the creator of the TB12 Method was following a more lenient diet on Wednesday:
Tom Brady finally showed his age. He was the drunk uncle today. I'm crying 😂

— Torrey Smith (@TorreySmithWR) February 10, 2021
Brady responded to the trending video reshared by ESPN and quote-tweeted, "nothing to see her...just litTle avoCado tequila."
Brady finished Sunday's game with 201 yards and three touchdowns on 21 of 29 passing, winning a record fifth Super Bowl MVP Award, which surpassed his own previous record set in Super Bowl LI (2017.)
The victory was Brady's first as a member of the Buccaneers after joining the franchise in March following 20 seasons with the New England Patriots.
Brady now owns a 7-3 record all-time in the NFL's biggest game and surpassed his own previous record for most Super Bowl wins by a quarterback (6) set in February 2019. The 43-year-old also broke his own record as the oldest quarterback to both start and win a Super Bowl also set in 2019.
Sunday's win was Tampa Bay's second Super Bowl victory in franchise history. The Buccaneers are also the only team in NFL history to both host and win a Super Bowl in their home stadium.
Photo: Getty Images