T.J. Watt Already Seems To Be Recruiting Brother, J.J., To Pittsburgh
By Jason Hall
February 12, 2021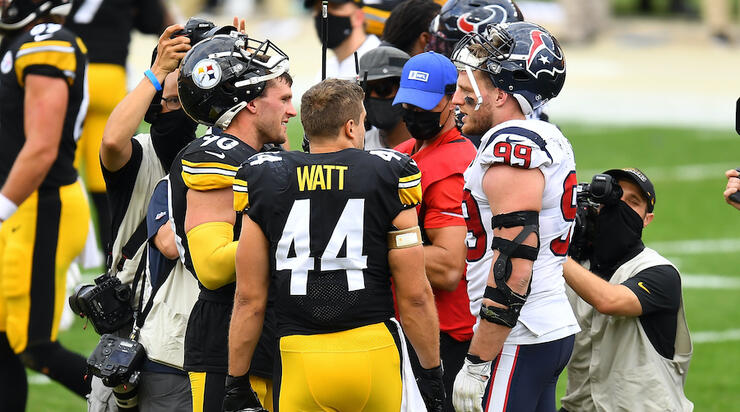 Could the Pittsburgh Steelers have all three Watt brothers on their roster next season?
Linebacker T.J. Watt seems to already be recruiting his brother, J.J. Watt, to join him and their brother, Derek Watt, in Pittsburgh next season shortly after the former three-time NFL Defensive Player of the Year was granted his release by the Houston Texans on Friday (February 12.)
T.J. quote-tweeted J.J.'s address to Texans fans announcing his release with a gif of Dwayne "The Rock" Johnson doing his "Just Bring It" taunt, implying his interest in having the eldest Watt brother join his siblings in the Steel City next season.
J.J. Watt spent his entire 10-year NFL career with the Texans after being selected No. 11 overall in the 2011 NFL Draft.
"I came here 10 years ago as a kid from Wisconsin, who'd never really been to Texas before," Watt said in his Twitter video. "And now I can't imagine my life without Texas in it. The way that you guys have treated me, besides draft night. I mean, you guys booed me on draft night. But every day after that, you treated me like family. And I truly feel like you're my family."
Watt won three NFL Defensive Player of the Year awards and was the only player since 1982 to record multiple seasons with 20 or more sacks during an incredible stretch from 2012 and 2015.
The former Wisconsin standout finishes his career in Houston as the franchise's all-time leader in sacks (101.0), tackles for loss (172), QB hits (282), forced fumbles (25) and fumble recoveries (16), while also making five Pro Bowl appearances (2012-15, 2016), and eight All-Pro nominations, including five first-team (2012-15, 2018) and three second-team (2014-15, 2018.)
Photo: Getty Images