Cardi B Talks New Music, Her Rise To Fame & More With Mariah Carey
By Peyton Blakemore
February 23, 2021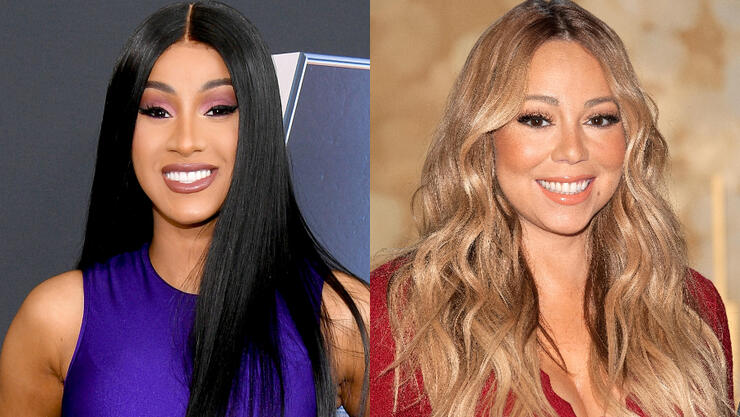 Nothing like a superstar interviewing a fellow superstar!
For Interview Magazine's latest issue, Cardi B sat down for a chat with the one-and-only Mariah Carey. The "We Belong Together" singer interviewed the mag's cover star for a candid discussion, as Mariah asked Cardi about everything from her new music to her previous days as an exotic dancer to life in quarantine.
"You probably want to talk about your new album and we can get into that. How are you feeling about it?" Mariah asked of the "WAP" rapper's highly-anticipated sophomore album.
"I feel like I'm missing some songs," Cardi admitted, before noting that the pandemic has also made her question if she should put music out during this time. "Everybody's rushing me to put it out, but I don't know if it's the right time. When I do interviews, I like to be in people's faces. I hate Zoom meetings. They're just so weird. I like to do listening parties. You can't even tour. That sh*t's wack as f**k."
The legendary songstress then offered Cardi some advice, saying, "Take your time to make it the best album that you can. That's what I think everybody wants you to do. I know how it feels when people try to rush you because you're coming off such a mammoth success."
Mariah went on to ask Cardi if she has "a song like 'Be Careful' on" her upcoming LP?
"I do have a song like 'Be Careful,' but I think it's more personal," the "Bodak Yellow" rapper revealed. "People were saying, 'You need to be softer. You need to talk more about yourself.' And I was telling them that it's really hard for me to do love records and express myself like that because I never do that. I don't talk about love and sh*t."
Sticking with the new music topic, Mariah asked Cardi if she has "any fears surrounding the new album?" to which Cardi replied, "people always have crazy expectations, especially when it comes to female rap. It's not like it's a competition, but people are always comparing and comparing and comparing." She added, "It's almost like they want to see you fail. I hate the feeling when I don't do something really good. So I want my sh*t to be good because my last album did so well, and if this one doesn't do well, I'm going to feel really sad."
The next topic on the table was Cardi's rise to fame as Mariah asked her to recall her time working in a strip club.
"... were you like, 'This is going to be the next step, and then I really want to make records'? Or were you just going with the flow?" Mariah asked.
"When I first entered the strip club, I was really shy. I felt really uncomfortable. I felt very ashamed. There were times when I was crying, like, 'Oh my gosh, if my mom or my dad found out, they'd be so humiliated.' But I needed the f**king money," Cardi recalled. "I was living with my boyfriend at the time, but he wasn't doing sh*t. I used to smoke weed back then, so I felt like weed was necessary. I wanted money for weed and to move out. I just wanted enough money to rent a room. That's how desperate I was to get the f**k out of the situation I was in."
Cardi admitted that when she was stripping she never expected or planned to become a superstar after that. "I went to a high school for performing arts. I used to sing, I used to rap, I used to act, all that sh*t. Once I started having troubles at home and got kicked out, I saw everything I did in high school as a silly dream. It wasn't reality anymore," she admitted to Mariah. "So when I started stripping, after a while, I just wanted to make $20,000. 'If I make $20,000,' I thought, 'I'll open a f**king business and I won't have to strip anymore.'"
To read Mariah's full interview with Cardi B, click HERE!
Photo: Getty Images