HAIM Explains How Joni Mitchell's 'Miles Of Aisles' Changed Their Lives
By Eliot Hill
February 23, 2021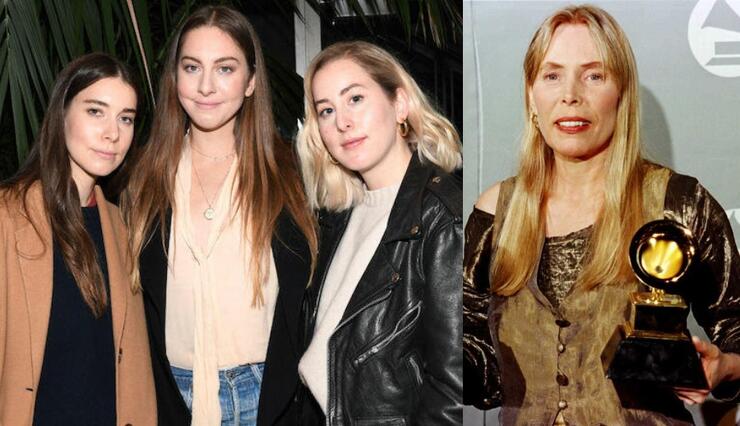 It's no secret that HAIM draws inspiration from the pioneer women in rock music and in a new Rolling Stone interview, the sisters opened up about how Joni Mitchell changed their lives forever.
"Miles of Aisles was the Joni Mitchell album that started our love affair, and it's the one that I always go back to," Danielle Haim said of Mitchell's live album from 1974. "There's a little bit of everything, songs from all her albums up until then… That's such a great canvas for her music."
All three sisters agreed that this was the album that inspired them to create their own music and Alana, who was six when she first heard the album, admitted that she once thought her mom was the famed singer. The youngest of the three detailed how it was the only CD in their mom's car; which meant she knew the song front to back.
"Because I was so young, and because my mom knew all the songs and would sing every word, I thought my mom was Joni Mitchell at one point," she explained. "She knew every single run and every single melody on that record. It was the most inspiring thing."
Este further talked about how their mom's love for Joni trickled down into them as well: "We saw our mom and how much she loved Joni, and that made us inherently love Joni that much more."
Mitchell's influence can be found in HAIM's music, especially "Man From the Magazine" which sounds like it's straight out of Mitchell's music catalog — and it's no accident.
"Her views of rhythm have always been in our blood," Danielle said."[Her songwriting] is so percussive and rhythmic."
Photos: Getty Images