What Luke Bryan Texted Eric Church After His Super Bowl National Anthem Set
By Hayden Brooks
February 23, 2021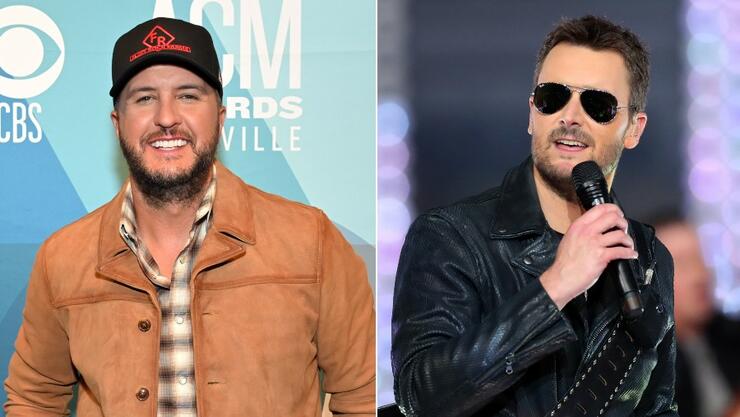 All eyes were on Eric Church at the top of Super Bowl LV when the country titan shared the field with Jazmine Sullivan for a unique arrangement of "The Star-Spangled Banner." Fellow country titan Luke Bryan was in the audience of the Raymond James Stadium showdown in Tampa, Florida and sent Church a message after his performance.
"I was like, 'Dude, I know you're glad it's over. Congrats,'" Bryan recalled during a press outing on Friday (February 19). "And he sent me one word: 'Stressful.'"
Bryan also knows all too well about the pressure that comes with the national anthem. Back in 2017, he performed an a cappella rendition to kick off Super Bowl LI between the New England Patriots and the Atlanta Falcons. The set caused online controversy when fans caught the singer reading the lyrics off his hand while he performed the number.
"I said, you know, I didn't move to Nashville and go through all this to puss out on those kind of moments," Bryan explained. "This is a time where you've gotta do it, you've gotta own it, you've gotta own what you are, and no matter how much moxie or swagger you've got, you've gotta walk your butt out there and sing the anthem ... and move on from your past."
Previously, Church described the performance as an important moment in our times. "With what's going on in America, it feels like an important time for a patriotic moment," he told The Los Angeles Times. "An important time for unity. The fact that I'm a Caucasian country singer and she's an African American R&B singer — I think the country needs that."