Tom Brady Reveals Wife Gisele's Hilarious Reaction To 7th Super Bowl Win
By Jason Hall
March 3, 2021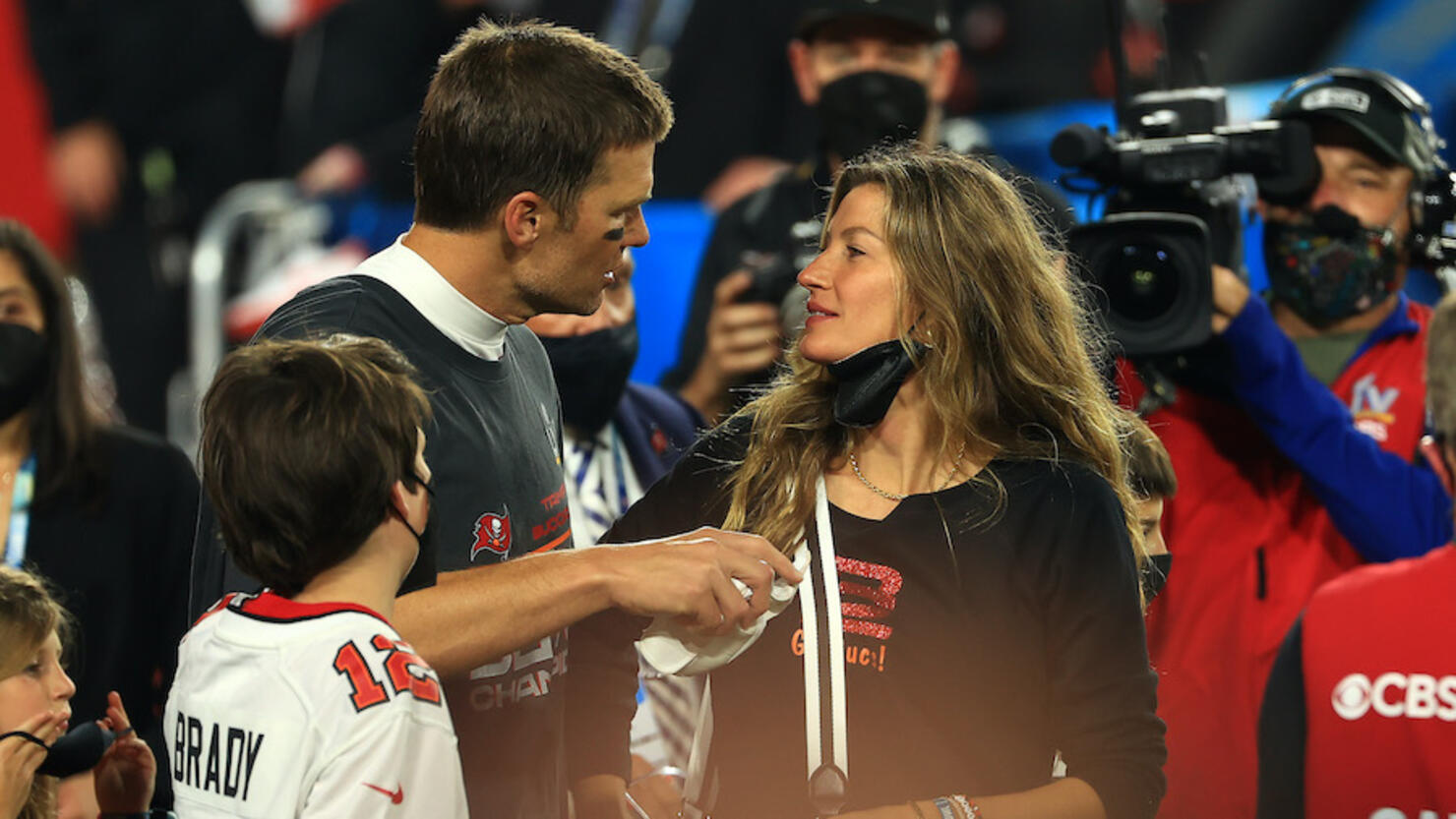 Tom Brady's wife, supermodel Gisele Bündchen, is well aware of her husband's incredible career accolades.
During an appearance on 'The Late Late Show with James Corden' on Tuesday (March 2), his first interview since winning his seventh Super Bowl, Brady revealed his wife hilariously questioned what the quarterback had left to prove, perhaps attempting to sway the 43-year-old into considering retirement.
"It's a big moment, obviously, and it's a culmination of a lot of months of everyone working hard and, like I said, there's so many people that around us, support us, and then all of a sudden the game ends and you realize, 'OK, the season's over, we won the Super Bowl, they're dropping confetti,'" Brady said.
"And this year was obviously different, but, anyway, I was looking for my family. 'Where's my family? Where's my family?'
"And, all of a sudden, I see my oldest son run over to me. 'Dad!' I gave him a big hug and I saw my two little ones and all of a sudden I saw my wife and I gave her a big hug and just as a I did it, she says, 'What more do you have to prove?'"
Brady and Bündchen began dating in 2007 and married in 2009, with the quarterback winning the last four of his seven Super Bowl championships during that span.
Brady, who already confirmed he will be returning for his 22nd NFL season, referred to his wife as "the best supporter" and told Corden he did his best to deflect her question.
"I just gave her a big hug," Brady said. "I was trying to find a way to change the subject really quick. I think I moved onto something else pretty quickly."
Brady finished Super Bowl LV with 201 yards and three touchdowns on 21 of 29 passing, winning a record fifth Super Bowl MVP Award, which surpassed his own previous record set in Super Bowl LI (2017.)
The victory was Brady's first as a member of the Buccaneers after joining the franchise in March following 20 seasons with the New England Patriots.
Brady now owns a 7-3 record all-time in the NFL's biggest game and surpassed his own previous record for most Super Bowl wins by a quarterback (6) set in February 2019. The 43-year-old also broke his own record as the oldest quarterback to both start and win a Super Bowl also set in 2019.
The win was Tampa Bay's second Super Bowl victory in franchise history. The Buccaneers are also the only team in NFL history to both host and win a Super Bowl in their home stadium.
Photo: Getty Images