Cardi B & Candace Owens Engage In Wild Twitter Battle
By Peyton Blakemore
March 17, 2021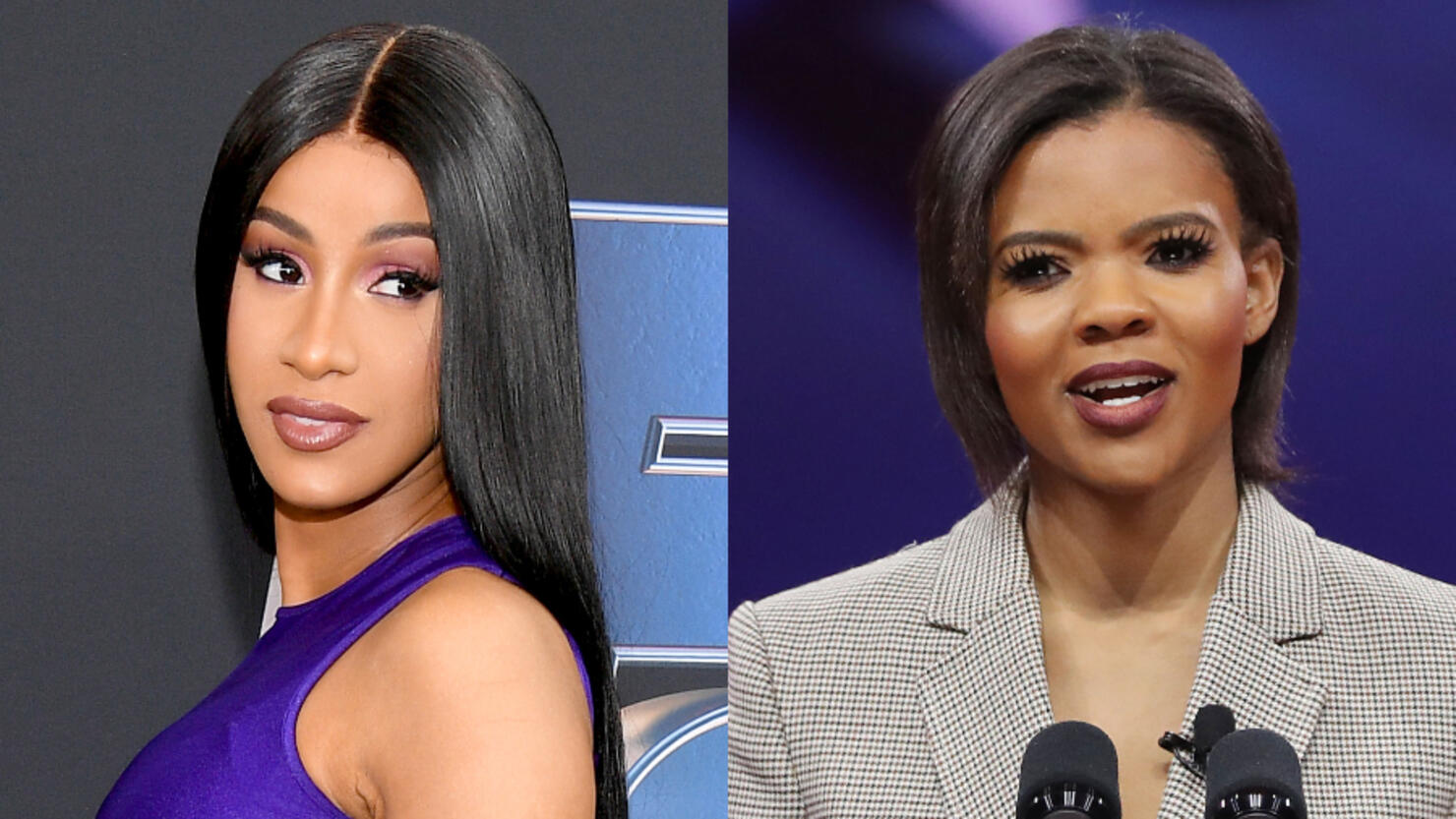 Cardi B and Candance Owens are back to sparring on Twitter.
The ladies' Twitter war began after the right-wing conservative made an appearance on Tucker Carlson's Fox show on Monday (March 15) and criticized Cardi and Megan Thee Stallion's performance of their hit single "WAP" during Sunday's (March 14) Grammy Awards.
Candace called the performance "an attack on American values, American traditions" and accused both Meg and Cardi of "actively trying to make children aspire to things that are grotesque." She added, "We are celebrating perversity in America."
Days later, the interview found its way to Cardi, who addressed it on Twitter, sharing a clip of Candace's appearance, writing "Yaaaayyyyyyy WE MADE FOX NEWS GUYS !!! Wap wap wap."
She later added, "Matter fact I'm just going to thank Candy (Owens) She put my performance on Fox News giving it more views that boosted the views on YouTube and is counting towards my streams and sales. ... STREAM UP AND WAP .REMEMBER GROWN PARENTS ONLY YOU CAN MONITOR WHAT YOUR KIDS WATCH NO1 ELSE."
An all-out Twitter war then ensued as Cardi and Candace exchanged tweets about politics, race, gender roles, each other's spouses, and more. (Some tweets were too explicit to even include.) Their Twitter battle royal ultimately ended with both women threatening legal action against the other.
See some of their tweets below.
I don't work for Fox News, Belcalis, nor do I take issue with you having success.
I take issue with you being used to encourage young women to strip themselves of dignity.
Men typically treat women how they treat themselves.
You know that. https://t.co/1BZQOVTR6t

— Candace Owens (@RealCandaceO) March 16, 2021
Millions of young girls follow you. At your best, you are self-deprecating and humorous.

At your worst, you are naked, shoving your vagina into another woman's vagina while thrusting atop her.

You were at your worst on the Grammy stage.

Do better @iamcardib

— Candace Owens (@RealCandaceO) March 16, 2021
And black women should be more like you? 🤨After all the fighting for equality and freedom they should be submissive to a white a man after years of abuse & rape making them a sandwich while pregnant cause in your words " that's what a woman should do"? Interesting https://t.co/4BxuhbA3iw pic.twitter.com/ZiAoV8p4Oz

— iamcardib (@iamcardib) March 16, 2021
It's not a sin but claiming "That's what a woman supposed to do set us women Black or white to hundreds of years back. You have your own show and voice because women fought for years for us to be free to do what we please NOT to be in a kitchen being submissive to a man . https://t.co/EwLVNCeCx8

— iamcardib (@iamcardib) March 16, 2021
And as a black woman you should know better then that .You know Deum well America made caricature of black women only being good in the kitchen and taking care of children also known as the "mammy" https://t.co/EwLVNCeCx8

— iamcardib (@iamcardib) March 16, 2021
I want to make this very clear .Before I was signed to a label Candy already endorsed me in a tweet .She knew what I was about she watched my come up on l&hh.Yet you still indorse me and said I had the mind of her idol Kanye.Don't be mad at me be mad at yourself . pic.twitter.com/TlT7h97j6K

— iamcardib (@iamcardib) March 16, 2021