Nikki Glaser Once Drank John Mayer's Backwash & Other Stories
By Diana Brown
April 7, 2021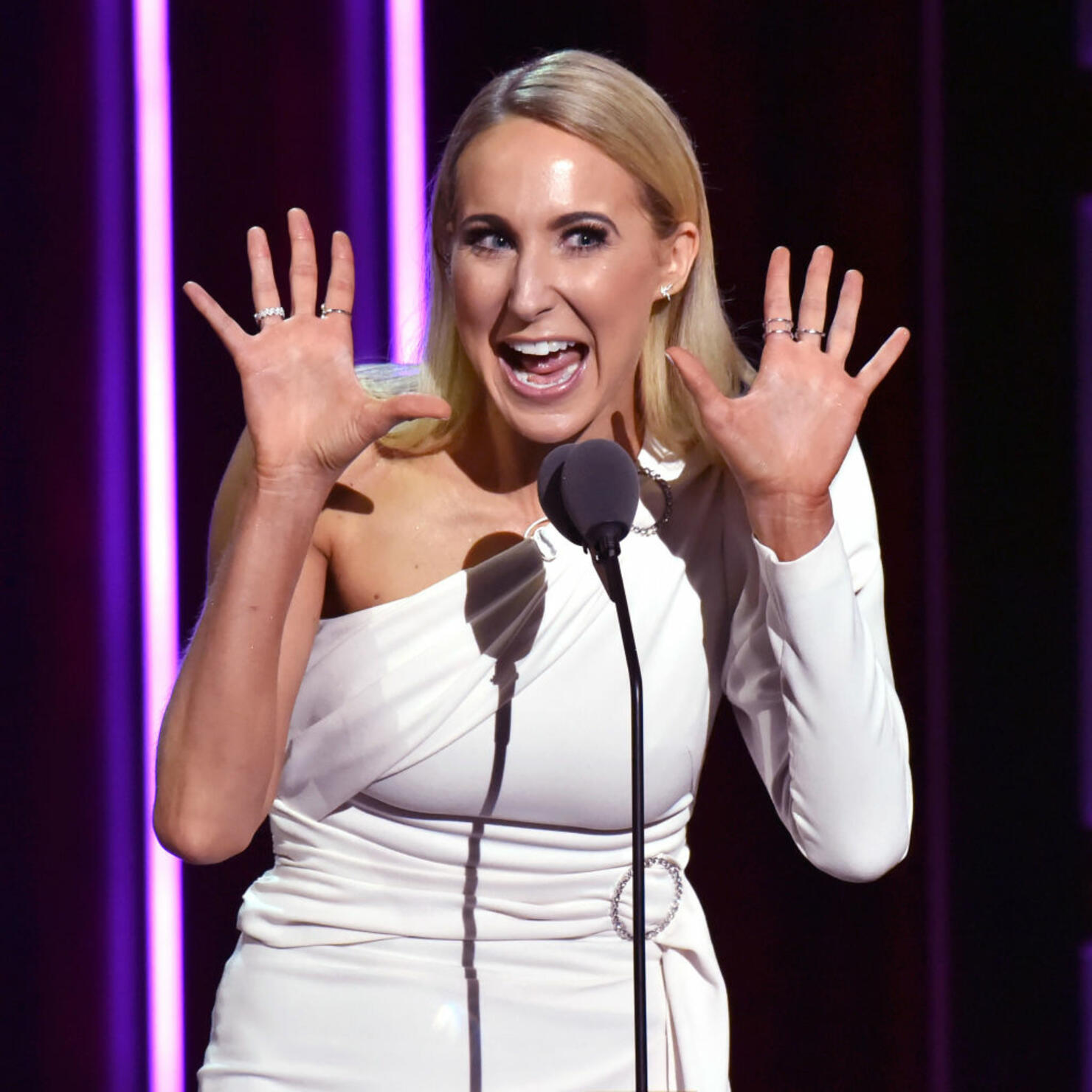 Comedian and infamous roaster Nikki Glaser is known for her brutally honest (and hilarious) takes on everything from pop culture to pornography to her own personal life, so it's no surprise that on her new podcast The Nikki Glaser Podcast she delivers all that and more. On this episode, she and her co-host Andrew resolve a personal disagreement; she reveals that she once drank John Mayer's backwash; works through her trouble with perfumes and insecurity about smelling bad; and explains why Angelina Jolie should just let Brad Pitt have joint custody already. Plus, cows are wearing Oculus VR headsets, you can actually add an inch to your tongue by pulling on it 30 times a day, and Andrew should probably learn how to grocery shop. 
Nikki recently praised a Paris Hilton perfume, but admits that she has a hard time picking fragrances because she doesn't trust her own taste. "But I thought, if it's good enough for Paris it's d**n good enough for me!" She's a little frustrated at Andrew for not going to the grocery store for her on his day off, even though she knows it's not reasonable and that it's her own fault for not hiring a personal assistant. Plus, she isn't even sure what he would buy because he doesn't plan for the future. "He'll be at the grocery store like, 'Well I just ate, so I don't need anything.'" Andrew gets into the headlines, telling Nikki that Snapchat glasses are being developed – "You can literally do Snapchat filters in real time," he says. That reminds Nikki about a story where farmers are putting VR headsets onto cows to simulate a green pasture, which helps them relax and produce better milk and meat. "It's like, we can't just give them that?" Nikki says. "Their lives are such hell that we have to put goggles on them?" 
She doesn't like that celebrities don't usually use the products they endorse: "My prime example is that Adam Levine had a line of women's clothes at K-mart," and all the marketing around it was "like 'Adam Levine will f**k you if you wear these jeans….Adam Levine wouldn't f**k you if you shop at K-mart," she says. "He'd probably spit on you, if that's what you like." Speaking of spit, she did once drink John Mayer's backwash by stealing his water bottle after a concert and sharing it with her friends; similarly, they "touched Adam Durwitz," and when they got home from the concert, used tape to lift his fingerprints off their hands and put them onto a postcard. "Anyway, I used to really love concerts!" Hear all these hilarious stories (and learn a new word!) on this episode of The Nikki Glaser Podcast.
If you want to be sure you're listening to the podcasts everyone else is checking out, iHeartRadio has you covered. Every Monday, iHeartRadio releases a chart showing the most popular podcasts of the week. Stay up to date on what's trending by checking out the chart here. There's even a chart just for radio podcasts here, featuring all your favorite iHeartRadio personalities like Bobby Bones, Elvis Duran, Steve Harvey and dozens of others.
Photo: Getty Images