Maluma Is Pairing His Love For Planet Earth With The Latinx Community
By James Dinh
April 30, 2021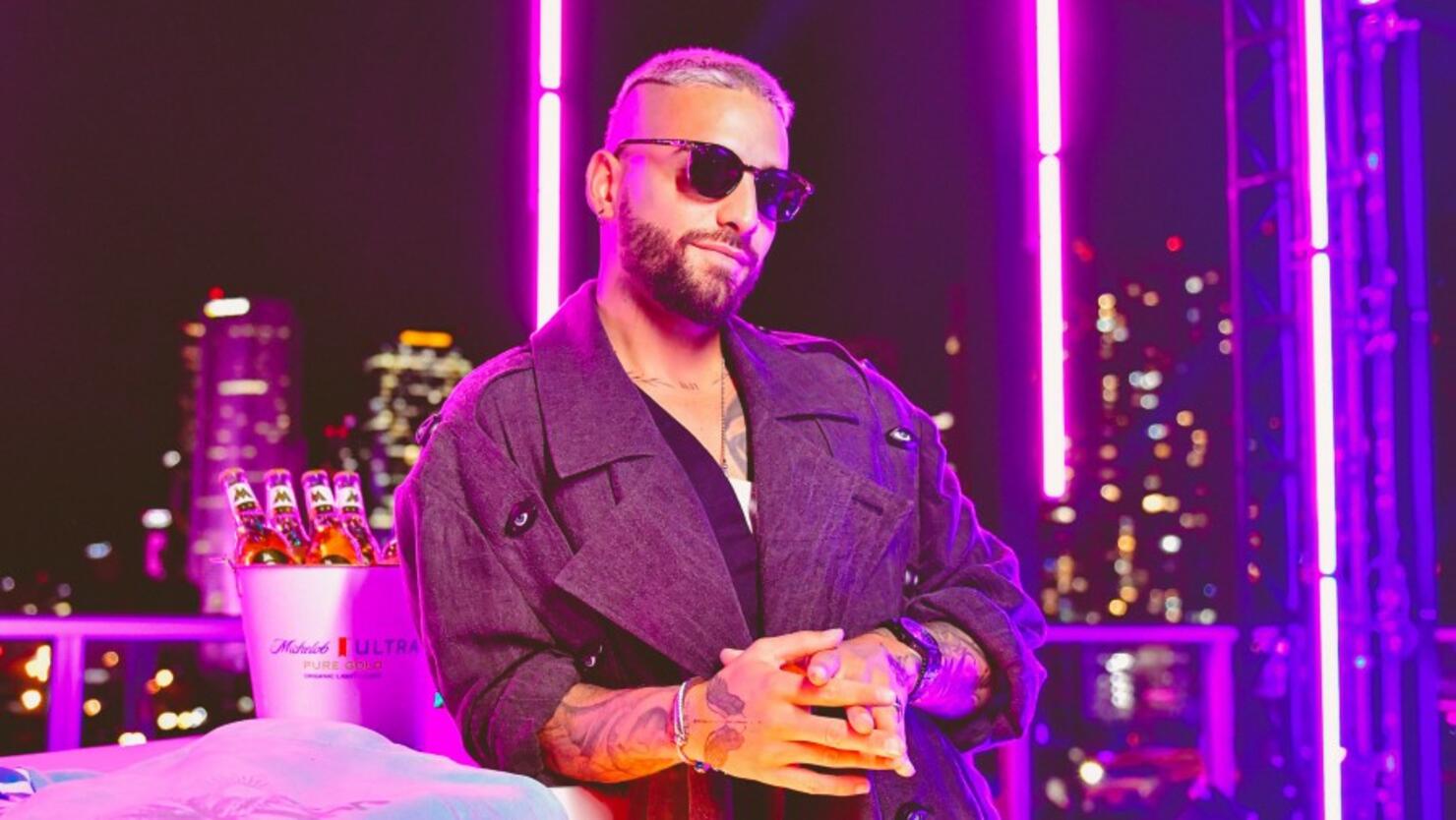 Maluma cares deeply about planet Earth and the Latinx community, and he's combining the two passions for his next performance.
On Sunday (May 2), the Colombian heartthrob will celebrate Hispanic culture and community during Anheuser-Busch's Reventon de Verano virtual celebration, which will begin streaming at 6 p.m. ET. Hosted by Lele Pons and AJ Ramos, the event will feature performances from Becky G., Myke Towers, Prince Royce and more from different parts of the globe. For Maluma's headlining set, the superstar will take to Miami to perform his latest album, #7DJ, in front of a backdrop designed by visual artist Federico Uribe. The two collaborated on the project's cover art, which sees a portrait of the star made out of daily plastic objects, including bottles, caps, plastic cutlery, toys and electronics, to name a few.
Fresh off the release of "Rumba (Puro Oro Anthem)," his Earth Day team-up with Michelob Ultra Pure Gold, Maluma spoke to iHeartRadio about the event, performing the cross-cultural LP for the first time and what it means to educate the new generation on the intersection of nature and sustainability.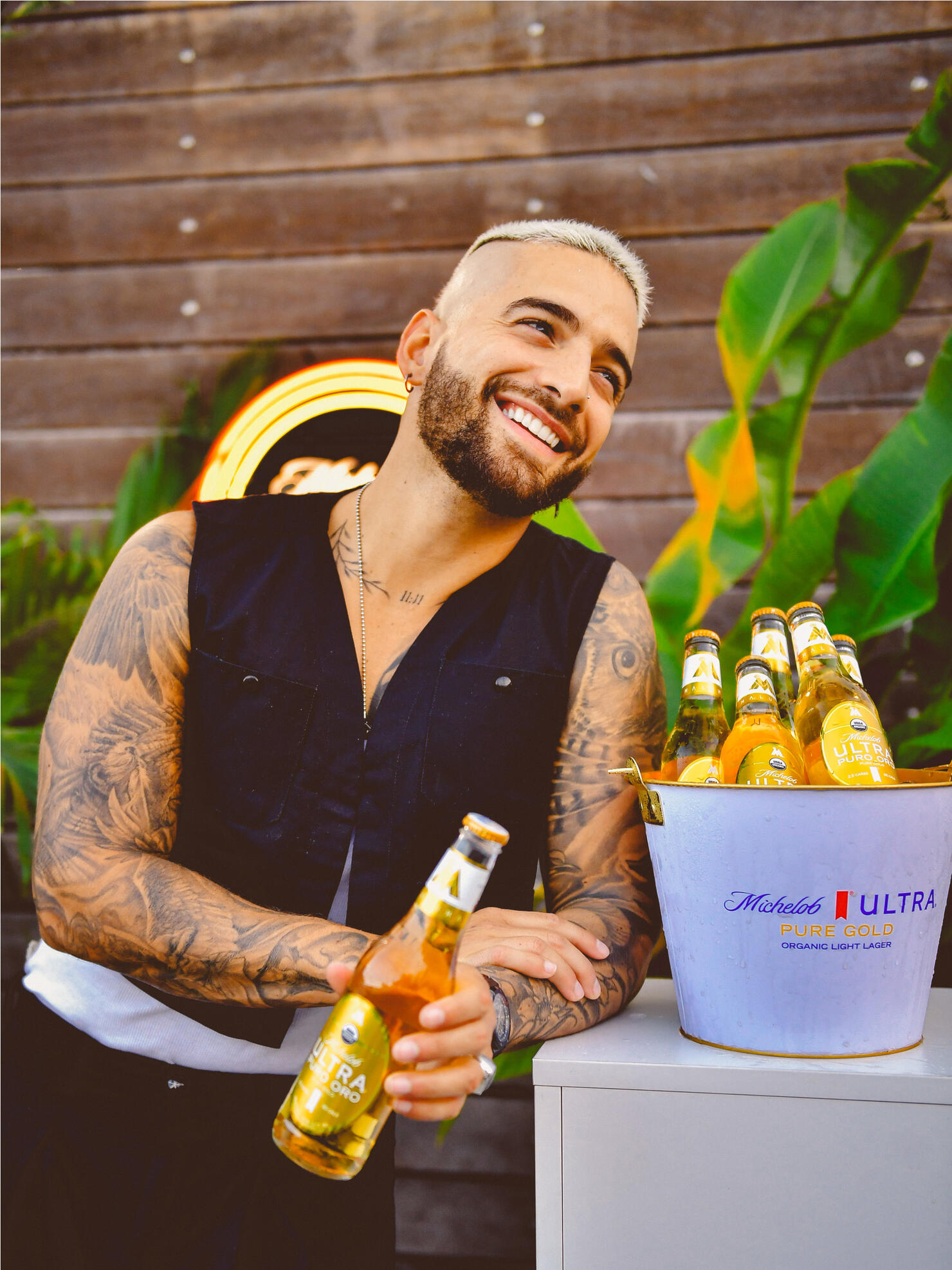 Let's talk about Anheuser-Busch's Reventón de Verano. How did you get involved in this event?
Anheuser-Busch is like family. We have worked together through Michelob Ultra Pure Gold and when they mentioned performing, I was excited to perform my new album #7DJ for the first time and to have the opportunity to bring great energy into people's homes through music.
The virtual affair will feature your sustainable art collection with Federico Uribe. How do your visions on sustainability and the environment align?
I feel we don't do enough for our Mother Earth, who has been kind to us in sharing its beauty and resources. I want to continue to educate the new generation and my Latin community on the importance of taking care of our planet, and how to do so.
The collaboration arrived in conjunction with the release of #7DJ, which was inspired by your trip to Jamaica. There's a level of thoughtfulness in the way the record shows love to the island and Black culture. How conscious were you of this when working on the project?
I followed my heart and I have always admired the Jamaican culture and music. In Colombia, there's a big fan base of Jamaican music and I grew to that, and it was my dream to blend both sounds and cultures.
Had you planned on creating a cross-cultural concept record going into that vacation? I read you were seeking a big break.
I didn't think of it as a cross-culture concept going into recording this album. I am in a place within my life, where I feel grounded and connected to the world, and felt creating an album from Jamaica with their influences is what my heart and mind was asking for.
The cover is the portrait of yourself that Uribe created and was auctioned off, with proceeds going to your foundation, El Arte De Los Sueños. What's been the most rewarding takeaway in seeing how your activism helps the youth in Colombia?
For me, it's educating the new generation and making them more aware. In addition, to the main art cover piece, we auctioned off other pieces, which a portion of the proceeds benefitted the following non-profits based in Colombia such as Fundacion Amigos del Mar, Jardín Botánico de Cartagena and Stand Up Providencia as well.
You recently announced a new limited-edition clothing line with Balmain. What's your mantra when it comes to fashion?
My mantra is expression. Fashion is like music, an opportunity for expression and feeling.
You also have to Marry Me, your upcoming film with Jennifer Lopez, set for release in February 2022. You've teamed up with her on a number of occasions, but this project required you two to collaborate as actors. What surprised you most about working with her on the film?
Hmm...I didn't have surprises because I had already known she was one of the hardest working women in showbiz. But experiencing it and seeing how on top of it she was…It was just amazing to see. She definitely inspired me.
You've done so much this year and it's only April. How do you maintain a healthy and happy headspace with your busy schedule?
I make time for myself by working out, meditating and getting enough sleep and eating well. In addition, my family is my fuel, so spending time with them and creating happy moments keeps me happy and focused.
What can fans look forward to in the coming months?
Oh man, I cant wait for my fans and I to reconnect through my USA tour, which kicks off in September. Being able to be on a stage and sing to them, and feel their energy is what I am looking forward to the most.
This conversation has been edited for length and clarity.