Actions Taken After Multiple Fan Incidents During NBA Playoffs
By Jason Hall
May 27, 2021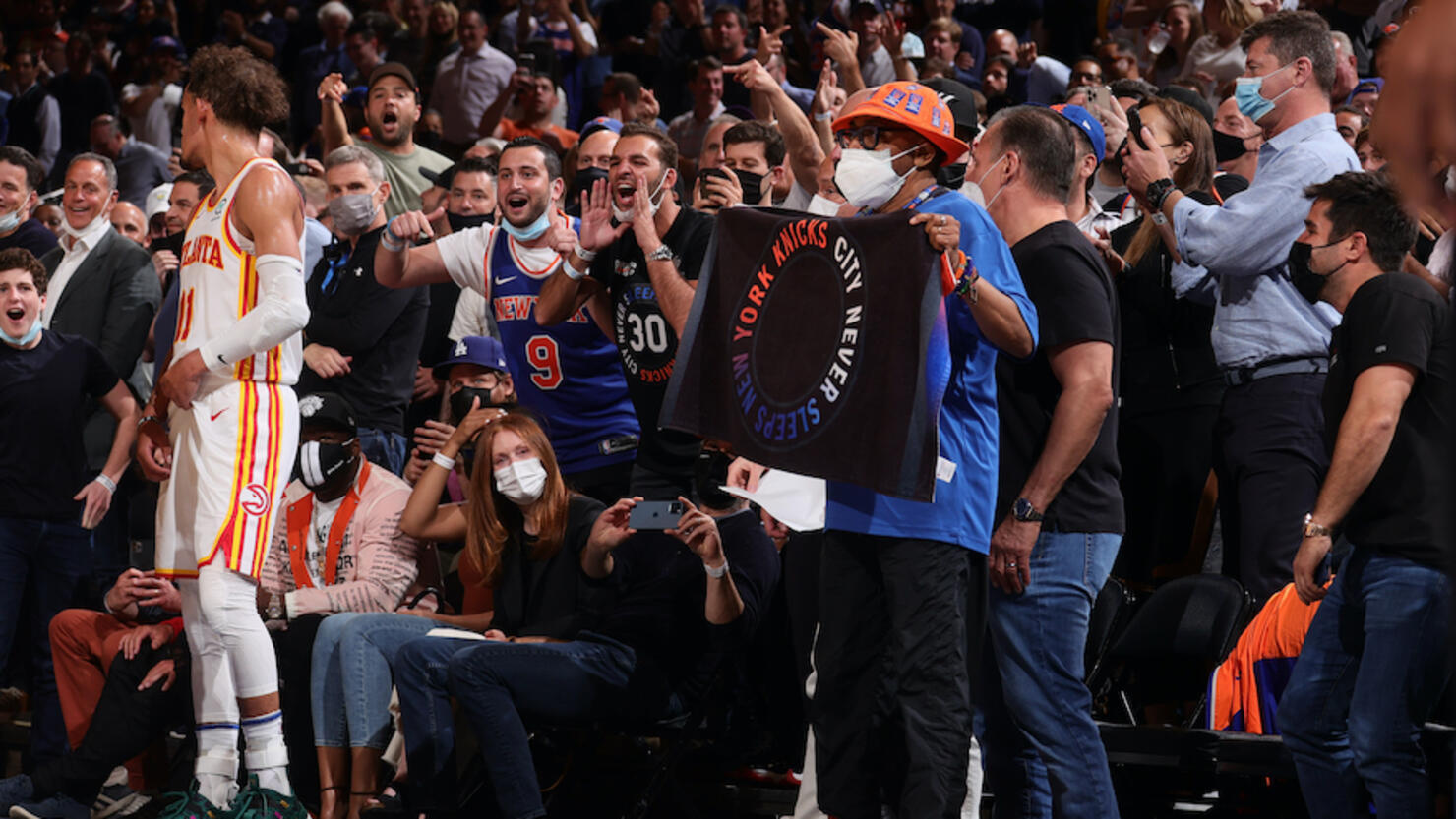 The New York Knicks and Philadelphia 76ers have both taken action after incidents involving fans and players from opposing teams during the NBA Playoffs.
On Wednesday (May 26), a video showed a fan in attendance for the Knicks' Game 2 home victory against the Atlanta Hawks spitting on Hawks point guard Trae Young during an inbound play.
In Philadelphia, Washington Wizards point guard Russell Westbrook had popcorn thrown on him while exiting the game following an ankle injury.
The Knicks released an official statement on Thursday (May 27) announcing that the fan involved in the incident with Young has been banned from Madison Square Garden.
"We investigated the matter and determined that this patron, who is not a season ticket holder, did indeed spit on Trae Young, and for that reason, he is now banned from The Garden indefinitely," the statement read. "We apologize to Trae and the entire Atlanta Hawks organization for this fan's behavior. This was completely unacceptable and will not be tolerated in our venue. We have turned the information over to the appropriate authorities."
Young, who has put up an outstanding performance through two games and drawn the ire of Knicks fans, seemed unfazed by the incident, instead showing concern for rapper 50 Cent and model Cuban Link, who were sitting courtside behind him in the video.
"Damn... Crazy ! @50cent y'all good?! " Young quote-tweeted with the video.
Westbrook, however, was in less of a joking move as he was held back by multiple people during the incident.
"To be completely honest, this s--- is getting out of hand, especially for me. The amount of disrespect, the amount of fans just doing whatever the f--- they want to do -- it's just out of pocket," Westbrook said via ESPN. "There are certain things that cross the line. Any other setting ... a guy were to come up on the street and pour popcorn on my head, you know what happens.
"In these arenas, you got to start protecting the players. We'll see what the NBA does."
The Sixers confirmed that the fan who threw the popcorn will have his season ticket membership revoked and is banned from all events at Wells Fargo Center indefinitely.
"After an investigation into the incident at last night's game, we have determined that the person involved will have his season ticket membership revoked, effectively immediately," a statement from the 76ers read. "In addition, he will be banned from all events at Wells Fargo Center indefinitely.
"We apologize to Russell Westbrook and the Washington Wizards for being subjected to this type of unacceptable and disrespectful behavior. There is no place for it in our sport or arena."
Wizards teammate Bradley Beal called the incident "disgusting" and head coach Scott Brooks, who had also previously coached Westbrook during his first seven seasons with the Oklahoma City Thunder, called for the fan to be banned prior to the Sixers' decision.
"Very disrespectful. Philadelphia is better than that," Brooks said.
Photo: Getty Images