Sammy Hagar Says David Lee Roth's Entire Personality Is An Act
By Andrew Magnotta @AndrewMagnotta
June 30, 2021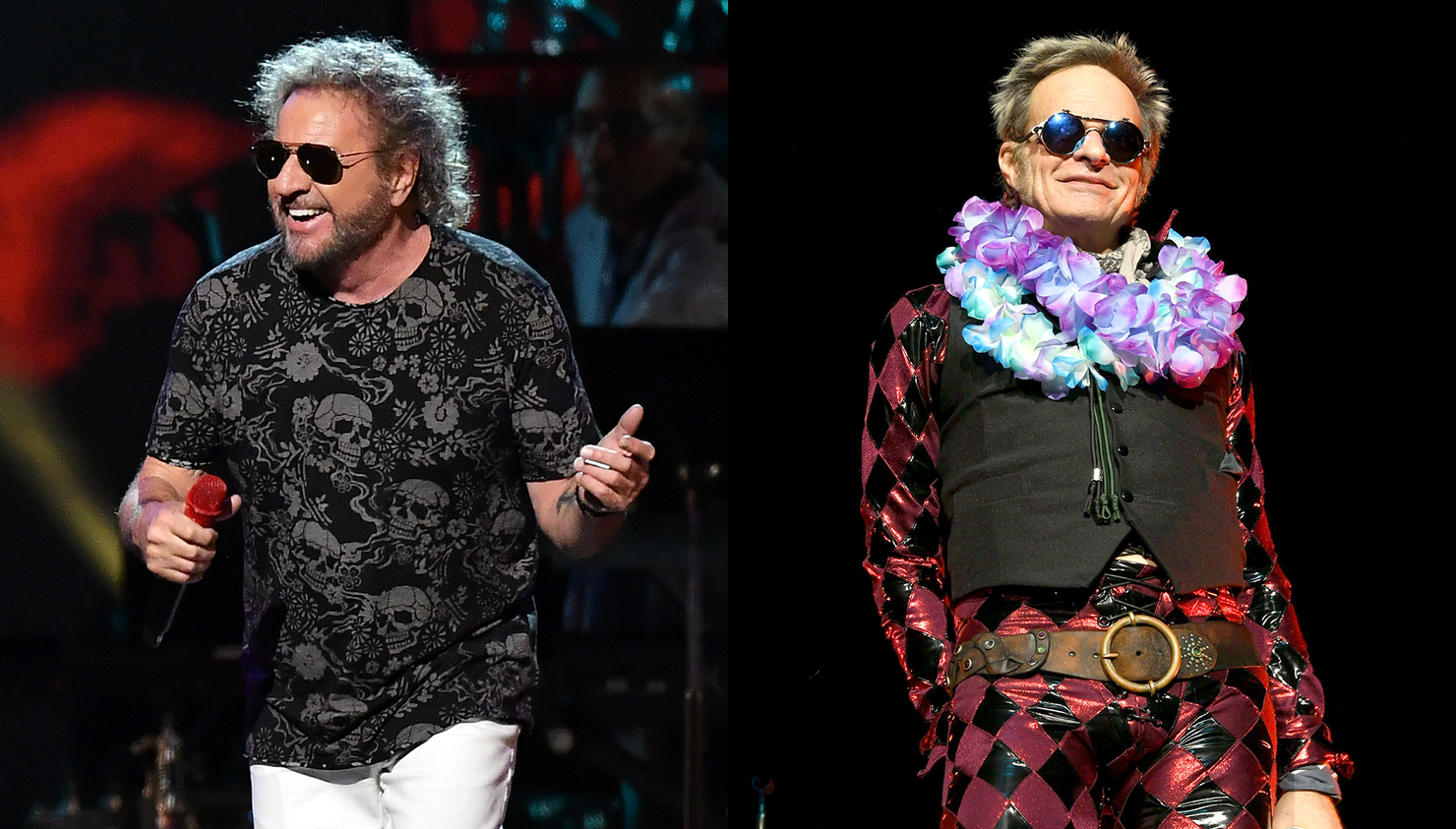 Sammy Hagar couldn't help himself recently when asked to contrast his performance style with that of his longtime Van Halen rival, David Lee Roth.
Speaking to Inside With Paulo Baron, Hagar acknowledged the Roth knows how to entertain but complained that nothing the Van Halen co-founder does is authentic.
"[David is] a real character. He's a showman. He's all show. I enjoy him. But you talk about cringing. I can't imagine how he feels when he looks at some of them old videos, the way he was dancing and moving, and the way he was singing live sometimes. I don't know how he feels about all that, but I don't think he cares. The difference between him and I [is] I sincerely care — I care about everything I do and I care how it affects people and I care what they think. I care that it touches them and it makes them happy. And what is important to me is enlightening and elevating people spiritually and making them happy and making them have big dreams, making them want to be better themselves. And that's my goal with everything I do — is to bring that to people and change their life, if I can.
I don't think he cares about anything like that. And that's the difference between our presence. He's very much into himself, very much into being a showman and doesn't really care. I don't know what he cares about; I really don't. I don't know him. I have no idea who that guy is; I don't think anyone does. But he entertains me. I enjoy watching him do stupid shit."
Indeed, Roth is hard to pin down on anything. He seems to be always performing, even in interviews, when he rarely answers questions directly.
Hagar and Roth famously toured together on the disastrous 'Song for Song, The Undisputed Heavyweight Champs of Rock and Roll!' co-headlining tour in 2002. It was the first time Hagar and Roth had the opportunity to get to know each other, and it didn't go well.
Upon first meeting Roth, Hagar said he immediately understood that Roth was a "strange person." But as time went on, Hagar became more frustrated. Getting in touch with Roth was always a chore and he never dropped his act when he was around people.
"He's not what he's saying he is; he's pretending," Hagar said. "He's totally bullshit. Everything he does is thought up and it's an image. It's nothing to do with who he is; he's not exposing who and what he is. And I know this for a fact. I knew that the first time I saw him. I said, 'This guy, he's putting on an image, putting on a show.'"
Hagar emphasized that he thought the tour with Roth would be "so much fun." But Roth never wanted to be friends; he barely interacted with anyone.
"He was the worst guy to be around," Hagar continued. "He wasn't ever around. He hides out. You never see him. He puts on this whole big front and comes out, 'I'm here. David Lee Roth is here,' and then he goes and hides again. I don't think he's happy. He's never been married; never had a relationship; never had children. It's, like, man, how do you live like that? I don't know. I'm a family man. And I love women — I love women and children… He hasn't aged well — his voice. [Laughs] I don't know. It's hard."
Despite his Roth frustrations, Hagar lobbied for years for Van Halen to reunite with both singers for a mega-reunion tour to give closure to fans. Eddie Van Halen himself finally endorsed the idea as well, but his failing health prevented the tour from becoming a reality. It's still unclear if Roth would have agreed to the tour.
Roth made headlines last fall when he made the Red Rocker the subject of one of his infinitely confusing Daily Catastrophe cartoons. Most fans interpreted the strange drawing as a swipe, but Hagar took it as a compliment and publicly offered to buy it.
Photo: Getty Images