Patriots Fans React To Rookie Being Given Rob Gronkowski's No. 87
By Jason Hall
August 12, 2021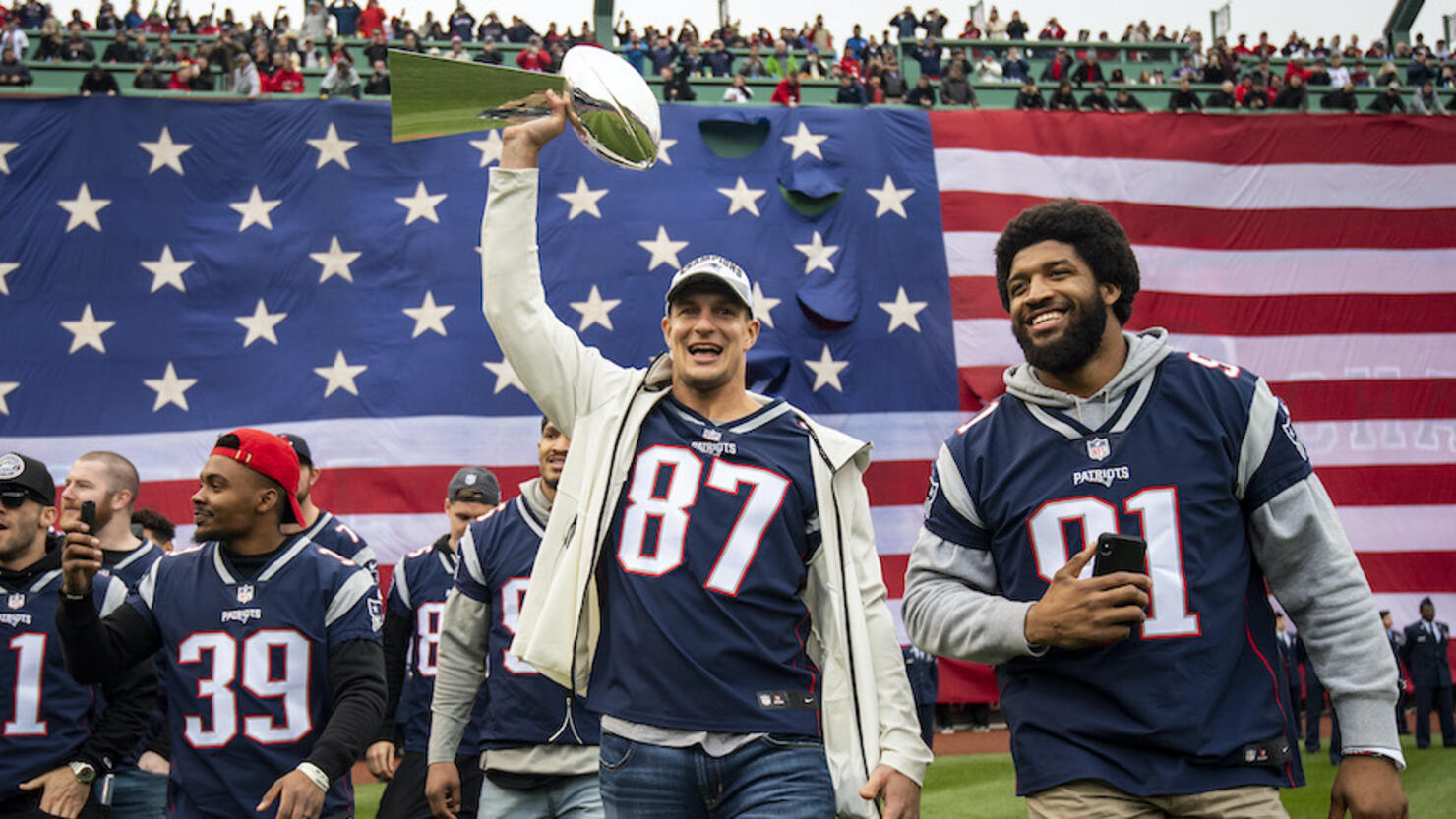 A New England Patriots rookie will be donning the number previously worn by legendary tight end Rob Gronkowski in 2021.
The Patriots officially announced rookie numbers on Thursday (August 12), which included seventh-round pick Tre Nixon, who was apparently given No. 87 for the upcoming season.
"Calling all 2021 rookies," the Patriots shared on their verified Twitter account, along with a gif of a rotary dial phone showing each rookie's last name and their respective number, including "NIXON 87."
The former University of Central Florida (UCF) standout was selected by the Patriots at No. 242 overall in the 2021 NFL Draft.
Gronkowski spent his first nine NFL seasons in New England, winning three Super Bowl championships and departing as the Patriots' career leader in receiving touchdowns for all positions, as well as receptions and receiving yards among tight ends.
Naturally, Pats fans were quick to notice the team's decision to give away Gronkowski's No. 87 -- which hadn't been worn since the tight end's last season with the Patriots in 2018-19 -- to a seventh-round draft pick, with many voicing their displeasure.
How do you not retire Gronk's number that's so disrespectful smdh

— Subway Belichick (@guru_scout) August 12, 2021
LMAO YALL GAVE GRONKS NUMBER TO A 7TH ROUNDER

— Jordan Crying (@Jordan_cryin) August 12, 2021
Yeah call me old fashioned but you can't give 87 especially not after this short a period. At least wait awhile like the Red Sox did with 5 and 24

— Luke J./Luker (@lukerbom12) August 12, 2021
Gronkowski initially retired during the 2019 offseason after winning his third Super Bowl with New England.
The tight end remained retired during the 2019 season, but announced his decision to come out of retirement after longtime Patriots teammate Tom Brady signed with the Tampa Bay Buccaneers in March 2020.
Gronkowski was acquired by the Bucs via trade days later.
The Patriots legends will face their former team at Gillette Stadium during the Week 4 Sunday Night Football matchup of the 2021 season, their second as members of the defending champion Buccaneers.
While Brady -- who spent his first 20 seasons with the franchise -- has gotten most of the attention, Gronkowski also expects to be in for an "emotional" experience.
"That's going to be crazy. It's going to be pretty epic," Gronokwski said via Buccaneers.com. "It's definitely going to be emotional for sure, I would say. I just had a great nine years (in New England). Probably the best nine years of my life. It was the beginning of basically my whole football career there. It's definitely going to be heartfelt when I go back.
"I've just got to be prepared for that game, for sure. I've got to be prepared for every game, but especially that one. It's never going to be easy. It's going to be tough. It's going to be a good one. It's going to be different."
All Patriots rookies' numbers are included below:
No. 3: K Quinn Nordin
No. 10: QB Mac Jones
No. 34: S Joshuah Bledsoe
No. 38: RB Rhamondre Stevenson
No. 45: LB Cameron McGrone
No. 51: OLB Ronnie Perkins
No. 68: OL Will Sherman
No. 70: DT Christian Barmore
No. 87: WR Tre Nixon