'Calm Down' Podcast Talks Fertility, Fast Food, Hall Of Fame & More
By Diana Brown
September 16, 2021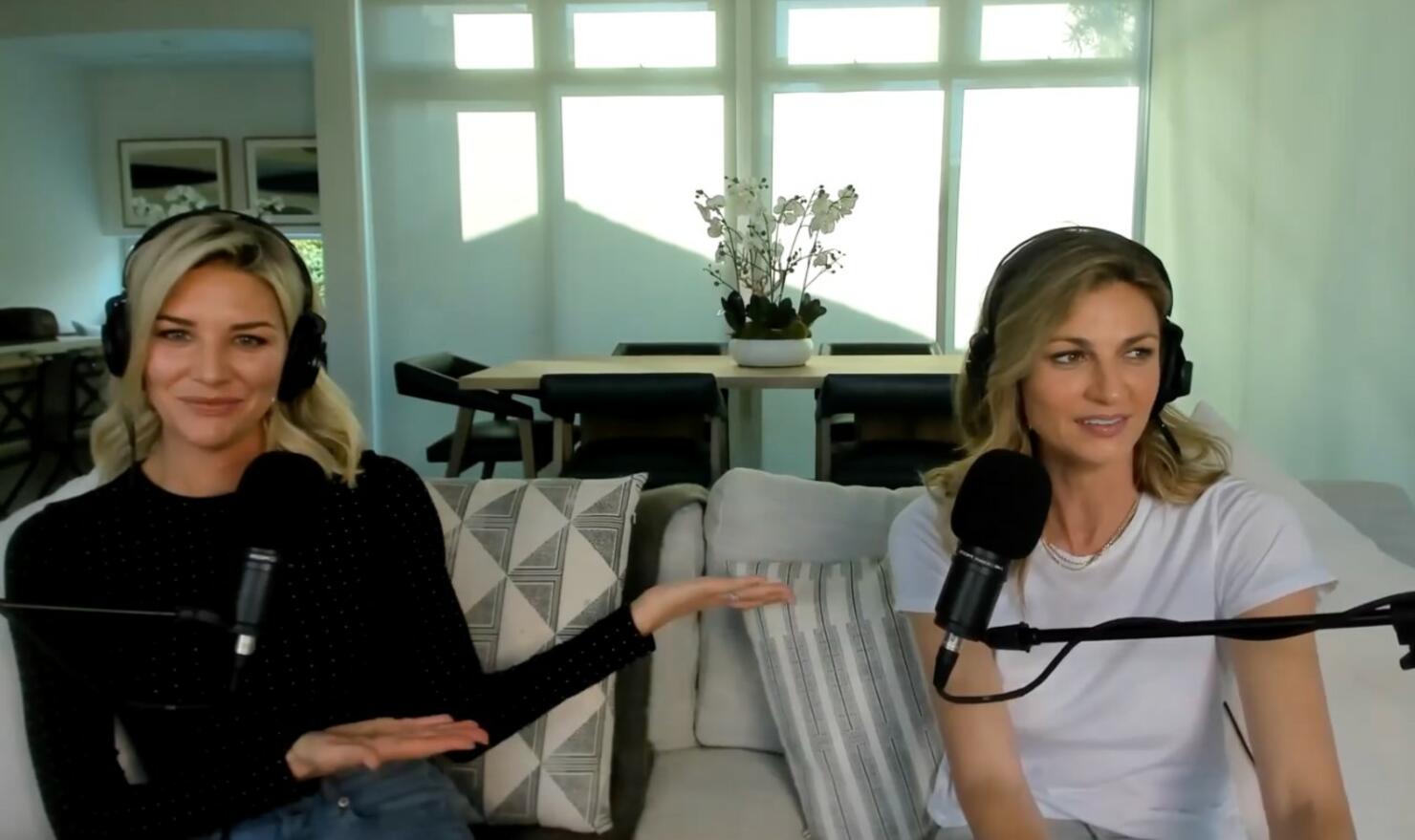 Erin Andrews and Charissa Thompson host Calm Down, where the two sportscasters and friends can talk candidly about everything both on and off the field. On this episode, they chat about the playoffs, the Hall of Fame game between the Pittsburgh Steelers and the Dallas Cowboys, Erin's favorite sideline snacks, Charissa's interview techniques, what they're currently binging on Netflix, their very different approaches to wedding planning, and how satisfactory a good pimple-squeezing can be. Erin also isn't afraid to open up about her challenging fertility journey, joking about the complicated drugs, the "witches' potions" she's been taking for weeks on end, and her doctor's bedside football lingo. The combination of charm, honesty, and humor makes for a genuinely entertaining podcast that feels just like hanging out with two good friends.
Charissa jokes that while Erin is taking a bunch of teas and tonics for fertility, she's "breaking corks drinking wine before bed," and that's why Erin's hair is real and hers is "in a baby pony." But Erin's not above some extensions: Her fake hair "just arrived….gonna clip it in and see what happens." She has big news for Charissa: She's tried fertility treatments seven times now, and her doctor finally told her, "We're at the 30-yard line and we're starting. Let's f**king go!" Plus, Erin saw a new acupuncturist who told her it was a new moon. "New moon, new follicles, new syringes, let's go! I'm the Tom Brady of IVF!" Erin jokes, and Charissa quips, "I tell you that all the time – this game ain't over! Transfer to Tampa, win another ring!" 
But the real focus of the episode is answering their fans' questions, leading to declarations of love for McDonald's sausage biscuits ("the 24-hour breakfast at McDonald's – gamechanger," Charissa says) and Smuckers Uncrustables sandwiches, as well as their thoughts on shows like Pretty Woman, Sex Life, and White Lotus ("For those of you just joining us, this is a movie and TV review podcast now," Charissa laughs). Plus, why you should befriend your FedEx delivery driver, the best "say it, don't spray it" moments with Coach Bill Cowher, what Jennifer Garner taught Charissa about interviews, and so much more; hear their entire lively and lighthearted conversation on this episode of Calm Down.
If you want to be sure you're listening to the podcasts everyone else is checking out, iHeartRadio has you covered. Every Monday, iHeartRadio releases a chart showing the most popular podcasts of the week. Stay up to date on what's trending by checking out the chart here. There's even a chart just for radio podcasts here, featuring all your favorite iHeartRadio personalities like Bobby Bones, Elvis Duran, Steve Harvey and dozens of others.