Mac Jones Explains Viral Wink To Opponent Before Snap
By Jason Hall
September 16, 2021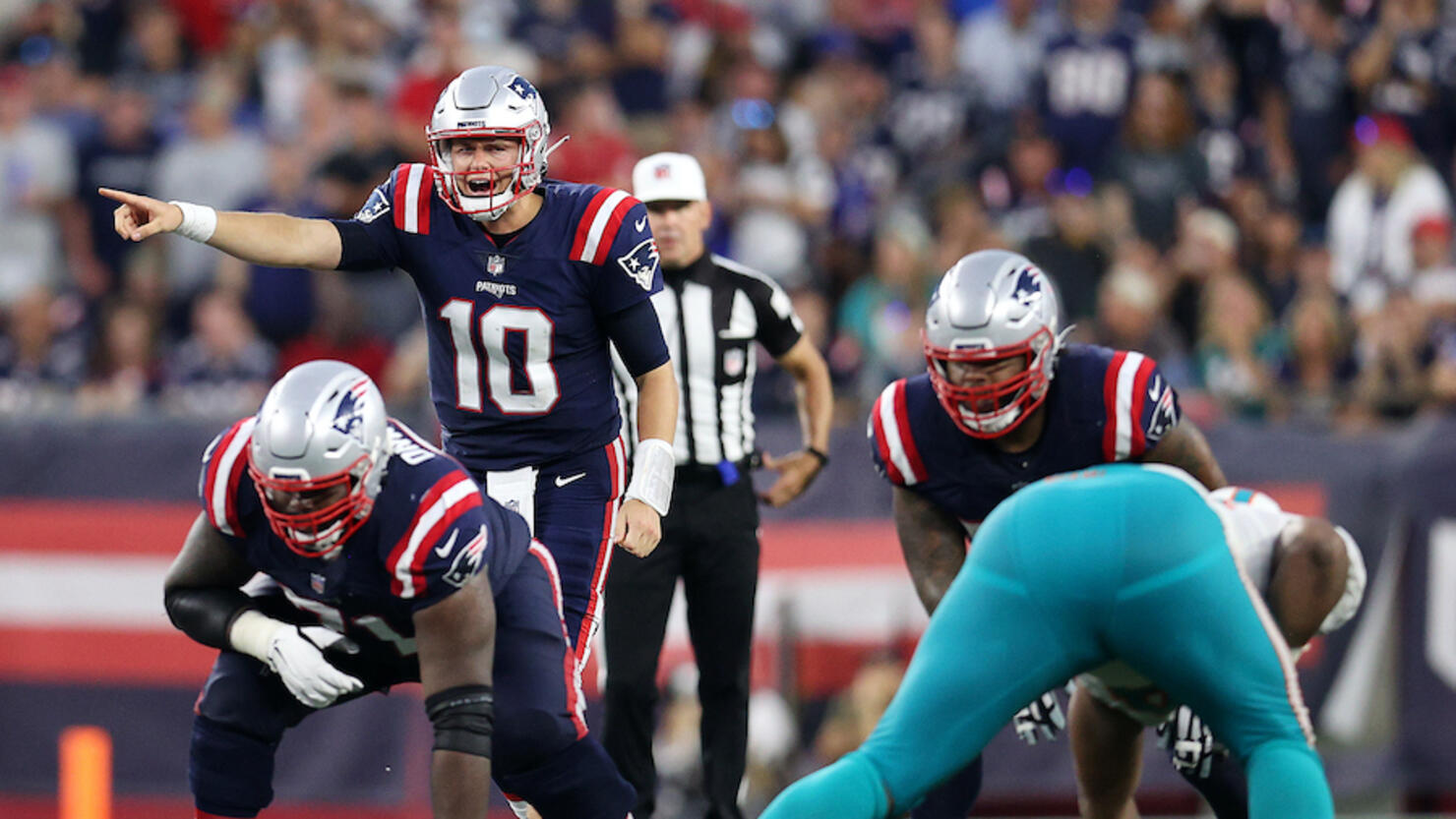 Mac Jones' confidence was shown once again in a now viral moment from his first NFL game.
WPRI sports director Morey Hershgordon shared a video of Jones winking at Miami Dolphins linebacker Elandon Roberts before a snap in Sunday's 17-16 loss at Gillette Stadium, which has since been viewed more than 357,000 times on Twitter.
The rookie quarterback addressed the interaction with Roberts after the Patriots' practice on Wednesday (September 15).
"It was just kind of fun and games," Jones said via Boston.com. "It was just in the middle of the play. They actually like called out our play, so I was like, 'Ah. Nice catch. It was just fun and games."
Jones confirmed that he didn't change his play call during the cadence.
"Sometimes they don't know the answers either," Jones added.
The former University of Alabama standout looked impressive during the Patriots' 17-16 loss against the Miami Dolphins, throwing for 281 yards and one touchdown on 29 of 39 passing.
However, it was the moment after his first career touchdown pass that had fans talking after the game.
Jones was shown handing the game ball back to wide receiver Nelson Agholor, who caught the touchdown pass and attempted to hand it to the first-round draft pick as a keepsake.
While most rookie quarterbacks would opt to keep the ball, Jones provided the perfect example of "the Patriot Way" when asked why he decided not to.
"Because it doesn't really matter. It was one touchdown, We've got to score more," Jones told reporters after the game via USA TODAY. "It's not like the game was over right there. We've got to do better in the red zone and get more touchdowns, and we will."
Jones' popularity among the Patriots fanbase has skyrocketed since being selected at No. 15 overall in the 2021 NFL Draft.
Fanatics revealed Jones already ranked second among the NFL's top-selling jerseys since August 1 leading up to his regular season debut, which was one spot ahead of former Patriots quarterback Tom Brady, whose jersey topped all NFL players last season, his first with the Tampa Bay Buccaneers.
Buffalo Bills quarterback Josh Allen topped the list, while Chicago Bears rookie quarterback Justin Fields ranked fourth and Kansas City Chiefs quarterback Patrick Mahomes ranked fifth.
Jones was officially named the Patriots' starting quarterback on August 31 amid the team's decision to release former NFL MVP Cam Newton and months after being selected by New England at No. 15 overall in the 2021 NFL Draft.
Jones led Alabama to a College Football National Championship and was third in the Heisman voting behind teammate DeVonta Smith and Clemson quarterback Trevor Lawrence during his lone season as Alabama's full-time starting quarterback.

Jones threw for 4,500 yards, 41 touchdowns and four interceptions on 311 of 402 passing -- while also recording one rushing touchdown -- while leading the Crimson Tide to a 13-0 record in 2020.