See The Billboard An Angry Pats Fan Bought To Troll Belichick, Praise Brady
By Jason Hall
September 28, 2021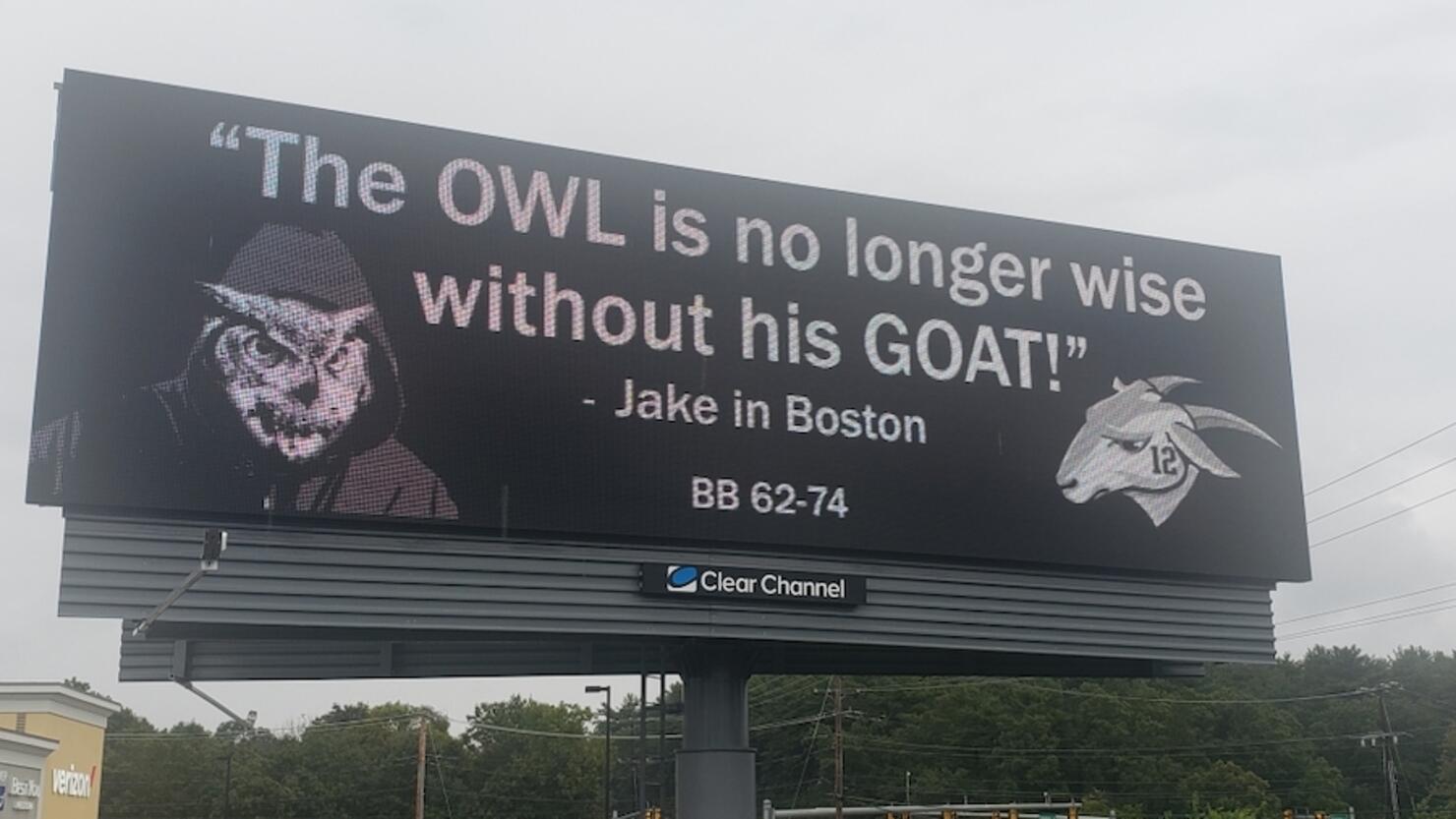 An angry New England Patriots fan appears to have chosen a side in the Tom Brady vs. Bill Belichick debate.
"Jake in Boston," a Patriots superfan, purchased a billboard on U.S. Route 1 in Massachusetts that reads "the owl is no longer wise without his GOAT," and shows an owl wearing a hoodie similar to one commonly worn by Belichick and the goat (or G.O.A.T.) with the number "12" on its cheek, representing Brady.
The fan, whose nickname is listed on the billboard, explained his reasoning for buying the billboard just outside of Gillette Stadium days prior to Brady's Foxborough return and first career game against New England.
"Julian Edelman in his children's book referred to Bill as the owl and Tom, obviously, as the goat long before," he said, adding that Brady's recent Super Bowl with the Tampa Bay Buccaneers and away from Belichick ended any debate.
"This is the one piece of data that we have that is so emphatic at this point in showcasing. No, it was Tom's dynasty, it was Tom's," he added.
Last week, addressed his trainer Alex Guerrero's criticism that Belichick "never evolved" in how he treated the seven-time Super Bowl champion during their 20 seasons together in New England.
"Everybody has protective feelings and emotions as friends and family members and that's just part of being in sports," Brady said during his weekly press conference Thursday (September 23), via the Buccaneers' official website. "You have a lot of people who, because they're not out there, they want to protect, and it's a very caring, loving thing that a lot of people do, but from my standpoint, I had a great time [in New England], but really, my focus has been trying to be the best I can be for this team, trying to go out and be a winning quarterback, to be a championship-level quarterback for this team and this organization because they certainly deserve it. I made a commitment to them and I want to live up to it."
During an interview with the Boston Herald last Wednesday (September 22), Guerrero said Belichick's "emotions or feeling never evolved with age" when discussing Brady's departure from the team during the 2020 offseason.
"As Tom got into his late 30s or early 40s, I think Bill was still trying to treat him like that 20-year-old kid that he drafted," Guerrero said. :And all the players, I think, realized Tom was different. He's older, so he should be treated differently. And all the players, none of them would have cared that he was treated differently.
"I think that was such a Bill thing. He never evolved. So you can't treat someone who's in his 40s like they're 20. It doesn't work."
Guerrero's comments came 11 days before Brady's long-awaited return to Foxborough when his new team, the Tampa Bay Buccaneers, face the Patriots at Gillette Stadium on October 3.
Brady's father, Tom Brady Sr. discussed the upcoming Sunday Night Football matchup with Curran for NBC Sports Boston and said his son felt vindicated winning his seventh Super Bowl as a member of the Buccaneers in February after the New England opted to allow him to test free agency in March 2020 after 20 seasons with the team, even acknowledging a reported rift between the quarterback and Belichick.
"Damn right," Brady Sr. said ahead of his son's upcoming return to Gillette Stadium on October 3. "Damn rights. Belichick wanted him out the door, and last year he threw [50] touchdowns. I think that's a pretty good year."
Though people close to the Brady may be addressing a possible rift with Belichick, the quarterback spoke highly of his former organization.
"I have great respect and admiration for my time [with the Patriots]," Brady said Thursday. "I had 20 great years there. I kind of spoke that the last 18 months. It was a great time in my life, but I'm really happy to be here and I think we've done some great things in a short period of time. I really love the teammates that I have that I'm playing with here. I love the coaches, the organization's been amazing. Again, it's just a lot of gratitude for me."
Brady finished Sunday's (September 26) 34-27 loss to the Los Angeles Rams with 432 yards and a touchdown on 41 of 55 passing, putting his career mark at 80,291 passing yards, just 67 yards short of Drew Brees' NFL record 80,358.
It's almost certain that Brady will now break the record when he faces the New England Patriots -- his team for the first 20 years of his NFL career -- for the first time during the Week 4 Sunday Night Football matchup at Gillette Stadium on October 3.