Twitter Reacts To Tom Brady Breaking NFL Passing Record
By Jason Hall
October 4, 2021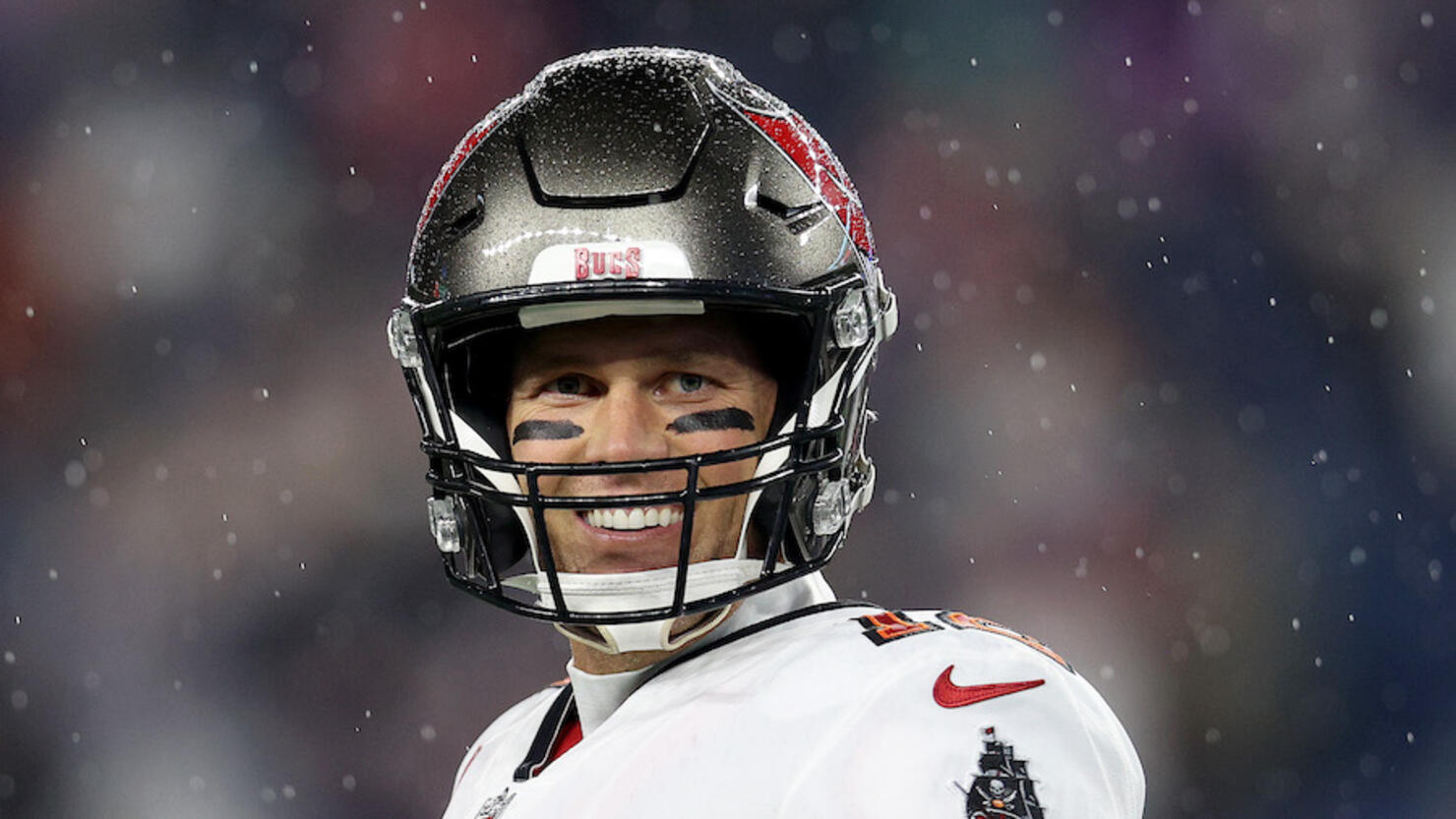 Tom Brady didn't wait long to break the NFL all-time passing record during his long-anticipated return to New England.
The seven-time Super Bowl champion connected with Mike Evans on a 28-yard pass to surpass Drew Brees' previous career record of 80,358 in the first quarter of the Tampa Bay Buccaneers' Sunday Night Football Week 4 matchup against the New England Patriots at Gillette Stadium.
Brady entered Sunday's game -- his first ever against the Patriots -- just 67 yards shy of Brees' career total.
Naturally, Twitter had plenty to say about the historic accomplishment, which took place during what wasalready arguably the biggest regular matchup of the NFL season.
Tom Brady has thrown for more passing yards than anyone else in NFL history.

— Barstool Sports (@barstoolsports) October 4, 2021
Brady calls timeout to honor himself for the record. Slick, veteran move.

— Andrew Siciliano (@AndrewSiciliano) October 4, 2021
• Most pass yards ever
• Most pass TD ever
• Most playoff pass yards ever
• Most playoff pass TD ever
• Most wins ever
• Most playoff wins ever
• Most Super Bowl wins ever
• Most Super Bowl MVPs ever

Brady is inevitable. pic.twitter.com/WmDgHvietS

— StatMuse (@statmuse) October 4, 2021
So this is a good place to reiterate my note from PGL on @NBCSportsBoston: Neither the Patriots nor the Bucs nor Tom Brady himself wanted the game stopped to recognize the record-breaking throw. The NFL insisted on it.

Looked like Brady wasn't interested in playing their game.

— Albert Breer (@AlbertBreer) October 4, 2021
Tom Brady has been on the field for 20 minutes in a Buccaneers uniform, and I don't know if it's raining or the sky is crying, but it's wet either way.

— Jeff Howe (@jeffphowe) October 3, 2021
Last week, the 44-year-old joined Brees as the only other quarterback in NFL history to throw for more than 80,000 yards, finishing the Bucs' 34-27 Week 3 loss to the Los Angeles Rams with 432 yards and a touchdown on 41 of 55 passing, putting his career mark at 80,291 passing yards.
Brees was in attendance for Brady's New England homecoming as part of his obligations to NBC Sports' Sunday Night Football coverage.
"If there's one guy who's going to take this record, it's got to be Tom Brady," Brees said during NBC's pregame coverage. "I've had such an unbelievable relationship with him, it's been highly competitive our first, 15-17 years of our time playing in the NFL playing against each other but we've had some great moments."
Brady was selected by the Patriots at No. 199 overall in the 2000 NFL Draft and led the franchise to six Super Bowls before joining the Buccaneers as a free agent in March 2020, winning his seventh Super Bowl in February 2021.
"I think I have been on the record dozens of times saying there is no quarterback I'd rather have than Tom Brady. I still feel that way," Patriots head coach Bill Belichick said of his quarterback of 20 years prior to their matchup.
"I was very lucky to have Tom as quarterback and to coach him," Belichick added. "He was as good as any coach could ever ask for."