Indianapolis Colts Trade Carson Wentz: Report
By Jason Hall
March 9, 2022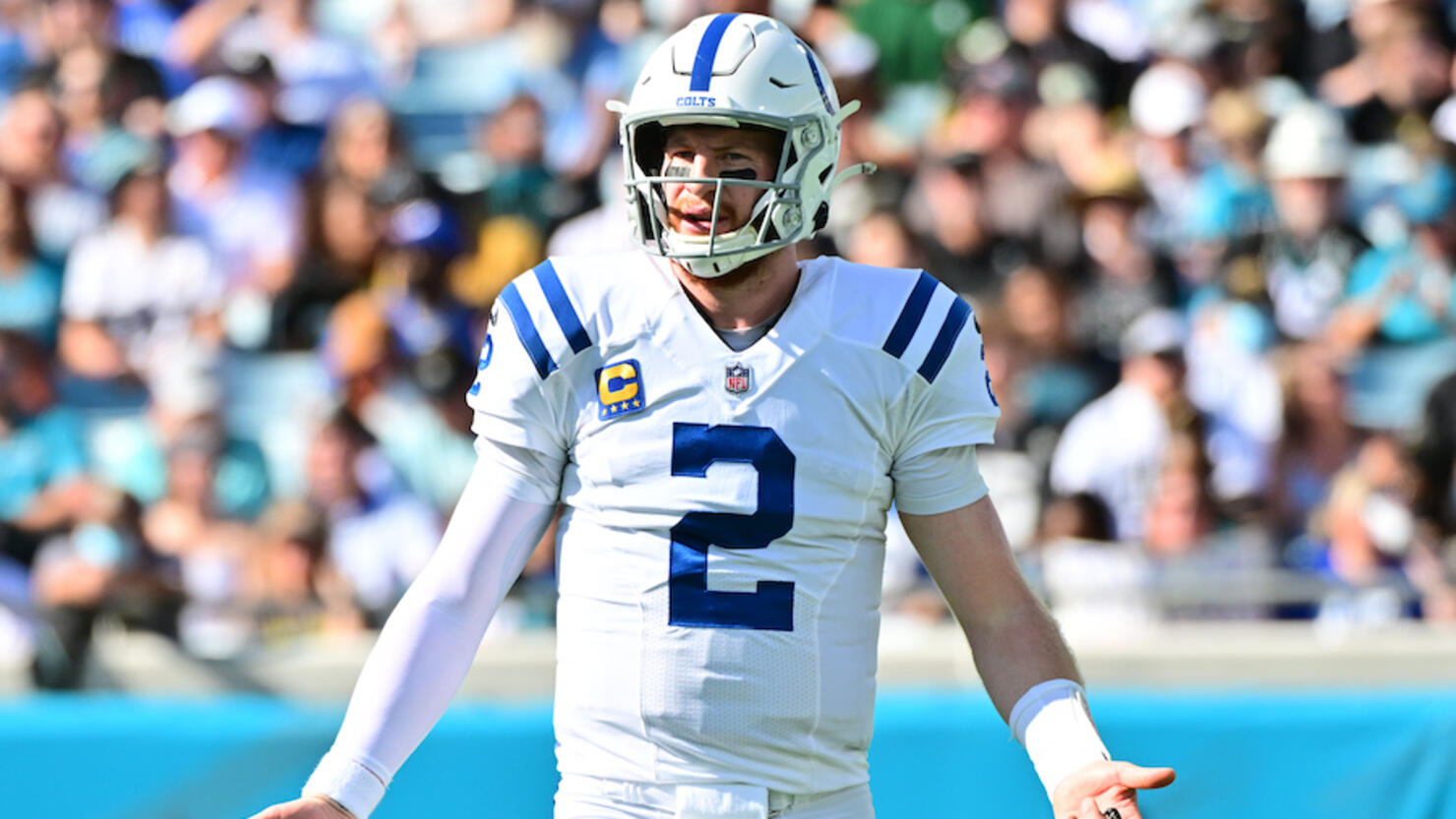 The Indianapolis Colts have reportedly traded quarterback Carson Wentz to the Washington Commanders in exchange for multiple draft picks, ESPN's Adam Schefter reports.
"Colts are trading QB Carson Wentz to Washington for a package of [picks] that is thought to include two third-round picks, sources tell ESPN," Schefter tweeted.
Schefter later specified the Colts would receive a 2022 third-round pick; a 2023 third-round pick that could become a second-round pick if Wentz plays 70% of the Commanders' plays and a 2022 second-round pick, while Washington will also receive a 2022 second-round pick along with Wentz.
Washington is reportedly taking on the remaining $28 million due -- including a $5 million roster bonus due next week -- on Wentz's current $128 million contract, which was initially signed while with the Philadelphia Eagles, who traded the former No. 2 overall pick to the Colts last offseason, sources confirmed to Schefter.
Trade terms, per sources…

Colts get:
🏈2022 third-round pick
🏈2023 third-round pick that can become a second if Carson Wentz plays 70 percent of plays.
🏈2022 second-round pick

Commanders get:
🏈QB Carson Wentz
🏈2022 second-round pick.

— Adam Schefter (@AdamSchefter) March 9, 2022
NFL Network's Ian Rapoport reports Washington "called on" every quarterback reported to be available before ending up with Wentz.
"They weren't going to wait on Jimmy G[aroppolo], didn't land Russell Wilson. Now end up with Carson," Rapoport tweeted.
The Commanders called on ever QB and end up with Carson Wentz from the #Colts in exchange for mid-round picks. They weren't going to wait for Jimmy G, didn't land Russell Wilson. Now end up with Carson.

— Ian Rapoport (@RapSheet) March 9, 2022
The Colts acquired Wentz from the Eagles in exchange for a a 2021 third-round pick -- which was used in a package to trade up for wide receiver Devonta Smith -- and a conditional 2022 second-round pick that became a first-round pick.
The Colts traded a 2021 third and what became a 2022 first-round pick to the Eagles for QB Carson Wentz.

Indy got one year out of Wentz, while Philly used that 3rd round pick to move up for WR Devonta Smith and still owns the 16th pick this year.

A heist for Howie Roseman.

— Field Yates (@FieldYates) March 9, 2022
Wentz was selected by the Eagles at No. 2 overall in the 2016 NFL Draft and found quick success, earning a Pro Bowl appearance during his second season, which resulted in the franchise's only Super Bowl victory.
However, Wentz was injured late in the 2017 season and backup Nick Foles took over in his absence, leading Philadelphia to its historic playoff run.
The Eagles opted to keep Wentz instead of Foles the following offseason, due in large part to their investment into the former No. 2 overall pick as their franchise quarterback, and later signed Wentz to a four-year, $128 million extension in 2019.
But the former North Dakota State standout struggled in fifth NFL season, which led to rookie backup Jalen Hurts taking over as the Eagles' starter in the team's final four games, before being traded to Indianapolis the following offseason.
Wentz threw for 3,563 yards, 27 touchdowns and seven interceptions, while finishing with a 9-8 record as a starter, during his lone season with the Colts.