Protesters Gather Outside Court In Wake Of Leaked Roe V. Wade Opinion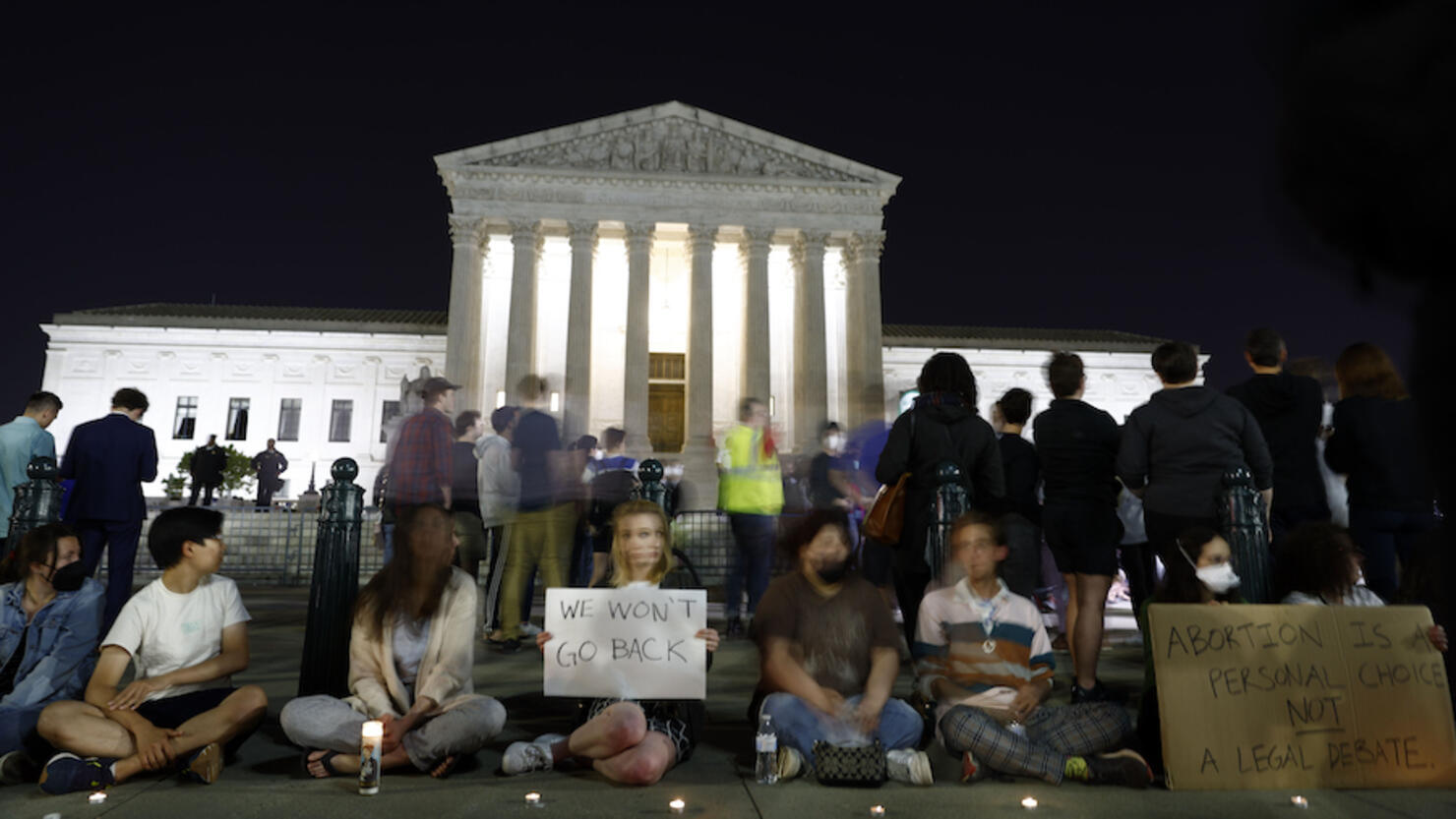 Protesters gathered outside the U.S. Supreme Court amid of a draft of a majority opinion to strike down Roe v. Wade Monday (May 2) night.
POLITICO reports the Supreme Court has already voted to overturn the landmark Roe v. Wade ruling after obtaining a leaked draft majority written by Justice Samuel Alito that circulated inside the court.
Roe v. Wade, which was decided in 1973, states that the Constitution of the United Stats protects a pregnant woman's liberty to choose to have an abortion without excessive government restriction, striking down previously enacted U.S. federal and state abortion laws at the time.
Protesters were seen shortly after the report was published Monday night and into Tuesday (May 3) morning in a call to protect abortion rights.
"I absolutely have to be out here, because this is something affects me so personally and hurts so much to know this might be ripped away from me," Juliette Molz, who recently moved to Washington D.C. from New Jersey, told NBC Washington.
Protesters chanted "abortion is health care" and numerous people carried signs that displayed slogans condemning the reported change, which included "legal abortion once and for all" and "we won't go back," according to photos and videos at the scene.
POLITICO reports the draft was circulated in early February and a final opinion has not been released as of Monday (May 3), meaning the votes and language can still be altered before the court's opinions are formally released.
"Roe was egregiously wrong from the start. Its reasoning was exceptionally weak, and the decision has had damaging consequences. And far from bringing about a national settlement of the abortion issue, Roe and Casey have enflamed debate and deepened division," Justice Alito wrote, according to a document shared by POLITICO on Monday night.
A person with knowledge of the Supreme Court's deliberations told POLITCO that all four Republican-appointed justices -- Clarence Thomas, Neil Gorsuch, Brett Kavanuagh and Amy Coney Barrett voted alongside Alito during oral arguments in December and remain in favor of the decision as of this week.
The three Democratic-appointed justices -- Stephen Breyer, Sonia Sotomayor and Elena Kagan -- are reportedly working on one or more dissents, while it has not yet been determined whether Chief Justice John Roberts will join a written opinion or draft his own, a source confirmed.