Drake, Rihanna & More Salute LeBron James For Breaking NBA Scoring Record
By Tony M. Centeno
February 8, 2023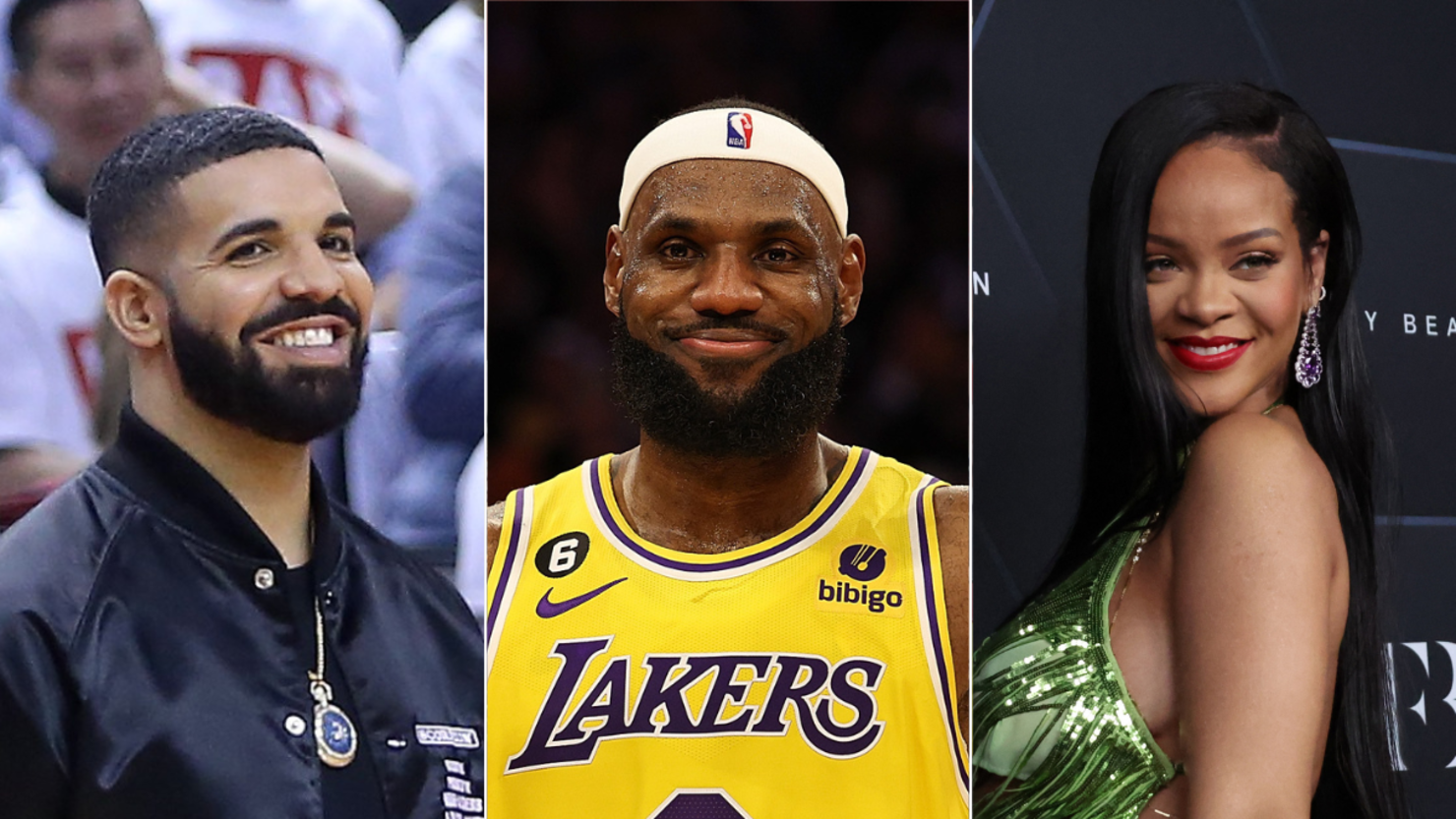 Drake, Rihanna, Kendrick Lamar and more celebrities congratulated LeBron James after he became the new scoring king.

On Tuesday night, February 7, LeBron made history after he became the highest-scoring NBA player of all time. He made the monumental shot in the final seconds of the third quarter during the Los Angeles Lakers' game against the Oklahoma City Thunder. The Lakers didn't win the game, but that didn't matter to the thousands of fans who roared with cheers for LeBron. While there were plenty of stars in the building for the game, others like Drake, K Dot and Riri decided to make a special visual tribute for the Ohio native.
"LeBron, what a legendary night in NBA history," Drake begins. "You're breaking the all-time scoring record, and to honor that I had to come back to the place it all started -- Akron, Ohio."

Suddenly, the green screen behind him falls to the ground and reveals a party happening inside a club in Miami. There was nothing else Drake could do but 'fess up.

"I lied, I lied to you," Drake admits. "I'm actually still at the club in Miami but definitely all the girls say congrats though, right girls?"

The visual tribute also includes touching words from the NBA's finest like Steph Curry, Carmelo Anthony, Anthony Davis, Charles Barkley, Magic Johnson, Kevin Durant, Gregg Popovich and Shaq. He also got a special shout out from his mother Gloria James, Kendrick Lamar, Snoop Dogg and Rihanna.

"From the time you went to the league, when you had the doubters and the naysayers and people that think you wouldn't take it this far, you proved them wrong dawg," Kendrick Lamar said.

"It's always fun watching a Laker get it done," Snoop Dogg said.

"I am so grateful to witness this moment in history," Rihanna said. "My favorite thing about being a LeBron James fan is just watching you prove yourself over and over again against all odds and all doubt. Thank you for repping for all of us. Keep striving for greatness, always, and congratulations King James."

Before LeBron, Kareem Abdul-Jabbar held the record at 38,387 for 39 years straight. Other iconic players strived to live up to his record like the late Kobe Bryant, Michael Jordan and Karl Malone. They all got close, but Lebron ended up surpassing them all. Check out the tribute to King James below.