Kyrie Irving Is 'Glad' That Kevin Durant 'Got Out' Of Brooklyn
By Jason Hall
February 9, 2023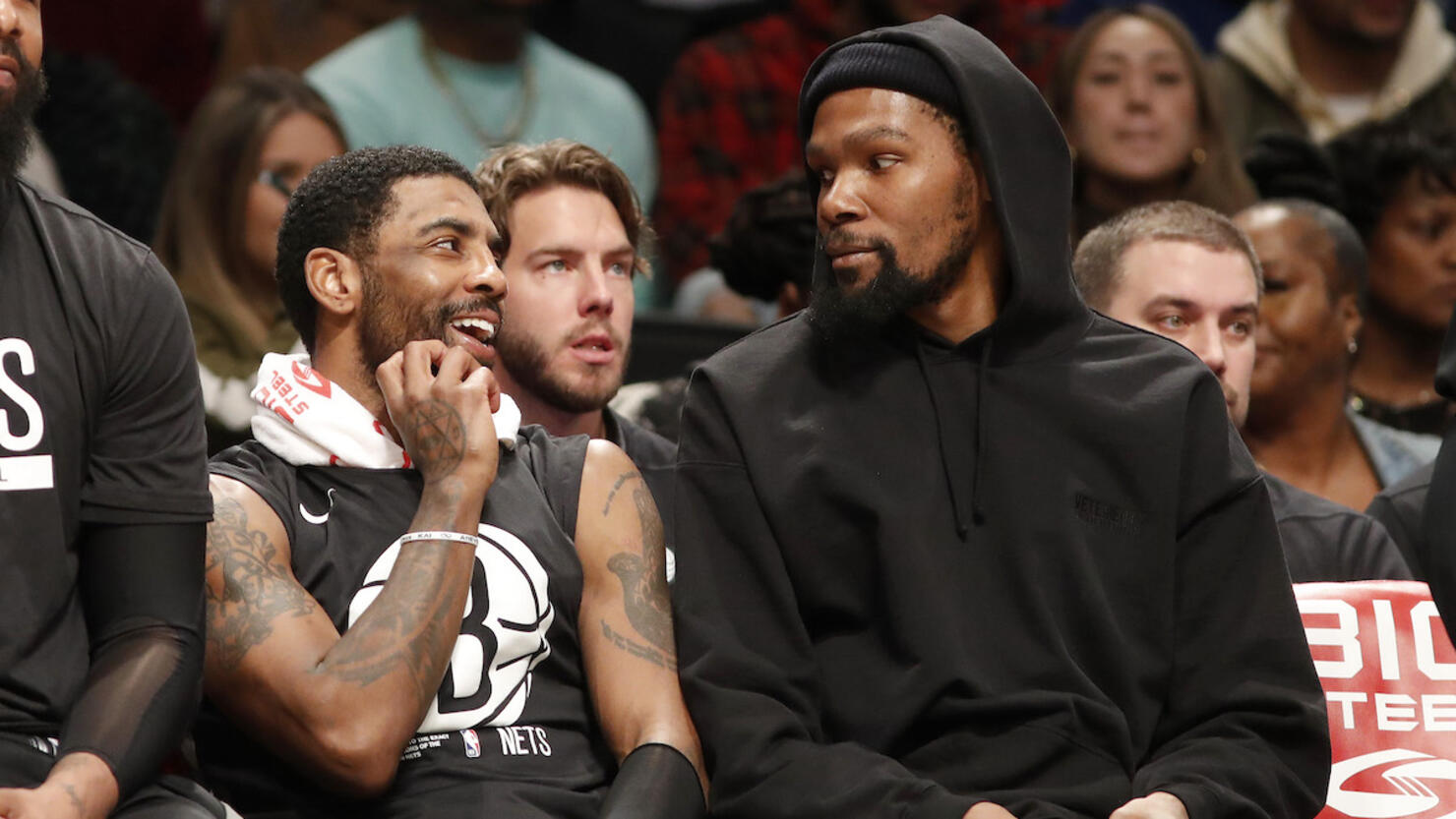 Kyrie Irving told reporters that he's "glad" to see his former Brooklyn Nets teammate Kevin Durant depart from the franchise after making his own debut with the Dallas Mavericks Wednesday (February 9) night.
Irving addressed news of Durant being traded to the Phoenix Suns after leading the Mavericks to a 110-104 win against the Los Angeles Clippers with a 24-point performance days after being acquired by his new franchise via trade.
"I'm just praying for [Durant's] happiness, praying for his well-being," Irving said via ESPN. "We had a lot of conversations throughout the year of what our futures were going to look like.
"There was still a level of uncertainty, but we just cared about seeing each other be places that we can thrive -- whether that be together, whether that be apart."
Durant and T.J. Warren were acquired by Phoenix in exchange for Mikal Bridges, Cam Johnson, Jae Crowder and four unprotected first-round picks, sources with knowledge of the deal told ESPN's Adrian Wojnarowski.
The Suns are sending Mikal Bridges, Cam Johnson, Jae Crowder, four first-round picks, a 2028 pick swap for Durant and TJ Warren, sources tell ESPN. Durant wanted move and new owner Mat Ishbia pushed to get deal done tonight. https://t.co/fqFUMIDllo

— Adrian Wojnarowski (@wojespn) February 9, 2023
"This business changes so quickly," Irving said of Durant. "He's getting a little bit older. I'm getting a little bit older. I just love the competition now that we can be in the same conference, and I welcome all that. Get to see him a little bit more, probably playing against Phoenix a lot more, and that's what I'm looking forward to. Everything else in between -- I'm just glad that he got out of there."
Irving and Markieff Morris were acquired by Dallas on Sunday (February 5) in exchange for Spencer Dinwiddie -- who had previously played for the Nets -- and Dorian Finney-Smith, as well as a 2027 second-round pick, an unprotected 2029 first-round pick and a 2029 second-round pick.
Durant and Irving signed with the Nets ahead of the 2019-20 season, creating massive expectations that the franchise failed to achieve, making it as far as the Eastern Conference Semifinals with the duo. Brooklyn later acquired former NBA MVP James Harden in a trade with the Houston Rockets, however, the trio only played 16 games together before Harden was eventually dealt to the Philadelphia 76ers.