Metro Boomin's Hometown Concert Was The Perfect Launch Pad For What's Next
By Tony M. Centeno
March 8, 2023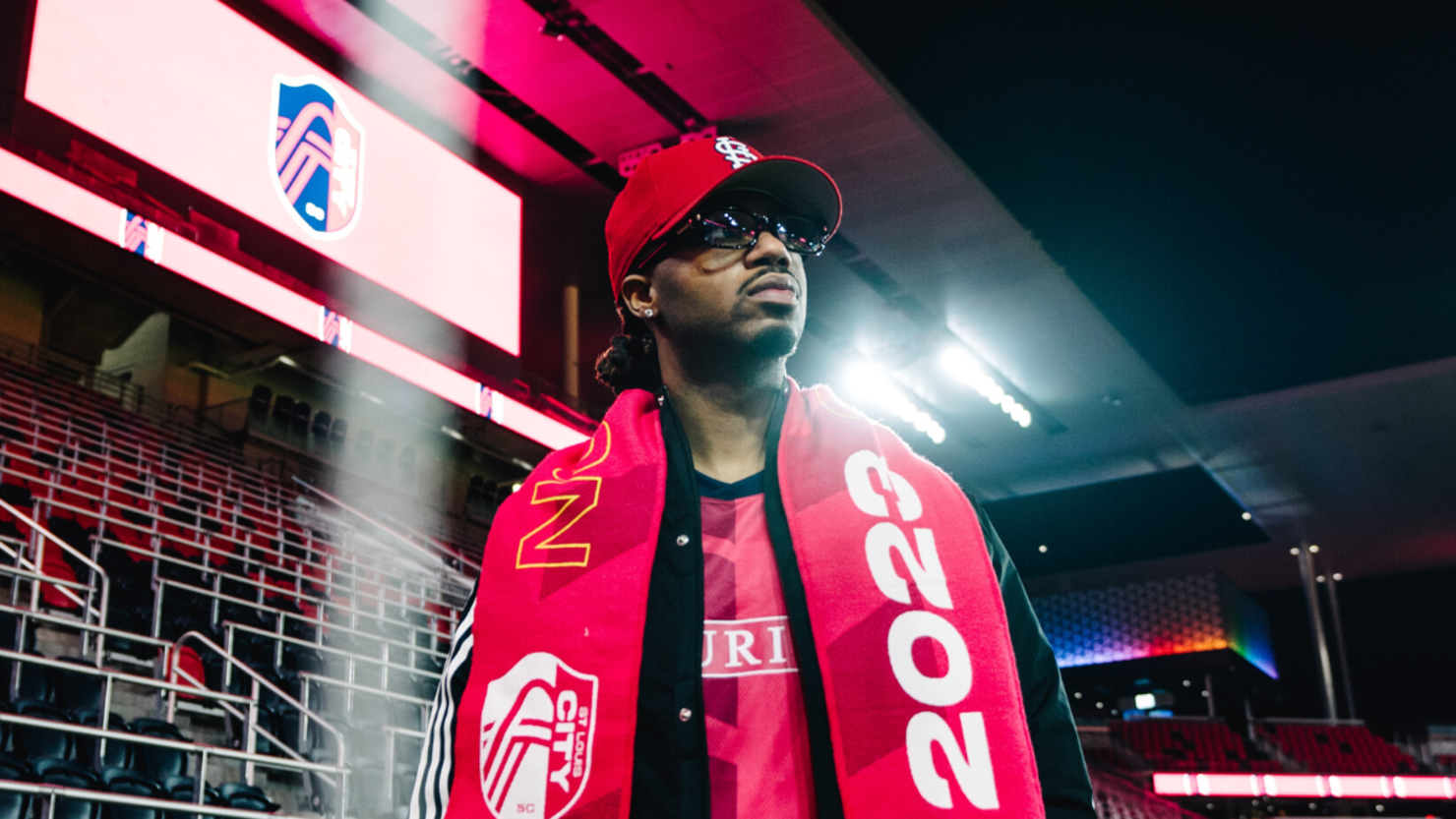 Metro Boomin was welcomed back to his hometown of St. Louis with open arms.

The top-notch producer headlined St. Louis CITY SC's first-ever CITY Block Party on Friday night, March 3, right before the team's inaugural home game against Charlotte FC. Metro hit the stage following a handful of other accomplished artists like R&B artist Kennedy Holmes, rapper Mvstermind and DJ Pee .Wee aka Anderson .Paak, who performed his set using only vinyl records. During his performance, the 29-year-old delivered an array of hits he produced like Drake & Future's "Jumpman" and The Weeknd's "Heartless" as well as his own hits including "Creepin" and "Superhero (Heroes & Villains)."
"I'm excited to return to my hometown of St. Louis to perform and celebrate our new soccer team!" Metro said before the show. "It's going to be a great time and I can't wait to kick off the weekend festivities."

The critically-acclaimed producer's headlining set was extremely significant. It was the first time Metro Boomin, born Leland Wayne, delivered songs from his latest album HEROES & VILLAINS while in his hometown. The LP contains 15 bangers including "Too Many Nights," "Lock On Me" and "Feel The Fiyaaaah" featuring A$AP Rocky and the late TakeOff. His sequel to NOT ALL HEROES WEAR CAPES debuted at No. 1 on the Billboard 200 chart making it his third No. 1 album ever. Although the album was led by "Creepin," his popular track "Superhero (Heroes & Villains)" became the first song from the project to reach platinum status.

Metro's set also gave fans a glimpse at what he's got coming in the near future including a tour and more new music. Before it was announced that he sold a portion of his catalog for $70 million, iHeartRadio caught up with Young Metro to talk about his latest concert, upcoming tour plans, his upcoming collaborative album with Future and more.

You just got off the field at the City Block Party in your hometown of St. Louis. How did it feel to perform in your hometown?

Oh, man. It was a blessing. You know, anytime I get to go back home for any reason is amazing. It feels amazing. So it felt even better under the circumstances of one, being welcomed back home and for two, to celebrate something like as historic as a new sports club coming to the city. Right. At the same time, on top of that, having a new album out. This one of the first times I get to perform and rock out the new songs from the album that just dropped.

And the album is dope, man. We're still bumping it out. What would you say the highlight of your night was that night?

The whole performance from beginning to end was just… adrenaline was just rushing the whole time, but I would say towards the beginning, dropping that "Superhero," that was a real moment.

Of course, since now the song is platinum. How did you feel when you found out you achieved that?

It's a blessing. It's something I'm always grateful for, but I don't get too much too caught up in it. More than anything, I should be glad that people are living and reacting to the music how they are and just incorporating it as part of the lifestyle. I like to make lifestyle songs and albums and try to kind of just score soundtracks to people's lives. So just seeing that everyday means more than anything.

That's deep. I love hearing about the personal connection you have with your music. Since the album dropped, you've been popping up at a lot of games from the Super Bowl to the Cactus Jack HBCU Celebrity Softball Classic. What's the next major sporting event you want to be apart of?

Well, it's not performing, but I would love to throw a pitch at a Cardinals game. I'm gonna go ahead, throw that out there. And something with the NBA finals. I love basketball. That's my favorite sport. So some with the finals and the playoffs with everything approaching like that that would be dope as well.

We're speaking all that into existence. With all the performances you've been doing lately, it seems like you're warming up for a tour. When do you think the fans will be able to see you performing in their hometowns?

I'm kind of looking at the fall. I might make a European tour run this summer, but as far as the U.S., I know we got Coachella coming up in April. After that, I know I'm gonna go on a on a festival run all summer. Just different festivals. After that, I should definitely have some new music out by then and I'm thinking of touring around maybe like fall, probably the fall type vibe.

That's dope. Well, speaking of new music, the words out that you definitely have a project in the works with Future. When do you think the fans will be able to get either a title or release date?
I usually like to keep things in the dark until it's time, but I could say at least get a title. Maybe you might get a little something maybe around June… I'm not rushing it or anything.

I'm not rushing it either. We're already vibing out to this album.
Yeah, exactly! I'm really like putting the emphasis on HEROES & VILLAINS as well as the Spider-Man: Across The Spider-Verse soundtrack I'm working on. That's really what's on deck right now. I definitely wanna drop the album with me and Future before the year's over, I'll tell you that.
Dope! We're here for all of it. As far as merch goes, you're the king of merch right now, bro.

Love, nah, not the King Who, who said that?

I did. All of the comic book merch, the theme for all your merch for the album. It's fire. I love all of it.

Appreciate that.

Straight up! I know the superhero theme is a key element of this album and the last one too. Where does that stem from?

Really from the first album, Not All Heroes Wear Capes, and just superhero movies. Well, it's really between my siblings and I and my mom always just going to the movies period. Our whole lives it has always been just a thing we do just constantly and consistently, like almost on a weekly basis. Every new like Marvel movie that would come out, we would always just go and see it. It would be like a holiday for us type of thing, you know? So even from like a child to an adult, us still going to see 'em. It's always been a big thing. The duality of superheroes and villains and everything just seemed like a pretty cool concept. As far as the comic thing on this album, one day I was in the gym and [A$AP] Rocky had sent me this artist, the artist that did all the comic covers, Alejandro. He was like, 'Yo, you should reach out to him. I know you guys could figure out something dope.' And that's when I had just thought about the idea of 'What if he did a cover for every artist on the album and just revealed the features that way?' So I had just reached out to him. Me and him had worked closely for like a month, maybe some change, on just every cover and getting every cover tight and what they were gonna say? And I'm just glad it came out how it did, man.

It came out amazing. If you keep that up, you can have a career in comic books. That's pretty much all I got for you. Congrats on everything. We're all looking forward to everything you've got coming up.

I appreciate it. Yeah, it's definitely a lot coming up. Got a lot on my plate, but you know definitely looking forward to delivering.