Heartbreaking Details Emerge About Bobcat Who Entered Arizona Home
By Dani Medina
March 9, 2023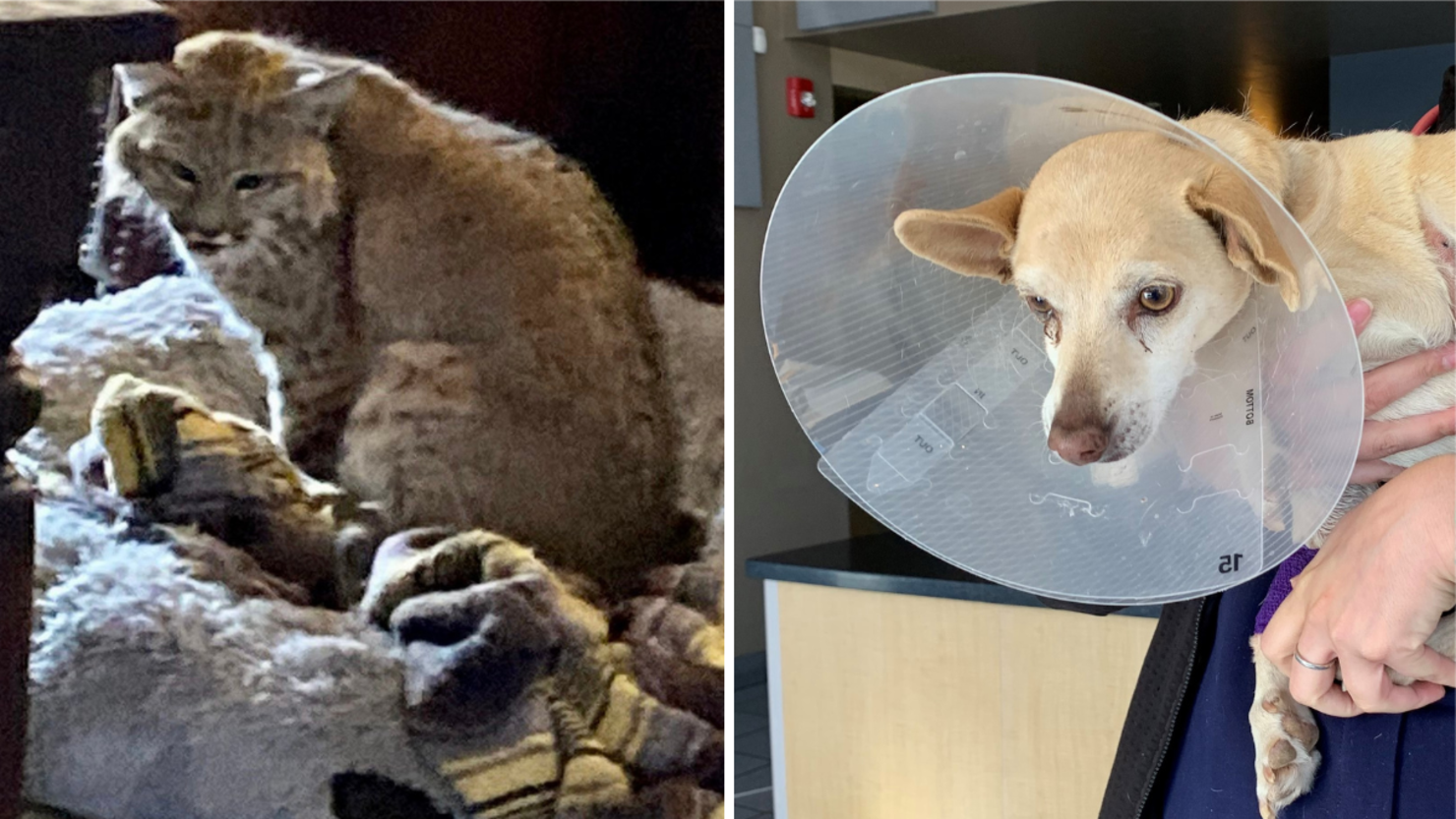 Photo: Arizona Game and Fish Department Tucson
Heartbreaking details have emerged about the case of the bobcat that entered an Arizona home through an unlocked doggie door.
Squeakers, the family's dog, was "seriously injured" by the bobcat who went viral for lounging on the dog's fluffy bed on Monday (March 6), the family revealed on social media. The Arizona Game and Fish Department shared a photo on Twitter of Squeakers wearing a cone after he was patched up by staff at the Veterinary Specialty Center in Tucson.
Squeakers' family also created a GoFundMe to help with medical costs associated with surgery the dog needs after the encounter with the bobcat. "My name is Squeakers and I was attacked by a bobcat yesterday. I survived but was seriously injured and am in need of surgery. My goal is $3,300.00 to cover medical expenses to help my owners cover the costs. Any overages will be donated to a local charity to help other people and animals in need that cannot afford it," the GoFundMe description says.
Many thanks to concerned citizens & the Veterinary Specialty Center Tucson from the family of #Squeakers, who turned up injured Tues. after a bobcat entered their home Mon. through a doggy door. The family asks that you show your support on Instagram at Squeakers2023. https://t.co/xg7SiA8sUj pic.twitter.com/0oPdfFvFzY

— AZ Game & Fish Dept (@azgfdTucson) March 8, 2023
Another photo shared Thursday shows Squeakers relaxing in his new doggie bed. "Taking it easy while I heal up," the caption said.
The bobcat escaped Monday before officials arrived to the scene in San Manuel.
Bobcats are common in Arizona at all elevations, according to the Arizona Game & Fish Department. They're typically seen by themselves, but could be in groups of mating pairs, siblings or mothers and kittens. You're more likely to spot a bobcat napping "under a shrub in a brushy backyard." It's also important to note these animals are most active around sunset and sunrise.
If you come across a bobcat on your property, you don't need to panic! Bobcats "rarely attack people," AZGFD says. "It is more likely that bobcats are attracted to your yard because it has abundant wildlife, domestic birds, small pets, water, and shade or other shelter. If you have small pets, they need to be protected from bobcats and other predators," the agency continued.
AZGFD Tucson reminds residents not to handle or entrap wildlife yourself. If you come across a bobcat or any other animal, contact the Arizona Game & Fish Department by calling 623-236-7201.
Check out more details on bobcats and what to do if you come across one.