Video Shows Murder Suspect's Brazen Escape From Courthouse
By Jason Hall
March 10, 2023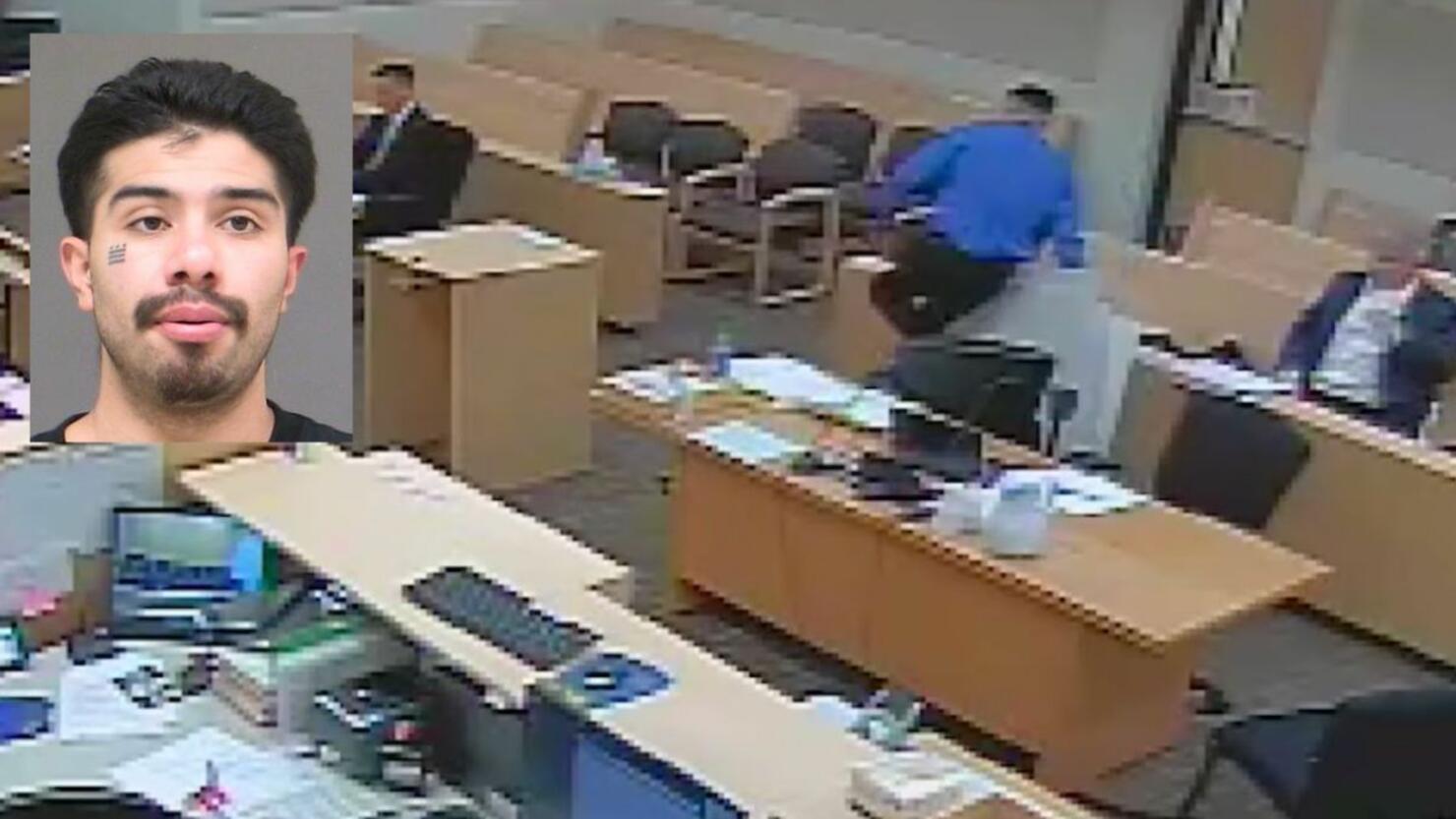 Photo: Wilson County Sheriff's Office
Surveillance footage shows the exact moment in which a murder suspect escaped an Oregon courthouse during a break in his trial, resulting in a two-hour manhunt.
The video, which was shared by the Washington County Sheriff's Office via OregonLive.com, shows Edi Villalobos Jr., who is seen wearing a blue shirt, running out of the Hillsboro courthouse at around 11:15 a.m. on February 27 after one of the two sheriff's deputies assigned to guard him took off his ankle shackles. Deputies later found Villalobos hiding under a blanket in a child's bedroom at an unoccupied apartment that he'd entered through an unlocked door, the department confirmed.
The footage shows Villalobos sitting in a chair while one of the deputies removes his shackles before standing up, taking about three steps slowly and sprinting out of the courtroom, leading two deputies on a chase through the building as the footage shifts to different cameras.
Villalobos is seen nearly crashing into multiple people before managing to successfully exit through a "staff only" door. The deputies lost sight of Villalobos at some point after he exited the building, Sgt. Danny DiPierto, a Washington County Sheriff's Office spokesperson, told OregonLive.com.
Deputies used dogs and drones during their search before a person living at the apartment complex called police to report an incident of an individual breaking into the apartment below theirs. Villalobos was reported to have entered the apartment through an unlocked sliding door and the apartment owner told police that no one was believed to be at their home when contacted by the department.
The Hillsboro courthouse was put on lockdown and county staff and nearby residents were ordered to shelter in place during the search for Villabos. The suspect is accused of killing his stepfather, Artemio Guzman-Olvera, 35, by repeatedly stabbing him in the neck, jaw and shoulder during an alleged argument reported to have taken place in a Cornelius home on April 10, 2021, as well as the attempted murder of another man who was allegedly stabbed at the Carriage Estates Apartments in Wilsonville hours after the incident involving Guzman-Olvera.
A grand jury indicted Villalobos on additional charges of first-degree burglary and second-degree escape after he was detained by deputies following the February 27 manhunt.