Carrie Underwood Joins Forces With Axl Rose During Epic Show In Los Angeles
By Kelly Fisher
March 14, 2023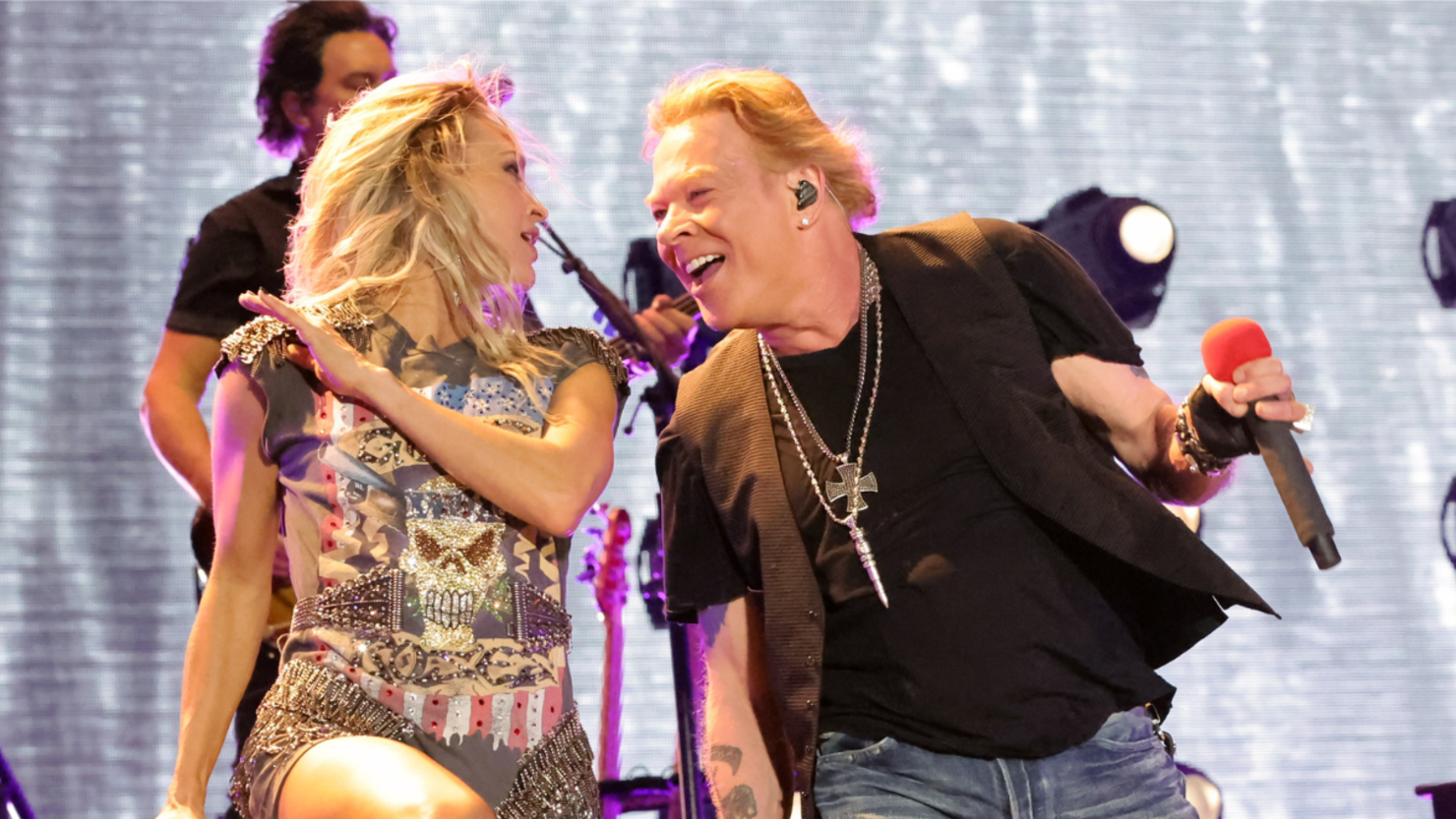 Carrie Underwood surprised a "monstrous" Los Angeles crowd with an epic special guest during her latest "Denim & Rhinestones Tour" stop: Axl Rose. The legendary rock star joined the powerhouse country artist on the Crypto.com Arena stage on Monday night (March 13).
"I'm the luckiest girl in the world… Thanks, Axl, for showing up, once again, to make the great times even better!" Underwood gushed as she shared photos of her latest performance with the Guns N' Roses icon. "It'll forever feel like it was all a dream, but these dreams are my favorite ones! ❤️🔥☺️ 😎"
Underwood has been covering one of Guns N' Roses' most famous anthems, "Welcome To The Jungle," during the encore set of her high-energy tour. The L.A. show marked Underwood's latest onstage performance with Rose, following her Stagecoach Festival set last year, and joining Guns N' Roses for two of their shows at the UK's Tottenham Hotspur Stadium over the summer.
The latest "Denim & Rhinestones Tour" stop in L.A. brought back memories for the Oklahoma-born singer-songwriter, who felt right at home as she performed in California.
"I'm from a small town in OK…I currently live outside of Nashville, TN…but I've got roots in LA, too. I took my first plane ride when I was 21 years old out to LA during auditions for [American Idol]," Underwood said, reflecting on the smash-hit singing competition show that she won in 2005, kickstarting her career. "It was pretty much my first trip ANYWHERE and I was alone…but Los Angeles was magical to me, so somehow it didn't seem as scary to this small town farm kid…
"Flash forward 19 years and here we are playing to a monstrous, incredible crowd at the [Crypto.com Arena] and, while I'm still a small town farm girl at heart, LA still holds a part of it, too! ❤️ Thanks for the love!!!"
Underwood has three shows left on the "Denim & Rhinestones Tour," taking the stage on Tuesday night (March 14) in Sacramento, California, followed by Portland, Oregon on Thursday (March 16) and Seattle, Washington on Friday (March 17).