Carrie Underwood Pens Sentimental Tribute As She Ends Unforgettable Chapter
By Kelly Fisher
March 20, 2023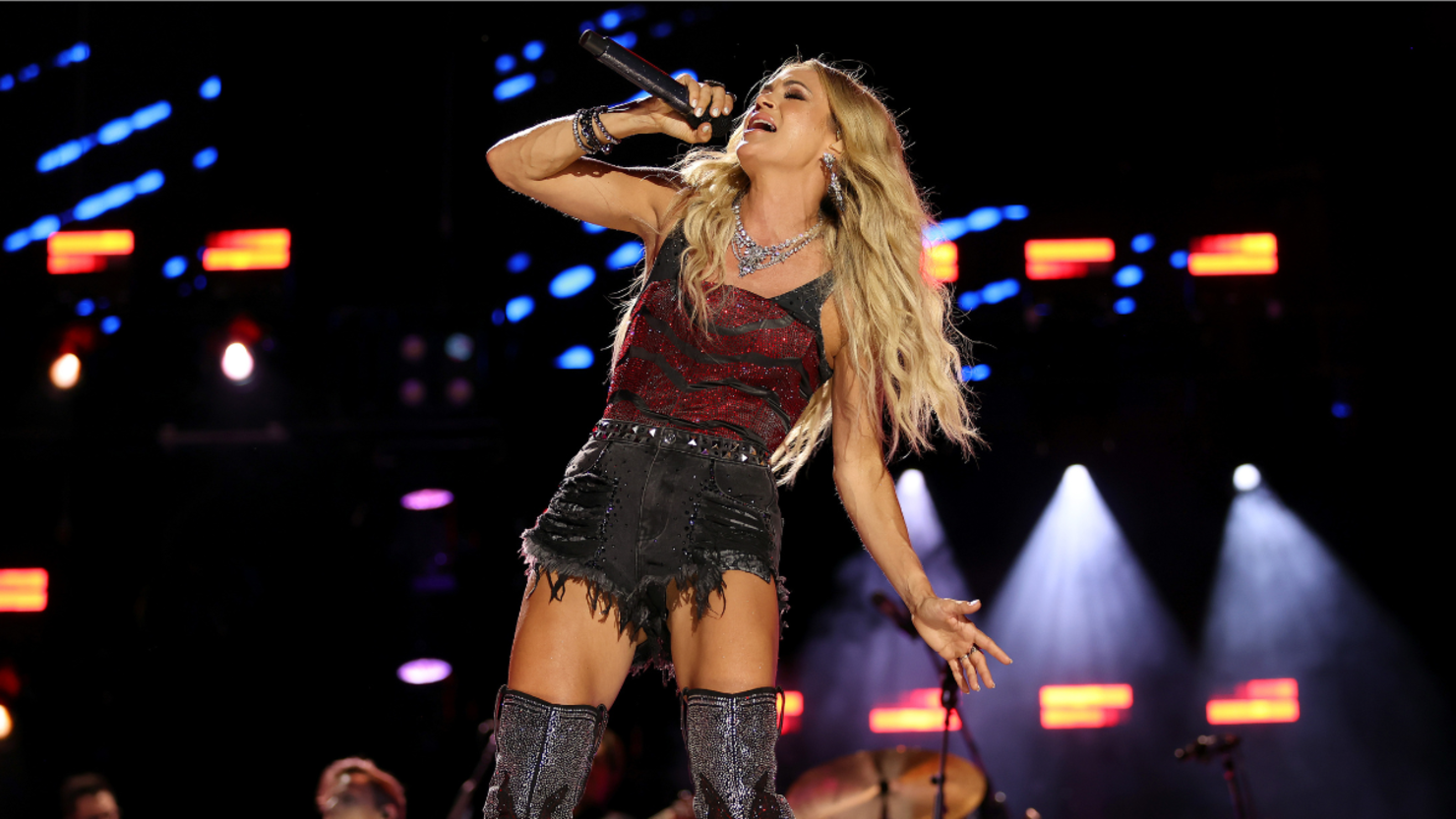 Carrie Underwood posted a sentimental tribute to her team as she wrapped up her powerful "Denim & Rhinestones Tour" over the weekend. The award-winning country giant ended the 43-city trek in Seattle, Washington, bringing an end to the high-energy series of performances that included epic aerial work, flames bursting from the stage, jaw-dropping surprise guests and more.
Underwood kicked off the first leg of the "Denim & Rhinestones Tour" — which included special guest Jimmie Allen — in 2022, following the release of her highly-anticipated 12-track project of the same name. The album includes "Ghost Story," "Hate My Heart," "Crazy Angels," "Pink Champagne," "Poor Everybody Else" and other fan-favorites. Underwood posted a heartfelt message as she shared a photo of the crew that made the tour happen. She wrote in her Instagram caption:
"Words can't describe how thankful I am to this band and crew who helped put on this show night after night 💜 Thank you to everyone who helped make this happen and to all the venue staff who made us feel at home every night. [Jimmie Allen], thank you for putting on such a GREAT show - it was so fun to listen to you every night!! 🎶 This was a tour I'll never forget!"
Some of the highlights from the packed arena tour include a surprise appearance by Jason Aldean, taking the stage with a powerful rendition of his smash-hit heartbreak duet with Underwood, "If I Didn't Love You." Underwood also reunited with her iconic former CMA Awards cohost, Brad Paisley, performing a hilarious original song in addition to their 2011 ballad, "Remind Me." She also rocked a Guns N' Roses cover during each encore, and kicked it up a notch when she surprised a "monstrous" Los Angeles crowd and joined forces with Axl Rose again (they previously teamed up at Stagecoach and at the UK's Tottenham Hotspur Stadium).
Underwood is set to return to Las Vegas later this year for additional REFLECTION: The Las Vegas Residency performance dates. She'll return to the Resorts World Theater stage beginning in June (see the list of 2023 dates here).
"I'm thrilled to be returning to Resorts World Las Vegas next summer," Underwood previously said in a statement. "REFLECTION is a show I'm so proud of and have so much fun performing. I love being out on the road with THE DENIM & RHINESTONES TOUR and look forward to returning to Vegas once that wraps, as it has become our home away from home where we get to play to audiences from all over the world."