Update On Zach Wilson's Future With Jets After Aaron Rodgers Trade
By Jason Hall
April 25, 2023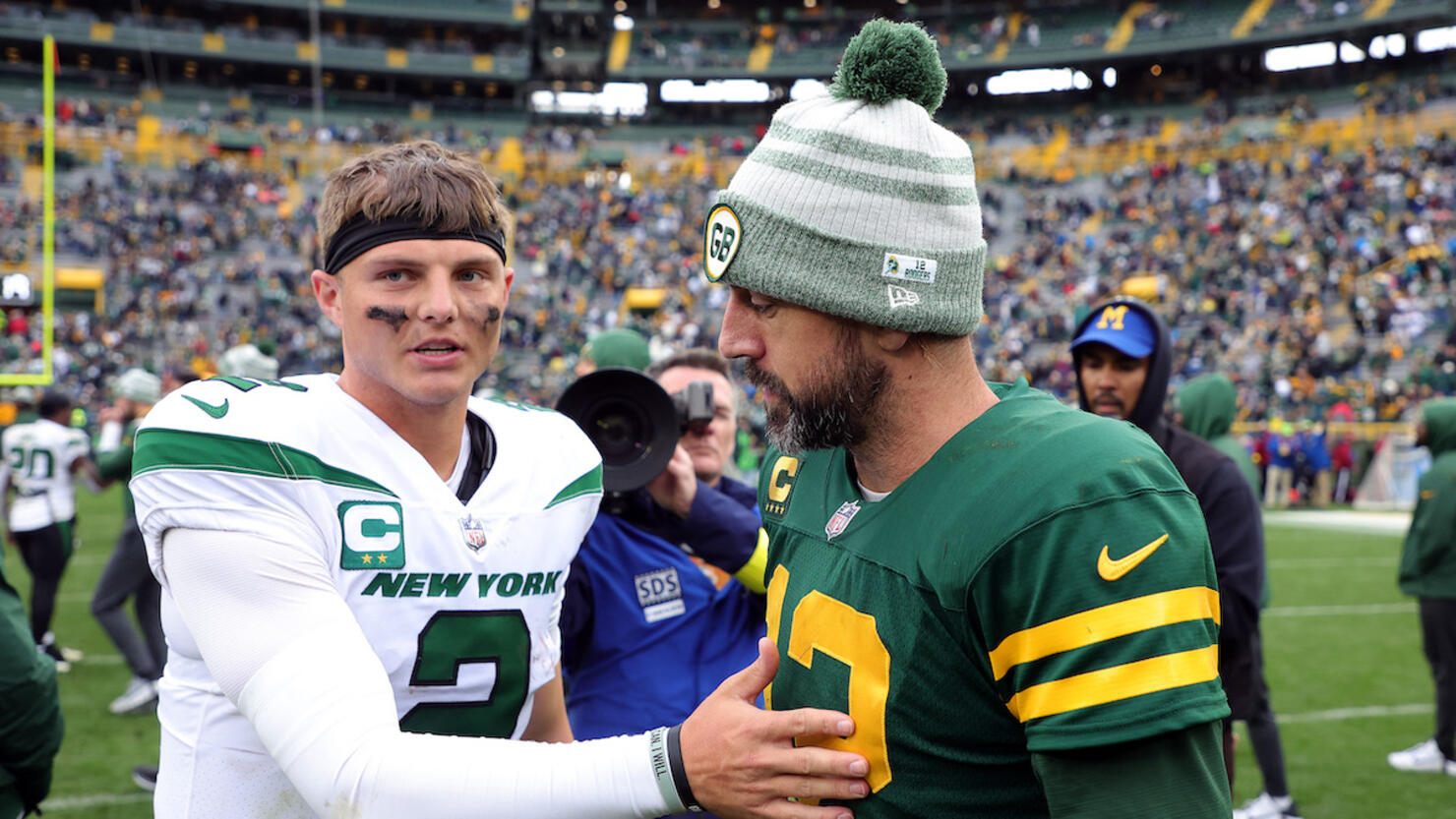 Former No. 2 overall pick Zach Wilson appears to still be in the New York Jets' long-term plans, despite the team's pending acquisition of Aaron Rodgers.
Jets general manager Joe Douglas addressed the team's reported trade agreement with the Green Bay Packers, which he referred to as "historic," and said would be a good learning experience for Wilson as he enters his third NFL season.
"I feel like this is going to be a great thing for Zach," Douglas said via NFL.com. "Zach's ceiling is unlimited. No one works harder, no one loves ball more than Zach Wilson, and him having the opportunity to really shadow and be with a first-ballot Hall of Fame quarterback every day, every hour he's in the building, that's a great opportunity and a great experience."
Wilson was benched for backup Mike White in November and made two starts in White's absence in December. Head coach Robert Saleh told reporters that the "full intent" for the quarterback change was to "make sure Zach gets back on the football field" and that Wilson's "career here's not over."
A trade sending Rodgers to the Jets was reported to be agreed to on Monday (April 25). The Packers will receive three picks in the upcoming 2023 NFL Draft -- a first-rounder (No. 13 overall), a second-rounder (No. 42) and a sixth-rounder (No. 207) -- as well as a conditional 2024 second-round pick, which will become a first-rounder if Rodgers plays 65% of the Jets' offensive plays in 2023, according to ESPN's Adam Schefter.
The Jets will also receive the Packers' first-round pick (No. 15) and fifth-round pick (No. 170).
Trade compensation, per sources:

Jets get:
🏈Aaron Rodgers, pick No. 15, a 2023 5th-rd pick (No. 170).

Packers get:
🏈Pick No. 13, a 2023 2nd-rd pick (No. 42), a 6th-rd pick (No. 207), a conditional 2024 2nd-rd pick that becomes a 1st if Rodgers plays 65 percent of the plays. pic.twitter.com/Q2vUMfyZGH

— Adam Schefter (@AdamSchefter) April 24, 2023
On March 15, Rodgers publicly acknowledged his intention to play for the Jets next season.
"Since Friday, my intention was to play and play for the NY Jets," Rodgers said during an appearance on the Pat McAfee Show.
Rodgers met with Jets owner Woody Johnson and a contingent of team representatives in California on March 7. New York had previously acquired Rodgers' predecessor, Brett Favre, in a trade with the Packers in 2008, which led to the eventual four-time NFL MVP taking over as Green Bay's starting quarterback for the remainder of his tenure with the franchise.
In January, Schefter reported that the Jets were "a very real scenario" in a possible trade for Rodgers even prior to the hiring of offensive coordinator Nathaniel Hackett, who had previously held the same position in Green Bay and Rodgers had publicly praised following his hiring as the Denver Broncos' head coach last offseason. Rodgers led the NFL's top scoring offense during the first of two consecutive Associated Press Most Valuable Player award-winning seasons in 2020, both of which took place during Hackett's tenure with the Packers.
Rodgers signed a three-year, $150 million extension with the Packers last offseason amid previous reports of being disgruntled with the franchise. The 39-year-old was coming off back-to-back MVP seasons ahead of the 2022 NFL season, which resulted in Green Bay missing the playoffs after clinching a postseason berth during the previous three consecutive seasons and 11 of the past 13 years.
Rodgers leads all Packers quarterbacks with 475 touchdowns and ranks second in franchise history behind only Favre in QB wins (147), completions (5,001) and passing yards (7,660).