WATCH: Aaron Rodgers Addresses Future In First Appearance Since Surgery
By Jason Hall
September 15, 2023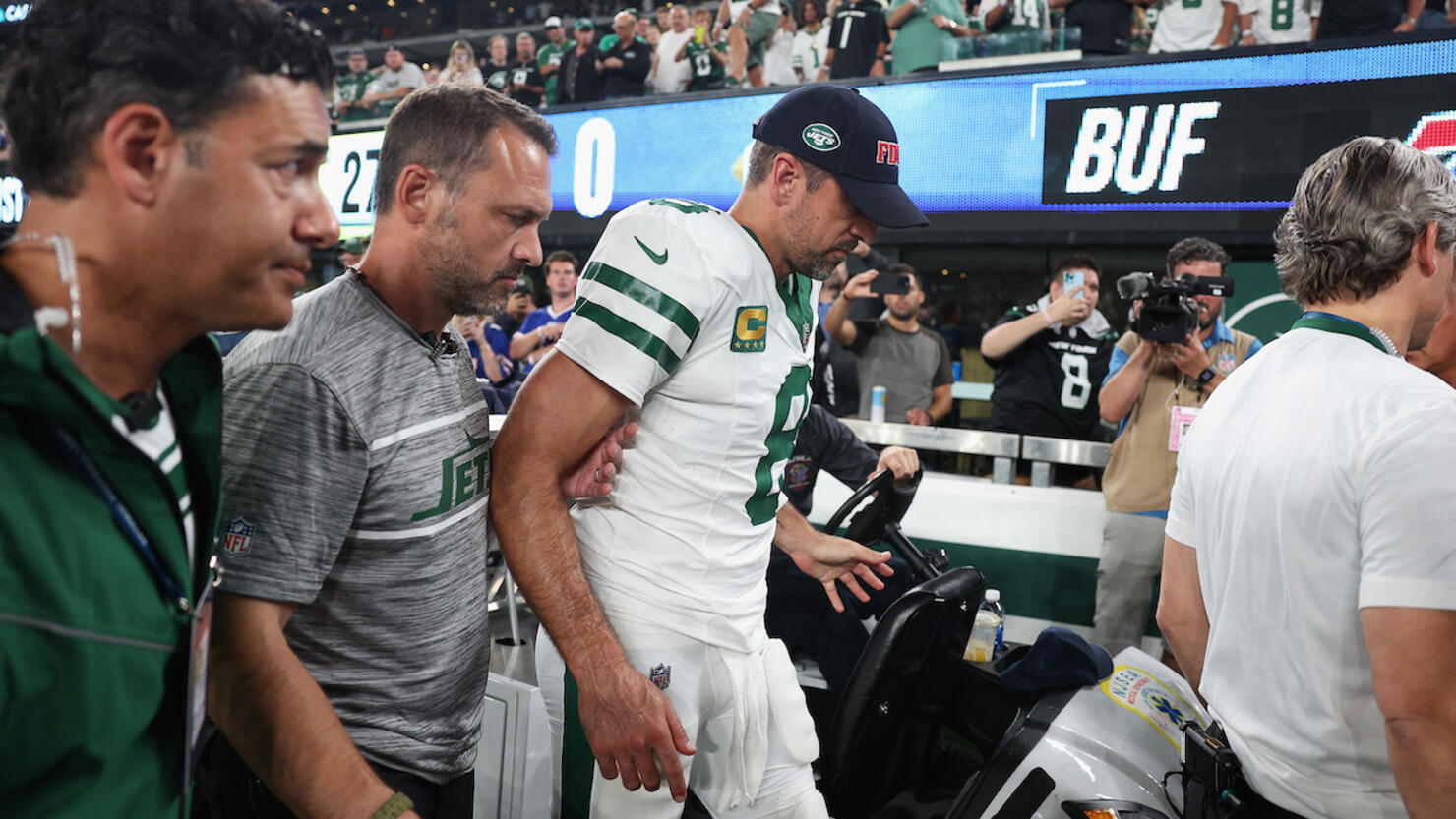 New York Jets quarterback Aaron Rodgers appears to plan to continue his NFL career, despite a season-ending Achilles injury.
Rodgers, 39, appeared on the Pat McAfee Show Friday (September 15) for the first time since his Achilles surgery and addressed his outlook for recovery.
"I think what I'd like to say is give me the doubts, give me the timetables, give me all the things you think can, should or will happen because all I need is that one little extra percent of inspiration," Rodgers said. "That's all I need. Give me your doubts, give me your prognostications and then watch what I do."

Rodgers had previously shared a heartfelt Instagram post addressing his season-ending injury.
"Thank you to every person that has reached out, called, texted, DM'd, connected through a friend, etc. It has meant a ton to me, and I'll try and get back to all of you soon 🥹❤️," Rodgers wrote. "I'm completely heartbroken and moving through all of the emotions, but deeply touched and humbled by the support and love. 💔 Please keep me in your thoughts and prayers as I begin the healing process today. 🙏 ♾️ ❤️
"The night is darkest before the dawn. And I shall rise yet again.
"Proud of my guys, 1-0 🛩️ #"
Rodgers suffered an Achilles tear during his first regular season drive a member of the Jets during the team's 21-20 Monday Night Football win against the AFC East Division rival Buffalo Bills, NFL Network's Tom Pelissero reported on Tuesday (September 12).
"An MRI confirmed the #Jets' fears: Four-time NFL MVP Aaron Rodgers suffered a complete tear of his left Achilles tendon Monday night, per sources," Pelissero wrote on his X account.
Jets head coach Robert Saleh told reports that Rodgers, 39, was feared to have suffered an Achilles injury and "it's not good," prior to undergoing an MRI Tuesday (September 12) morning. The four-time NFL MVP was replaced by former No. 2 overall pick Zach Wilson, who head coach Robert Saleh confirmed will take over as the team's starting quarterback if necessary moving forward.
Rodgers was carted off the field and brought into the Jets' locker room and seen wearing a boot on his foot after exiting the team's X-ray room, which NFL Network's Ian Rapoport said was "an indication his night is over." Monday Night Football play-by-play man Joe Buck had initially said Rodgers was reported to have suffered an ankle injury and his status was "questionable" prior to officially being ruled out.
In May, the Athletic's Dianna Russini, then working for ESPN, reported that Rodgers appeared to suffer a potential injury during the Jets' OTAs session and was seen "favoring his ankle." The Jets acquired Rodgers in a blockbuster trade with the Green Bay Packers, with whom the quarterback had spent the entirety of his 18-year NFL career.
Rodgers leads all Packers quarterbacks with 475 touchdowns and ranks second in franchise history behind only Favre in QB wins (147), completions (5,001) and passing yards (7,660).