10 Latin Rappers Who've Impacted Hip-Hop And The Music Industry Forever
By Tony M. Centeno
September 18, 2023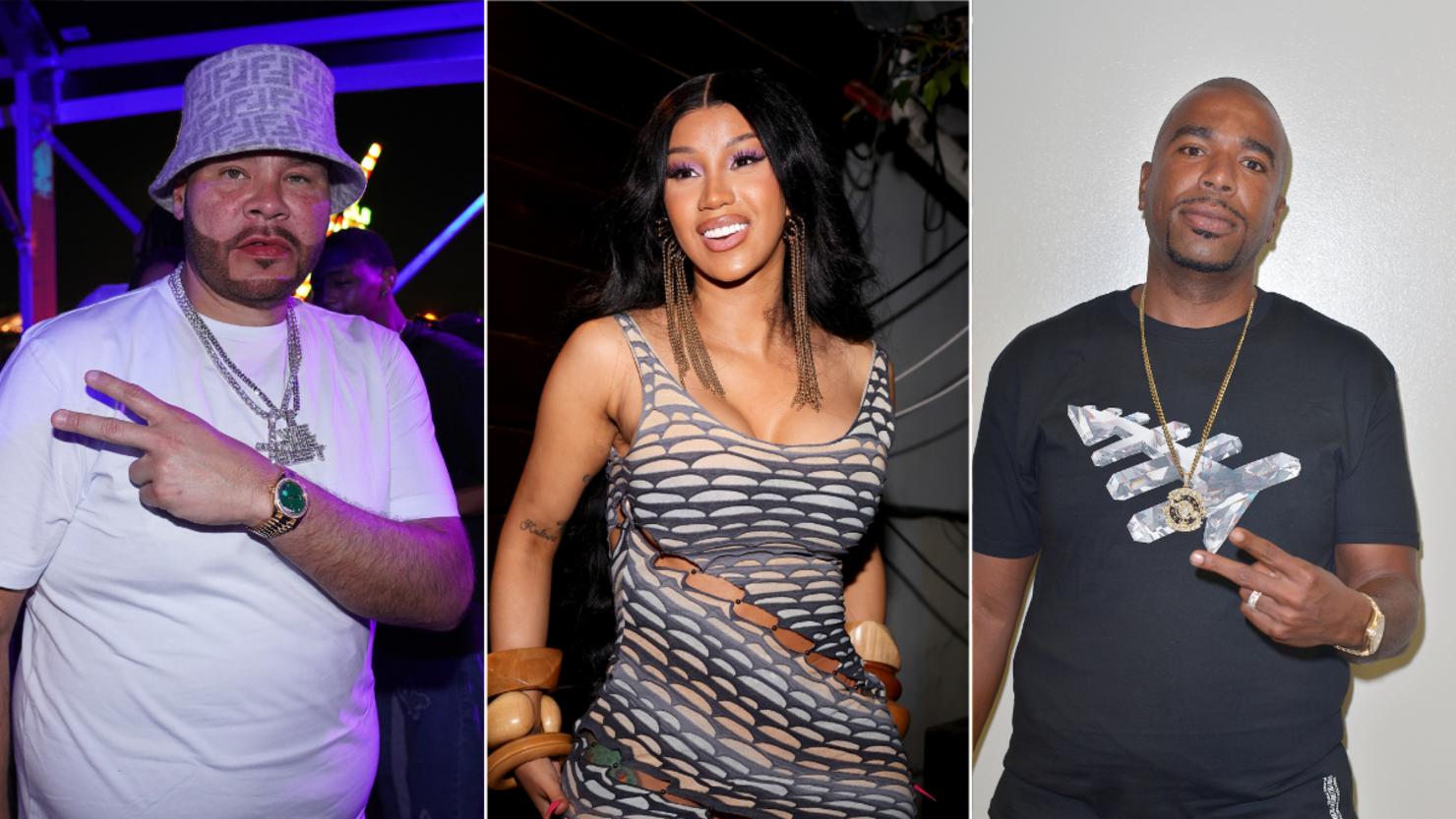 Latin artists have been apart of Hip-Hop's DNA since the genre's birth in the Bronx 50 years ago. While pioneers from coast to coast helped spread the genre's spirit around the world, rappers like Ruby Dee of the Fantastic 5 and Mellow Man Ace were paving the way for other Latin MC's to impact not just Hip-hop but the music industry as a whole.

Over the years, rap fans have witnessed several Latin men and women make a lasting impression on Hip-Hop with their remarkable music and undeniable influence. And trust me, there were way more artists than just Cypress Hill and Fat Joe who helped paved the way for Latin artists in Hip-Hop.
After Hip-Hop flourished in the late '80s and became more popular throughout the '90s, we saw the emergence of powerful artists like Kid Frost, Big Noyd, AZ, Hurricane G and other beatmakers like DJ Laz and The Diaz Brothers who put artists of Latin descent in the limelight. Outside of North America, you had other pioneers in Panama and Puerto Rico like Tego Calderon and DJ Nelson who helped popularize reggaetón and spread it around the world.

Today, both rap and reggaetón are the leading genres in the music industry. Artists like Jim Jones, Termanology, Snow Tha Product, Emilio Rojas, Bodega Bamz, Anuel AA, J Balvin and newer acts like Eladio Carrion have have done well to blend Latin and Hip-Hop cultures together. In honor of Hispanic Heritage Month, we take a look at the Latin artists who not only impacted Hip-Hop but also helped build the bridge between English and Spanish-speaking MC's that will last forever.
The Fat Boys were pioneers in Hip-Hop who helped pave the way for rap groups and human beatboxes like Doug E. Fresh. On their self-titled debut album in 1984, Prince Markie Dee, born Mark Anthony Morales, declared, "I'll be shakin' and breakin' like a ragin' beast/'Cause I'm the Puerto Rican prince and I live in the East" on "The Place To Be." He was the sole Puerto Rican MC of the crew who made history along with Damon Wimbley a.k.a "Kool Rock-Ski" and Darren Robinson a.k.a "The Human Beat Box." Morales was one of the first Hispanic rappers in Hip-Hop to go platinum following the release of Fat Boys' 1987 album Crushin'. He was also one of the first Latinos to go solo and drop his own rap album Free in 1992. He continued his music career as a producer who landed on Mary J. Blige's debut album What's The 411 and cooked up beats for other legends. His accolades as an artist and an accomplished DJ/radio host were respected in the rap game until he took his last breath in 2021.
Cypress Hill was destined to make history for Latin artists in the Hip-Hop community from the moment Cuban rappers Senen Reyes a.k.a Sen Dog and his brother Ulpiano Sergio Reyes, better known as Mellow Man Ace, originally joined forces with Louis Freese a.k.a B-Real and Lawrence Muggerud a.k.a DJ Muggs to form the rap group DVE in their hometown of South Gate, Calif. After Mellow Man Ace went on to have a successful solo career, the trio stuck together and renamed the group "Cypress Hill." On their debut album, the trio took a page out of Mello Man Ace's book and dropped their hit "Latin Lingo." As one of the few Latin rap groups in the rap industry, the funk bilinguals integrated their culture into their rhymes and made it apart of what Hip-Hop is today. Not only did they inspire other Latin artists, but they also inspired fellow MC's like Fat Joe, Eminem, and even Post Malone.
Speaking of Flow Joe, you can't speak about Latinos in Hip-Hop without mentioning Don Cartagena. Hailing from the Bronx, Joe's family is deeply rooted in Puerto Rico. He was the sole Latin spitta in the rap group Diggin' In The Crates (D.I.T.C.) in the early 90s and represented the Boogie Down every opportunity he got. At the height of his solo career, Joe uplifted Hispanic producers like The Beatnuts and discovered fellow Puerto Rican phenom Big Pun, who also made history in his own rite. In recent years, the Terror Squad founder has embraced his Latin culture in his music more than ever before with bangers like "YES" featuring Anuel AA & Cardi B off his Family Ties LP with Dre. He's even spit verses in Spanish like on "Hacerte Mia" with J Balvin. Fat Joe is now just as big of a force in the Latin music industry as he is in Hip-Hop.


The Beatnuts
The Beatnuts set the standard for Latin groups and producers. Queens natives Jerry "JuJu" Tineo and Lester "Psycho Les" Fernandez officially formed The Beatnuts as DJ's and a production group. The Dominican and Colombian producers spent three years making beats for some of the biggest acts in Hip-Hop until they finally released their debut project Intoxicated Demons: The EP in 1993. They went on to release six albums including Stone Crazy featuring one of their notable hits "Off The Books," which features the late Big Pun and a young Cuban Link. The Beatnuts were one of the first Latin duos to dabble in both rapping and producing. Their sonic footprint consists of platforming talented Latin lyricists, and cooking up some of the hottest rap beats of the 90s.
Big Pun, born Christopher Rios, said he was "the first Latin rapper to baffle your skull" on the Domingo-produced "The Dream Shatterer" off his debut album Capital Punishment. At a time when solo Latin rappers were on the rise, Big Pun made sure to lay a foundation for an iconic legacy that continues to inspire generations of artists to this day. After debuting on Fat Joe's Jealous One's Envy album in 1995, Big Pun released several major singles that made him a force to reckon with in Hip-Hop. He made it big with "Twinz (Deep Cover '98)" alongside Fat Joe before he dropped his first LP featuring his hit single "Still Not A Player," which became one of the top-charting hits of the late 90s. Unfortunately, Pun suffered a heart attack and passed away in 2000. His final album Yeeeah Baby was released two months later featuring his major hit "100%" with fellow Puerto Rican artist Tony Sunshine and "We Don't Care" with Cuban Link. Over two decades later, Pun's music still resonates with fans who celebrate him every chance they get.
While Hip-Hop was evolving in North America in the early '90s, artists like Daddy Yankee were pioneering the new reggaetón wave that took rap to a whole new level. Following his debut on DJ Playero's Playero 34 mixtape in 1994, Yankee released his debut project No Mercy in 1995. He continued to flourish in reggaetón and even collaborated with Nas in 1997 before he formed a duo called Los Cangris with fellow rapper Nicky Jam. Before the duo broke up in 2004, Yankee met legendary producers Luny Tunes, who went on to help produce his breakthrough LP Barrio Fino in 2004 featuring his first international hit "Gasolina." The record spread like wildfire and caught the attention of N.O.R.E., who also tapped Yankee to hop on the remix to his groundbreaking single "Oye Mi Canto." From there, Daddy Yankee dropped more major hits and sold millions of records throughout his music career. In addition to every major reggaetón artist in the industry, Yankee has also collaborated with other Hip-Hop artists like Akon, will.i.am, Lil Jon, French Montana, plus producers Just Blaze and Play-N-Skillz.
Angie Martinez a.k.a. "The Voice of New York" has made history as a broadcaster and a writer, but in the mid '90s her voice made an even deeper impact on the airwaves. The radio host turned into a rapper who got her first break on KRS-One's "Heartbeat" off his 1997 album I Got Next. Her next big hit was made alongside Lil' Kim, Da Brat, Lisa "LeftEye" Lopes and Missy Elliott for "Not Tonight (Ladies Night Remix)". It was the first time not one but two Latinas in Hip-Hop reached the top 10 of the Billboard 100 chart. In 2001, Martinez released her debut album Up Close & Personal containing hits like "Mi Amor" with JAY-Z, "Coast 2 Coast (Suavamente)" with Wyclef Jean and "Live at Jimmy's" featuring Big Pun, Cuban Link, Domingo & Sunkiss. She followed up with her sophomore LP Animal House with her lead single "If I Can Go!" featuring Lil Mo and Sacario. Angie Martinez is a lot more focused on her radio show and In Real Life podcast these days, but her efforts to merge both Latin and Hip-Hop cultures will never be forgotten.
N.O.R.E. has never hidden his Latin roots from his time as rap duo Capone-N-Noreaga to his current role as the co-host of Drink Champs. After releasing a litany of impactful rap hits with Capone, the Puerto Rican rapper, born Victor James Santiago, Jr., decided to shift his focus to the genre that had been bubbling in his family's homeland for years. In 2004, he released his first Spanglish album N.O.R.E. y la Familia...Ya Tú Sabe. In the album's first single "Oye Mi Canto," N.O.R.E. declared that it was "the first time its ever been done, Because there's never been/A rapper doing a reggaetón album and he a veteran." He was right, and his album changed the game. The album also featured major hits like "Mas Maiz" featuring Nina Sky, Big Mato, La Negra of LDA, Fat Joe, Lumidee, Chingo Bling & Lil Rob plus "Reggaetón Latino (Chosen Few Remix)" featuring Don Omar, Fat Joe & LDA. The album also features Diddy, Pharrell, Ja Rule, Tru Life, Daddy Yankee, Ivy Queen and more. N.O.R.E.'s revolutionary album opened the door to more collaborations between Latin and Hip-Hop artists before it was trend.
Joell Ortiz is one of the only MC's of Latin descent who never truly switched his style up for anybody. Hailing from Brooklyn, Ortiz was the first Puerto Rican artist to sign with Dr. Dre's Aftermath Entertainment in 2006. In 2007, he released his famous "Latino" record, in which he raps about being proud of his Latin heritage and growing up near his neighborhood bodega. He's also dropped other Latin-inspired records like "Rican Ebonics" (a spin-off of Big L's "Ebonics") and "Big Pun's Back," which samples Pun's "It's So Hard." He also released "Latino Pt. 2" in 2015 featuring fellow Latino MC's Bodega Bamz, Emilio Rojas and Big Pun's son Chris Rivers. In late 2008, Ortiz went on to join the supergroup Slaughterhouse with Joe Budden, KXNG Crooked and Royce Da 5'9". He dropped two albums with the group before they officially disbanded in 2018. On his own, Ortiz dropped six solo albums and numerous collaborative albums with !llmind, Apollo Brown, KXNG Crooked, Heatmakerz, the late Fred The Godson and his latest Signature with L'Orange, which dropped on August 11, 2023.
It's hard to have a conversation about current impactful Latin rappers without mentioning Bad Bunny. The Puerto Rican sensation gained notoriety in 2016 for his hit "Soy Peor." Soon enough, El Conejo Malo was working with all the top Latin artists from Daddy Yankee to Nicky Jam. He began to appeal to American fans when he first collaborated with Drake on their 2018 song "Mia." Since then, Bad Bunny has captivated the world with impressive albums like X100Pre, his collaborative album with J Balvin OASIS and his most recent LP Un Verano Sin Ti. Since his debut, Bad Bunny broke through the remaining boundaries that kept Latinos from reaching the top in the U.S. with songs like "Moscow Mule" and "Tití Me Preguntó." The album sold millions of copies and his supporting tour made history with its record earnings. Not only has Bad Bunny recently worked with popular artists like Travis Scott and The Weeknd, but he's also set to reunite with Drake on another major collaboration coming soon. His impact on the music industry as a whole will be remembered for decades to come.
Cardi B is one of the most fierce Latinas who have impacted the charts since Lisa "LeftEye" Lopes' run with TLC. After she left her careers in the strip clubs and "Love & Hip-Hop: New York" behind, the Dominican/Afro-Latina focused on her music career and collaborated with a slew of reggae and Hip-Hop artists before she released her first project Gangsta B*tch Music, Vol. 1 in 2016. She released her first commercial single "Bodak Yellow" inspired by Kodak Black's "No Flockin" in 2017, which hit No. 1. That same year, she teamed up with Puerto Rican rapper Ozuna for "La Modelo," which set the standards for her future Latin collaborations. Her debut album Invasion Of Privacy included one of her greatest hits to date "I Like It" featuring Bad Bunny and J Balvin, who were two of the biggest Latin rappers at the time. Since then, Cardi has paved the wave for women of all races to step up to mic and be themselves in their music.