No need to go 10,000 miles away to find great Irish & Celtic Music Podcast #616 with a Celtic Story by Erin Ruth.
Seán Heely, Lúnasa, Wolf Loescher, Brad Reid, Dan Milner, Scottish Fish, Brobdingnagian Bards, Bonnie Rideout, Alex Sturbaum, Erin Ruth, The Electrics, Blaggards, Paisley Close, Screaming Orphans, Kennedy's Kitchen
GET CELTIC MUSIC NEWS IN YOUR INBOX
The Celtic Music Magazine is a quick and easy way to plug yourself into more great Celtic culture. Subscribe and get 34 Celtic MP3s for Free.
SUPPORT CELTIC CULTURE THROUGH KICKSTARTER
We launched a brand new campaign on Kickstarter. The goal is to fund a new Album Pin for The Secret World of Celtic Rock. This is a compilation CD we originally released in 2005 featuring some of the best Celtic Rock of the time. And the album is timeless.
You can own an enamel pin with this year's beautiful Celtic Earth Knotwork. Or you can own a physical copy of the CD. Plus there are many more rewards.
Go celticmusic.org/celticrock that'll take you straight over to our Kickstarter page where you can support Celtic culture through music.
VOTE IN THE CELTIC TOP 20 FOR 2023
This is our way of finding the best songs and artists each year. You can vote for as many songs and tunes that inspire you in each episode. Your vote helps me create next year's Best Celtic music of 2023 episode.  Vote Now!
Two weeks after the episode is launched, I compile your votes to update a playlist on Spotify and YouTube. These are the results of your voting. You can help these artists out by following the playlists and adding tracks you love to your playlists. Follow us on Facebook to find out who is added each week.
Listen on Spotify and YouTube.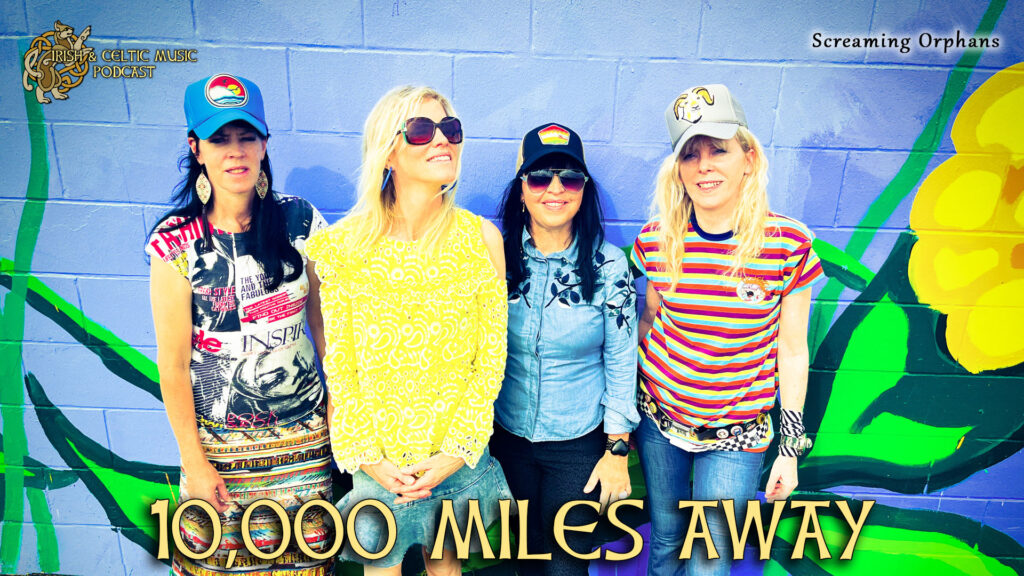 THIS WEEK IN CELTIC MUSIC
0:08 - Seán Heely "Journey through Strathmore (An MSR)" from Dramagical
5:59 - WELCOME
7:04 - Lúnasa "Leckan Mor" from Sé
11:20 - Wolf Loescher "American Tune" from Single
14:46 - Brad Reid "Road to Harrington" from New Scotland
18:20 - Dan Milner "Ten Thousand Miles Away" from Irish Pirate Ballads and Other Songs of the Sea
21:52 - FEEDBACK
24:48 - Scottish Fish "Miss Bromley's" from Upscale
28:54 - Brobdingnagian Bards "Rocky Road To Dublin" from Songs of Ireland
31:51 - Bonnie Rideout "Macdonald of the Isles Set" from Scottish Reflections
35:14 - Alex Sturbaum "Gulls Of Invergordon" from River Run Wide
38:42 - Erin Ruth Story
42:52 - Erin Ruth "Miles Away" from Live performance
45:53 - THANKS
48:10 - The Electrics "The Grass Is Greener" from The Secret World of Celtic Rock and Reel, Folk'n'Rock'n'Roll
51:29 - Blaggards "Moonshiner" from BLAGMATIC
54:30 - Paisley Close "Sovay - Halting March" from The Secret World of Celtic Rock from All On A Day
58:57 - Screaming Orphans "Home to Donegal" from Paper Daisies
1:02:15 - CLOSING
1:03:50 - Kennedy's Kitchen "The Swallow's Tail Reel/The Sailor's Bonnet/Over The Moor To Maggie" from The Birds Upon The Trees
1:08:12 - CREDITS
The Irish & Celtic Music Podcast was produced by Marc Gunn, The Celtfather and our Patrons on Patreon. The show was edited by Mitchell Petersen with Graphics by Miranda Nelson Designs. Visit our website to subscribe to the show. You'll find links to all of the artists played in this episode.
Todd Wiley is the editor of the Celtic Music Magazine. Subscribe to get 34 Celtic MP3s for Free. Plus, you'll