I wouldn't mind getting tangled on the moon listening to Irish & Celtic Music Podcast #627.
The Bookends, Seán Heely, Jocelyn Pettit, Telenn Tri, Karan Casey, Joey Abarta, Boxing Robin, The Langer's Ball, Irishtown Road, Railcar Graffiti, The Fretless, Raúl Sanz, La Nef and Chor Leoni, Jen Midkiff, The Out of Kilters, Jesse Ferguson
GET CELTIC MUSIC NEWS IN YOUR INBOX
The Celtic Music Magazine is a quick and easy way to plug yourself into more great Celtic culture. Subscribe and get 34 Celtic MP3s for Free.
VOTE IN THE CELTIC TOP 20 FOR 2023
This is our way of finding the best songs and artists each year. You can vote for as many songs and tunes that inspire you in each episode. Your vote helps me create next year's Best Celtic music of 2023 episode.  Vote Now!
You can also follow our playlists on Spotify and YouTube. These feature the top songs two weeks after the polls open. It also makes it easier for you to add these artists to your own playlists.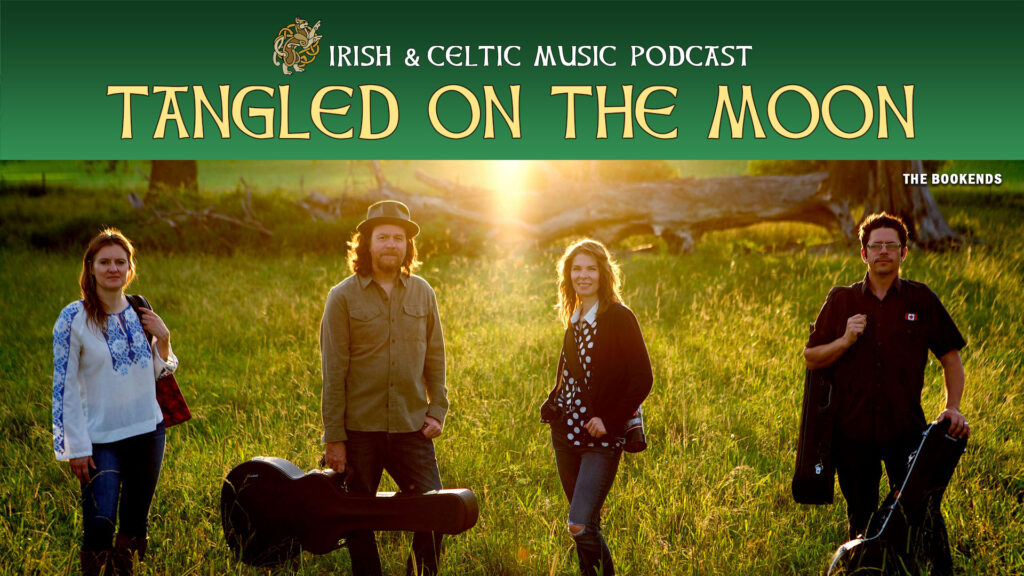 THIS WEEK IN CELTIC MUSIC
0:06 - The Bookends with the Stratford Symphony Orchestra "The Old Grove" from A Celtic Celebration: The Bookends with the Stratford Symphony Orchestra
3:16 - WELCOME
5:48 - Seán Heely "Dr. Midnight, Death, and the 10th Life" from Dramagical
9:46 - Jocelyn Pettit "Never - Ending Road" from Wind Rose
15:12 - Telenn Tri "Sunday Birds" from Macquarie Street
19:27 - Karan Casey "When the Moon Gets Tangled" from Nine Apples of Gold
23:24 - FEEDBACK
27:29 - Joey Abarta "Johnny Allen's/The West Wind/The Boy in the Gap (Reels)" from King of the Blind
32:17 - Boxing Robin "One Autumn Morning" from The View From Here
36:01 - The Langer's Ball "Slides: Going to the Well for Water/The Lonesome Road to Dingle"
from Appetite for Tradition
38:54 - Irishtown Road "That's How It Starts" from On the One Road
41:13 - Railcar Graffiti "Frosty Morn" from Going Across The Sea
43:57 - THANKS
47:09 - The Fretless "Troubled Mind" from Open House
50:14 - Raúl Sanz "Tinta invisible / Sem / Fere" from La espiral del lobo
55:15 - La Nef and Chor Leoni "Shallow Brown" from Shanties! LIVE
58:10 - Jen Midkiff "Candle on the Water" from Collage
1:00:29 - The Out of Kilters "My Lovely Colleen Rua" from Hot Potatoes
1:03:07 - CLOSING
1:04:27 - Jesse Ferguson "High Germany" from The Bard of Cornwall
1:08:08 - CREDITS
The Irish & Celtic Music Podcast was produced by Marc Gunn, The Celtfather and our Patrons on Patreon. The show was edited by Mitchell Petersen with Graphics by Miranda Nelson Designs. Visit our website to follow the show. You'll find links to all of the artists played in this episode.
Todd Wiley is the editor of our Celtic Music Magazine. Subscribe to get 34 Celtic MP3s for Free. Plus, you'll get 7 weekly news items about what's happening with Celtic music and culture online. Best of all, you will connect with your Celtic heritage.
Please tell one friend about this podcast. Word of mouth is the absolute best way to support any creative endeavor.
Finally, remember. Reduce, reuse, recycle, and think about how you can make a positive impact on your environment.
Promote Celtic culture through music at http://celticmusicpodcast.com/.
WELCOME THE IRISH & CELTIC MUSIC PODCAST
* Helping you celebrate Celtic culture through music. I am Marc Gunn. I'm a Celtic musician and podcaster. This podcast is here to build our diverse Celtic community and help the in