At PGAP, we have explored many different ideas and facets within the broad realm of Post Growth. Permaculture is a frequent topic on this podcast, so too is behaviour change and nature based spirituality. But what happens if you combine the best of both worlds? For example, the practicality of permaculture principles in conjunction with transpersonal psychology, energy meditation and nature connection facilitation? You get Dan and Johanna McTiernan, co-founders of Earthbound who live and manage a 6 acre homestead on Finland. Johanna and Dan are the guests of this episode of PGAP as we find out more about Earthbound.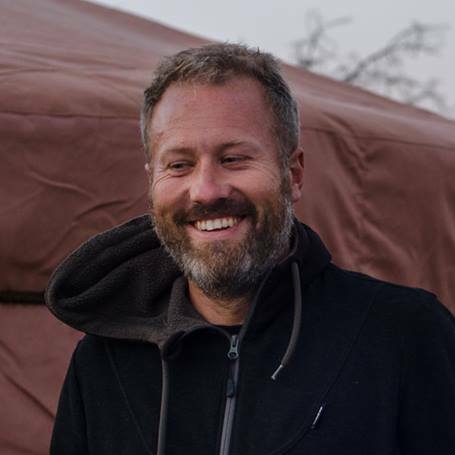 Dan McTiernan is a certified transpersonal psychology coach and subtle energy meditation teacher and has been deeply involved in the permaculture movement as a teacher, entrepreneur, writer and homesteader for 15 years.
Johanna McTiernan is a certified subtle energy meditation teacher and a trained nature connection facilitator. With her husband, Dan, she has created permaculture projects including a community supported bakery in the UK, a regenerative olive and almond farm in Spain and a homestead in her native Finland. She is a lifelong seeker of meaning and meeting her family's needs in deep relationship with the land is her passion.

Earthbound (https://www.earthbound.fi/), the project Dan and Johanna run, offers 1-1 and group coaching facilitating growth, connection and healing at the fertile edge between transpersonal psychology, embodied meditation & permaculture. PGAP host Michael Bayliss first met Dan McTiernan through mutual connections with Holistic Activism founder Mark Allen. You can find out more about Holistic Activism here (https://holisticactivism.net/). Interested in listening to more PGAP episodes on permaculture? You might be interested in the season 3 episode with Shane Simon on Zero Input Agriculture (https://pgap.fireside.fm/zeroinput)or Season 2 episode with Tania Brook (https://pgap.fireside.fm/tasperspect1)s for our Tasmanian Perspectives mini series of interviews. Would you prefer to listen to more episodes on behaviour change and spirituality? Our last episode with Paul Collins (https://pgap.fireside.fm/paulcollins)is a great listen. You might also like to travel back to season 1 for our interview with Darpan. (https://pgap.fireside.fm/darpan) Did you like this episode of PGAP? Then share it far and wide! Rate and review on Apple Podcast (https://podcasts.apple.com/au/podcast/post-growth-australia-podcast/id1522194099). Subscribe to PGAP here (https://pgap.fireside.fm/subscribe). You can contact us here (https://pgap.fireside.fm/contact) to let us know your thoughts on this and other episodes and what topics and guests you would like to see for future episodes. The homepage for PGAP host Michael Bayliss can be found here (https://michaelbayliss.org/). All views and opinions expressed by our guests, including references to their past and present work are totally their own and do not necessarily reflect any views or positions held by Post Growth Australia Podcast. Special Guests: Dan McTiernan and Johanna McTiernan.