In Real Life Brings The Holiday Cheer To #KIISJingleBall Village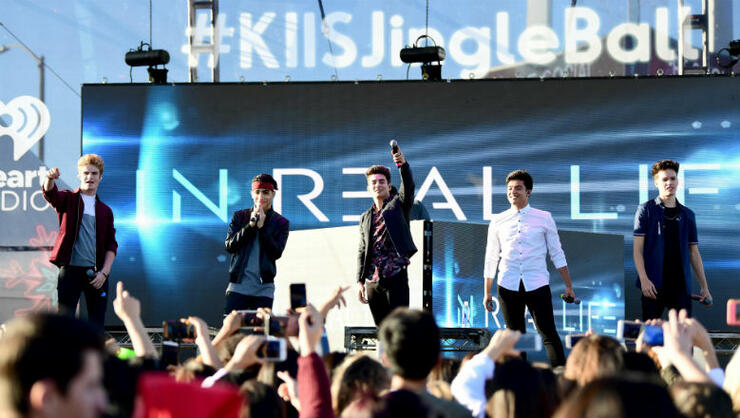 In Real Life brought the holiday cheer and smooth skills to the #KIISJingleBall Village 2017 presented by Fujifilm Instax on Friday afternoon (December 1) to get the audience warmed up for the evening affair at The Forum in Los Angeles.
After introductions for Brady Tutton, Chance Perez, Drew Ramos, Sergio Calderon and Michael Conor, the fivesome took to the outdoor stage to entertain the crowd with a cover of Bruno Mars' smash, "That's What I Liked" and a new tropical-charged mid-tempo that they've been working on in the studio. However, a good portion of their set was devoted to their original holiday cuts: "Feel The Christmas" and "I'll Be Home for Christmas."
"Thanks for coming out to support us and a year ago none of us thought we'd be in this situation, so we're incredibly blessed," Drew told the crowd towards the end of their performance. However, the winners of ABC's reality show, Boy Band, knew just how to end their set with their very first single, "Eyes Closed." In Real Life was just one of the few acts during the #KIISJingleBall Village 2017 alongside Why Don't We and Macy's iHeartRadio Rising Star James Maslow.
If you missed out on all the main show action, consider this your holiday gift. You'll be able to relive the night on The CW during a special 90-minute broadcast on December 14th and 25th at 8 p.m. ET/PT -- so put on your Santa hats, grab some gingerbread cookies, and tune in!
Chat About In Real Life Brings The Holiday Cheer To #KIISJingleBall Village