Foo Fighters Win iHeartRadio Music Award For Rock Song of The Year
By Nicole Mastrogiannis
March 7, 2018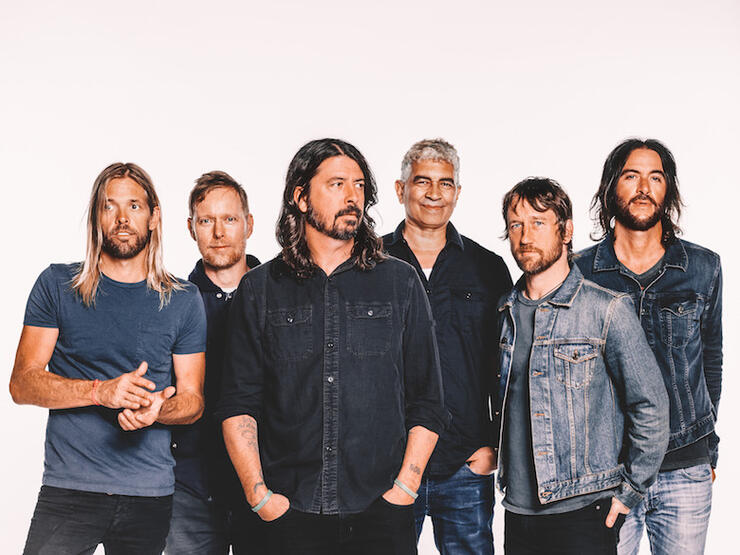 Over the last two-and-a-half decades, Foo Fighters have consistently released some of the greatest rock music of our time, and the band has become synonymous with Rock n' Roll. And to add to their many career accolades, the band has now won the 2018 iHeartRadio Music Award for Rock Song of the Year with their single "Run."
Foo Fighters' "Run" wins the award, and was nominated along with some of the biggest rock songs of the year including Papa Roach's "Help," Theory of a Deadman's "Rx (Medicate)," Stone Sour's "Song #3," and Nothing More's "Go To War."
On their Rock Song win, the band's Dave Grohl says in their acceptance speech:
"We'd like to thank iHeartRadio and all the fans for giving us the Rock Song of the Year award for our song 'Run.' Thank you very much," followed by a round of applause from the entire band.
"Run" is the lead single from Foo Fighters' latest album Concrete and Gold, which topped the rock charts after its release in September 2017. The song also won the 2018 Grammy for Best Rock Song and was nominated for Best Rock Performance. Concrete and Gold features 11 songs in total, including "Run," and topped the charts in the US plus more countries around the globe. In fact, the record is Foo's second US number one album, after 2011's Wasting Light.
During an interview with ET Canada last year, Dave Grohl explained of his "Run" inspiration, "We had been jamming around, rehearsing and writing, but I hadn't written any lyrics, I just had all these instrumentals. And I said,'Alright, I'm gonna go away for a little bit and write some lyrics.' And it happened right as Trump became the nominee for our presidential election. There was just this feeling of hopelessness and despair - there was something about running away from it all, just to find a place where you could find peace. So the song is basically about trying to find a place where you feel free and there's peace."
Foo Fighters are also up for Rock Artist of the Year, nominated along with bands like Metallica, Papa Roach, Highly Suspect, and Royal Blood.
Fans can tune in to the 2018 iHeartRadio Music Awards on March 11th, live on TBS, TNT and truTV at 8pm ET/5pm PT, as well as on iHeartMedia radio stations across the country and on the iHeartRadio app. Hosted by Hailey Baldwin and DJ Khaled, the show will feature live performances from Ed Sheeran, Cardi B, Maroon 5, Camila Cabello, and Charlie Puth, with more to be announced.
Also, print out the nominee ballot to play along at home. Make your predictions and then watch the show live at 8PM ET / 5PM PT on TBS, TNT or truTV. See the ballot HERE.
Congratulations to Foo Fighters!
Chat About Foo Fighters Win iHeartRadio Music Award For Rock Song of The Year